Phoenix International Offers New Flux Oven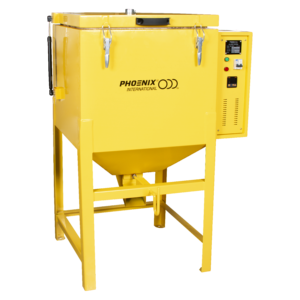 Phoenix International is now offering the latest in flux oven technology — the 250FX. Phoenix flux ovens are designed for long-term storage of bulk flux to provide a consistent flux temperature throughout the oven chamber. This new product offers a modern design that ensures easy dispensing.
Dick Wilkinson, managing director, described the 250FX as "a new option for submerged arc welding." The 250FX has a 250-pound flux capacity and a temperature range up to 750 degrees F. It offers a digital thermometer and adjustable digital thermostat. The 250FX is 3,000W, 110/220V and has a 26-gallon chamber.