It's that time again. 2018 is behind us, and we approach the new year with a sense of optimism and renewed energy. It's also time to ask our GAWDA members what they expect in 2019. This year, we asked members what they envision for their companies, the industry and the emerging marketplace. Read on to see what your fellow GAWDA members anticipate on the road ahead.
THE QUESTIONS:
  What do you expect in the coming year at your company? Are you celebrating an anniversary, opening a new branch, opening a new line of business or transitioning to new ownership?
  Where do you see the industry going in 2019? (Positive/Negative/Neutral Outlook)
  Do you see any new markets on the horizon for GAWDA members?
DISTRIBUTORS
GAWDA President Brad Peterson, Chairman and Chief Acquisition Officer, Mississippi Welders Supply Company, Inc.

 We expect a busy year. We're looking at a lot of initiatives and evaluating in what order we'll develop them. We're looking at IT infrastructure and fill plant improvements, to mention just a couple.

  Overall a positive outlook for the nimble and independent operator.

 The marijuana market will continue until it reaches a tipping point. It feels like a boom-time right now, but we all know that booms are followed by busts. Another area that seems to be in real growth mode is dry ice.

Lloyd Robinson, President, AWISCO

  No major plans, but there is always the potential for acquisitions on the horizon

  Looking at small growth in the next year, maybe in the 3 to 5 percent range, mostly via investment in automation.

  It's not exactly new, but we are seeing growth in cryotherapy. One concern we have is that this is a different type of customer and it takes a lot of handholding. It's important to remember that you need to train the customer on both the safety component and how to operate the gas equipment.
Parker Dillard, Co-President, Arc3 Gases, Inc.

  Nothing big on the books for 2019 — we'll continually be on the lookout for growth opportunities and hopefully continue to benefit from what has been a very strong economy of late

  Overall a positive outlook. People are optimistic and confident about startups and expansions.

  There are more and more non-welding markets in the gas world. Some of them are pretty risky, like the retail liquid nitrogen trade. Safety concerns include customers potentially ingesting liquid nitrogen; operators handling liquid nitrogen without gloves, sleeves or eye protection; and users in a mall environment being completely unaware of the potential hazards. We have turned down business based on safety concerns. You've got a mom with a baby in a carriage ordering ice cream four feet away from a liquid nitrogen cylinder being operated by a teenager — the risks just aren't worth it for us. Then you have Dragon's Breath — this scares the entire distributor community. It's like the Wild West out there. There are plenty of good opportunities though: cannabis farms, microbreweries, bevcarb CO2 and of course medical oxygen, to name a few.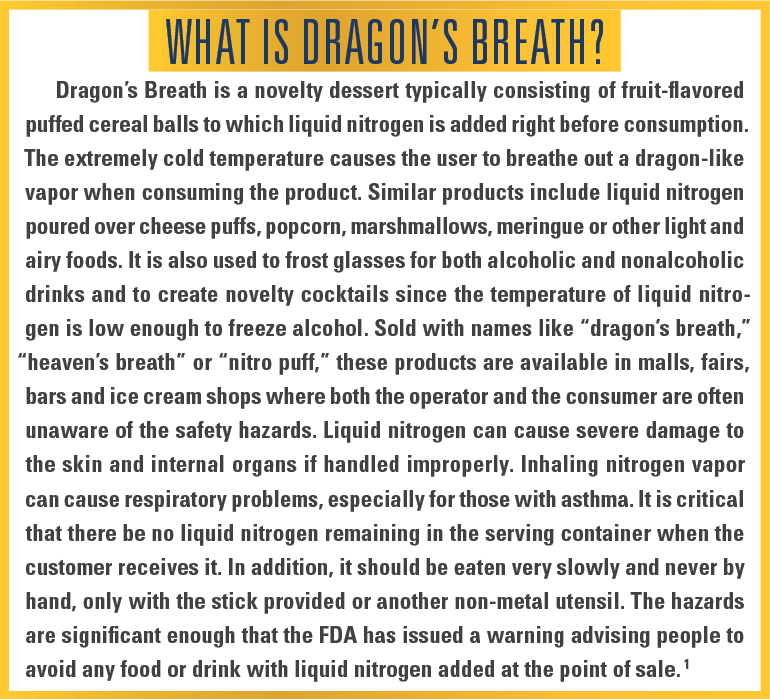 James Earlbeck, President, Earlbeck Gases & Technologies

  2019 will mark our 100-year anniversary, so we will be celebrating that as we make our move to go another 100 years. We plan to add additional staff and resources to position us for growth. Hopefully we can also find additional acquisitions that work in the best interests of all parties. Even though the economy is cooling down, we believe that it is necessary to keep growing in order to remain relevant to our customers and vendors. We think the two larger mergers will create a certain level of chaos that will provide opportunities for us.

  Still feeling very bullish for the independents. Overall the industry remains robust. We have our supply chain problems — specifically, helium — that present a concern. Independents may decide that it makes sense to consider building their own air separation plants or partner with other distributors to share ASPs. The industry is also working on alternatives to the helium supply. For example, different shielding gas mixtures that use little or no helium are growing in popularity now. The welds may not be as shiny, but the joints are just as strong and in applications where the weld appearance is not a high priority, it doesn't really matter. For me, this is the power of a brick-and-mortar distributor — we can offer our customers alternatives because we understand their business.
One thing distributors may have to consider is the need to change their product offerings. The margins on hard goods are decreasing, so distributors may need to look elsewhere for a source of profit. If the margins get too low, consider alternatives. You get to the point where the juice just isn't worth the squeeze. For example, we recently began offering a new line of welders because the equipment has better margins. Why sell things that do not have a reasonable return on your investment?

  Nothing new has popped up since cannabis that's unexpected or unusual. I do see distributors pulling back from the Dragon's Breath types of products where you have a lot of risk and not much gain. You have to consider the transactional costs — retail businesses that are out of the norm tend to have higher liability and training issues. The industry is flush with opportunities, so we do not need to chase risky business.
Matt Winkle, President, Weldstar Company

  We are opening a new branch in Indiana and hope to add another sometime in 2019. We are also planning a major upgrade to our specialty gas facility that will increase our in-house capabilities.

  Based on most economic predictions, we are anticipating modest growth of the economy, but expect higher growth from new markets and market share gains.

  Given the labor shortages, we would expect an increased focus on automation and welder training and qualification.
James Kissler, CEO, Norco, Inc.

  We will be opening two new stores in 2019, brand-new facilities being constructed in exisiting Norco markets: Wenatchee, Washington and Walla Walla, Washington.

  Solid industrial expansion in the 6 to 8 percent range. Expecting further growth in the manufacturing segment, which requires additional automation.

  Solid organic growth in existing markets.
Bruce Cook, Vice President, Humphries, Inc.

  We have opened two new stores in the past few years and are looking to grow in the areas of bulk and specialty gases. We've been more on the industrial side of things and have now set our sights on expanding more into the medical and scientific gas markets. We are already in most of these buildings anyway, so the goal is to continue to build on that, and the way we accomplish it is by providing exceptional service. The customer needs to know that you will make each delivery on time and as promised without any extra charges. The focus used to be on price, but now it is on service — remember, people buy from people. Honesty and integrity matter more than ever before.

  The industry is a little volatile in terms of tariffs and supply issues, but it's still strong. We are seeing price increases on everything — both gases and hard goods — so we need to take a hard look at where our supply is coming from and what all of our options are before we make any purchasing decisions.

  I don't see a lot of new markets on the horizon, just opportunities to expand into markets we haven't considered before. In the tech industry, we have quite a few subcontractors coming in and out, so we need to stay on top of that and let them know we are available. We have also expanded our presence on social media, so that helps pull us to the top of internet searches.
Abydee Butler Moore, GAWDA President-Elect, President and COO, Butler Gas Products

  2019 marks our 71st anniversary at Butler Gas. We are in a family ownership succession between the second and third generations. In 2015, I bought out my aunt, Debi Butler, at her retirement. Since then, we have been active in a long-term succession plan, which will continue in 2019. Not only at the ownership level but throughout the entire company we are engaging next-generation associates. Our General Manager of Operations Joe Wilhelm's daughter, Chelsea Smilak, is a leader in customer service, and our Vice President of Services Sandy Gobrish's daughter, Hayley Gobrish, is an administrative intern.

  These are exciting times in the gas business, and we are fortunate to play the game of business. Change means evolution, so we welcome changes in consolidation, emerging markets and new technologies. Our industry touches so many applications and the more diversified our customer base, the more resilient and poised we are to weather the storms. 2019 will be the best year yet.

  We focus on the gas markets and are amazed with the diversity of applications for argon, helium, nitrogen and CO2. Butler Gas manufactures as well as distributes, so we watch the wholesale and retail markets. Some new consumer applications make us nervous from a safety standpoint, so we are cautious and strictly follow CGA guidelines. On any new application, our first question is "Is it safe?" If the answer is no, we don't do it. Regardless of profit; it's that simple.
Jana Nelson, President, OXARC

  OXARC is looking at expanding our hydrogen services in the Pacific Northwest. We now have the capabilities to fill UHP hydrogen up to 6,000 psi. As we see hydrogen fuel cell technology growing in forklift and robotic material handling applications, we believe our new production capabilities will provide OXARC with a competitive advantage over our competition.

  With the lack of helium in the market combined with severe price increases on helium molecules, distributors are being forced to analyze their continued service of balloon helium customers. We know that several distributors have fired all of their balloon helium customers for lack of molecules in the marketplace. Typically, balloon helium customers are a high-service customer with low profit margins. With the continued lack of helium molecules and ever-increasing costs, I believe you are going to see many of the small mom-and-pop party stores go out of business, as we know balloons are one of the highest profit products they sell. Distributors are being forced to pass on significant price increases on helium products, which will force customers to either accept the increase or look for services from another supplier. This will be a problem for them, because distributors are just trying to service the customers they currently have. Distributors will be looking at ways to convert customers that use a helium-weld blend over to a different blend of gas, in combination with new equipment that will allow them to produce their products without using helium. This will allow the distributor to free up helium molecules to be used for potential new customers, or it will provide relief with current helium customer demands.
We have experienced a slowdown in the economy during the last two quarters of FY18 as compared to the first two quarters. I believe the industry is going to be very flat in FY19. The helium situation, in combination with a new political atmosphere generating fear about the economy, will also contribute to a flat FY19 performance.

  Although OXARC has been servicing the cannabis industry in the Pacific Northwest for 3 1/2 years now, many states currently have the legalization of cannabis for recreational purchases on the docket for approval. This will be a very profitable market for distributors to service if and when those states approve cannabis for recreational purposes.
Charlie Wright, CEO, Wright Brothers, Inc.

  We're continuing to focus on growing our business using our Vendor-Managed Gas (VMG) telemetry system. In addition to supplying this service to our own customers, we also supply it to other distributors and Airgas in an effort to help move the entire industry forward in the Internet of Things. It's important to us that our industry not be left behind while the rest of the world is moving forward. For example, Sears could have been Amazon — back in the day, it offered even more than Amazon does now, you could buy a house or a car from the catalog. They also had the brick and mortar in place and could have leveraged off of that, but they didn't embrace the technology quickly enough, and now Sears has filed for bankruptcy. Telemetry is the same thing in our industry and those that embrace the technology quickly enough will succeed.
Our VMG telemetry system uses radio frequency (RF) transmissions and uploads data to a cloud-based service through a cellular network. We pioneered this telemetry for cylinder gases and made it affordable using RF, similar to unlocking your car using a key fob. We are starting to see it on microbulk and beverage gases, and we also have it in Procter and Gamble's research labs, where we can have a few hundred cylinders that send consolidated data in one cellular transmission.

  There's a lot of doom and gloom out there, but as far as I'm concerned, the industry outlook is positive for those who are willing to embrace change.

  You're going to see a big growth in manifolds. We've installed more manifolds in the last 2 1/2 years than we did in the first 65 years. The manifold is rented to the customer along with the telemetry. A common application is in beverage gases, where users don't have the volume for microbulk or where it would be inconvenient to pipe it.
Jonathan (COO), Christine (CEO) and Bob Balbi (Owner), AirGenics, Inc.

  Jonathan: The coming year, at least for operations, poses a few challenges at our company. We have more large and small delivery vehicles on the road this year and are getting at least one more outfitted for emergency deliveries. We also just bought a ProMaster and retrofitted it for cylinder delivery and on-site repairs for our customers.
We are also directly in the middle of a much-needed upgrade. We have just started putting in a new 100-cylinder filling manifold for helium, nitrogen and N2CO2 filling to keep up with demand that has outpaced our current setup. For the cylinder requalification division, we also did an entire overhaul for every machine we have. We're getting ready for a busy 2019 on the retest side.
Off site from our Newark location, we hope to be rolling out some new products soon. We are looking at a few companies that want to sell that will go hand-in-glove with the engineering and fabrication division of the business. Mostly this will revolve around cylinder filling for small to mid-sized companies.
Bob: J.R. (Jonathan) is filling cylinders faster than most people with less labor. Right now, just him and his brother-in-law Winston (Christine's husband) fill about 1 million feet of helium, 60 thousand feet of nitrogen, 12 tons of CO2 and about 300 N2CO2 cylinders. It works, and it's fast.

  Christine: Following all the markets it is hard to get a solid grasp (if one even exists) on the 2019 prospects, at least for us. So many questions have yet to be fully answered. Our main product is helium and regardless of if the prices are being jacked up for purchasers such as ourselves, supply is limited. A decent amount of dominoes fell the wrong way in 2018 for the helium market and its supply.
Helium-free MRI's are going to be a huge impact in freeing up product. MRI use is a flat 20 percent of demand, and once that winds down the supply should become more stable. Gas chromatography is also starting to use hydrogen as opposed to helium, and although it isn't a free atom, it is still effective.
Fiber optics can rely on other cryogenic gases, and as quantum computing becomes more refined, the need for processors to be so cold will give way to the expense of helium.

  Christine: Being early out of MRI helium supply contracts and into electronics supply and UHP helium, even liquid He for the beginning of quantum computing and hard-drive manufacturers will be big. Eventually the solid-state drive will leave magnetic discs behind, but for right now, server farms certainly require it. Hydrogen fuel cell markets are going to boom along with H2 filling stations, maybe not in 2019 but 2019 is the beginning. Look at the majors and how much they are investing in H2 production and CO2 distribution in North and South America — they definitely know something.
Jonathan: 2019 will be the year of maintenance and packaged gas container overhaul. Out with the new and in with the old. Retrofitting older tanks for a CO2 or nitrous service, taking spare assets and banking them up for hydrogen production plants that are 100 percent green — it's time to make sure your assets are making you maximum dollars per liter of empty space.
Bill Proctor, President, nexAir, LLC

  For 2019, we have budgeted for a refresh of several of our branch retail facilities as well as efficiency upgrades at a few production plants. We will continue the rollout of several major operational initiatives that leverage technology and improve the overall customer experience with nexAir. We have finished construction and moved into a new facility in West Palm Beach, Florida.

  We expect to have a continued positive business environment in 2019. Our customers are investing in their businesses and have a positive outlook on 2019. There is some uncertainty that is concerning; however, the fundamentals appear positive for at least the first half of the year. Distributors will have to navigate some supply challenges and be prudent in identifying and managing cost drivers in their business. There will continue to be pressure on distribution cost and COGS (cost of goods sold) in all revenue categories. The challenge will be to have systems in place to measure those and act accordingly.

  No.
SUPPLIERS
David Bell, President, WITT Gas Controls

  We moved to a new location in 2018.

  Positive — we are looking at double-digit growth.

  Food processing using modified atmosphere packaging is growing at 20 percent plus in the U.S.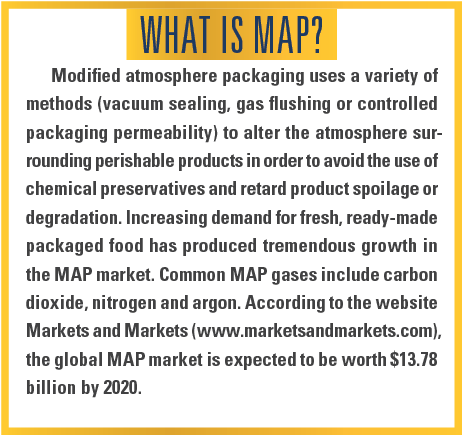 Matt Boettner, CEO, All Safe Global, Inc.

  We will be adding additional sales personnel and warehousing. We are also looking for geographic expansion opportunities.

  Positive, with 3 to 5 percent overall growth.

  No.
Chet Reshamwala, CEO, DataOnline

  Our teams are working on a lot of cool stuff — we have a deep curiosity, creativity and burning ambition to deliver our customers a competitive advantage through smart, robust technology solutions. We have a deeply experienced and growing engineering team, and we are continuously investing in R&D. I can't speak in detail about projects under development, but some areas where we are focused on innovation include communication technologies, sensors, user experience, customer insights, deep learning and non-gas applications. On the installation side, many of our newest devices are paired with mobile apps that accelerate the installation process.
DataOnline will celebrate its 30th anniversary in November 2019, a very exciting milestone. With respect to new lines of business, we're committed to developing products for ISO tank containers that offer the highest level of continuous monitoring — not just location, but level, pressure, temperature and other parameters. Both our helium ISO and LNG ISO tank container solutions have been extremely well-received and provide asset visibility in the deep ocean, over-the-road and remote environments.
We've also been able to immediately demonstrate real savings and a better end-user experience with the use of our Microbulk Scheduler solutions that have been praised by our customers that had little to no logistics software. Now they are scheduling routes and managing their drivers like major producers. With these apps, mid-tier and smaller companies can now differentiate themselves within their market segments. This is just the start of a multi-app solution set aimed at helping customers gain better insights into their logistics systems and the performance of their mobile and remote assets. One of our recently acquired lines of business is our WESROC LPG/propane portfolio, where our residential and commercial tank monitors with customer-facing mobile apps have experienced tremendous success.

  Our customers are increasing their needs and usage of our monitoring solutions, and we see significant digitization growth maximizing our customers' resource efficiency. Advancements in monitoring and communications technologies, as well as data analysis, will also drive expansion of remote monitoring into applications and markets that were previously too expensive to monitor or effectively serve. For example, monitoring beverage CO2 tanks in conjunction with using our software and mobile apps provides CO2 suppliers complete visibility of their tank levels, allowing them to minimize deliveries, runouts and overall logistics costs.

  There is a lot of opportunity for GAWDA members as our industry digitizes. We will not only help you do that, but also ensure we demonstrate real savings for you.
Gayle Smith, Content Strategist/Marketing Department, Computers Unlimited

  We just celebrated our 40th anniversary. We have many long-term employees who continue to work at the highest level possible, year after year, to develop our software to suit the needs of this industry. We have a variety of new products we're rolling out, including many mobile apps for smartphones or tablets developed for delivery, as a sales tool or in the plant for asset management. We are developing a streamlined contract management system as well as a bulk gas management system. The bulk gas system includes propane and will integrate with leading telemetry providers.

  There is definitely a positive vibe in the air. Because of our customers' increasing needs to be competitive in their markets, technology is writing the playbook for next year as well as the years to come. Mobile applications will streamline processes, taking mundane and archaic tasks and making them simple, straightforward and transparent.

  From what we've heard from our customers, there continues to be growth opportunities with CO2 in the beverage/microbrew industry, the medical sector in laser dermatology and especially in hydroponic systems.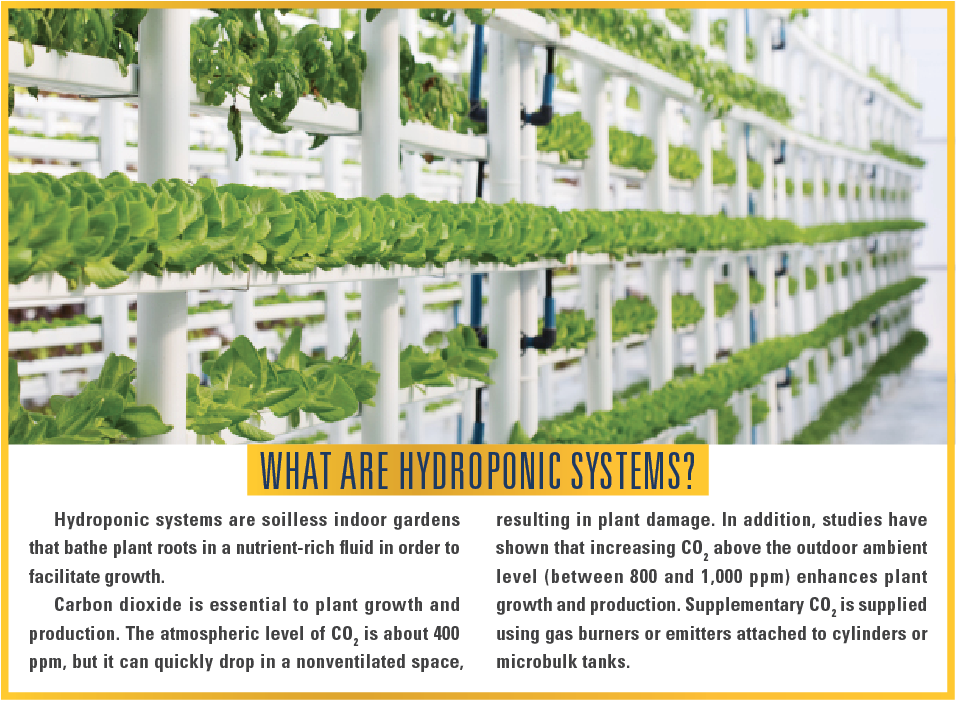 Jim Johnston, Executive Vice President, Kaplan Industries

  We will be expanding this year and building an additional paint line on our 16-acre site in Ohio.

  I'm feeling very positive, but it's going to be a different type of year. Last year, there was a huge market for larger asset cylinders. This year, I expect to see the market shifting toward the smaller cylinders in the resale market. We are predicting 5 to 7 percent growth in the smaller cylinder sizes and on the maintenance side. Before they go out and buy anything new, distributors will be looking at what they already own, focusing on the service and maintenance of existing assets and also making sure they aren't storing any out-of-date cylinders in the yard.

  I expect many new markets to emerge as both science and industry are constantly finding new uses for specialty gases. More of our customers should be looking at the legalization of cannabis in the United States — this is an area that will become a big market in our industry due to the gases required to support the growth and extraction processes.
Hector Villarreal, President, Weldcoa

  As you know, we just celebrated our 50th Anniversary in 2018. As a special gift to ourselves, we finished 2018 with the best sales year in the history of the company. As such, we are entering 2019 with incredible forward momentum. Due to the amount of orders and projects that we have to deliver in the second and third quarters, we are very confident that 2019 is going to be strong, across the board, for Weldcoa.
We are proud to announce that in 2019 we are going to offer a class on industrial gas filling. We've been training people on safe and proper filling practices for well over two decades, but typically this training only occurred when we installed a new system. For the first time ever, we will hold a standalone class that is open to everyone. This came about because several clients had asked us if we offered this type of training. Once we understood the need, we invested in building both a traditional linear fill station and a pallet fill station at our Precision Training facility. I think the industry will be very impressed with the training area when they see it. There's literally nothing else like it in North America.

  I see positive growth in 2019 for our industry. Like everyone else, I've been hearing and reading that the sky is falling. You hear it so much that it's easy to believe until you walk outside and see that the sky is still up there. I personally see all of the signs lining up for a consumer lull and possibly a brief downturn. But on the industrial side of the aisle, it's a different story. According to the American Chemistry Council, total chemical production rose by 3.1 percent in 2018 and they believe that it will grow another 3.6 percent in 2019. That is excellent news for our industry. Another segment of the market that affects our industry is the U.S. oil business. The U.S. oil rig count was down eight rigs from December 2018 to January 2019, but still up 151 rigs over the previous year. If you look at the U.S. Crude Oil Production Index, it still looks incredibly strong. For more information, visit https://tradingeconomics.com.

  No.
Lucas Mitchell, Vertical Marketer for Metal Working, 3M Company

  3M Speedglas looks to launch their generation five line of welding helmets, featuring two welding helmets with new-to-the-market technology, in 2019. The G5-01 and G5-02 are the next generation of helmets from the inventors of the auto darkening filter (ADF). Advancing the world of welding safety, the G5-01 helmet will bring welders choice and weld type selection flexibility for the first time. The G5-01 will be offered with the world's first variable color ADF, including cool blue, warm gold and natural color shades. The G5-02 helmet will have the world's first curved ADF in a slender design, featuring a 100 percent larger viewing area than our existing products.
We are proud to announce that in 2019 we are going to offer a class on industrial gas filling. We've been training people on safe and proper filling practices for well over two decades, but typically this training only occurred when we installed a new system. For the first time ever, we will hold a standalone class that is open to everyone. This came about because several clients had asked us if we offered this type of training. Once we understood the need, we invested in building both a traditional linear fill station and a pallet fill station at our Precision Training facility. I think the industry will be very impressed with the training area when they see it. There's literally nothing else like it in North America.

  Positive.

  In 2019, 3M will continue to work with distributors to build and bring awareness to the hazards that welders face. While most welders are accustomed to needing eye and face protection, 3M will also look to help raise awareness of welders' potential need for proper respiratory and hearing protection. 3M has dedicated a web page to help bring awareness to the safety challenges faced by welders. We encourage you to share this information with your customers by visiting 3M.com/metalworkingsafety.
Frank Salvucci Jr., President, Anthony Welded Products, Inc.

  We are changing with the times and investing in technology and methods of streamlining our processes. Our goal is to make it easy for the customer to make a decision by providing everything they need at the point of sale, without the distributor needing to call back and forth for additional information. We are also rolling out a new line of our patented Load-n-Roll carts. Unlike a traditional cylinder cart that allows movement in a single direction, our carts have spinning front wheels that allow for tight turns in enclosed spaces. They also allow you to move the cart with the cylinders secured in a fully upright position.

  Very positive. Our business never slows down. We are well diversified and serve medical, industrial and oil-related customers.

  Despite the shortages, we are still seeing a growing market for helium. We are also seeing a big market for dry ice.
Sam Fatoohi, Head of Business Development, Pulsa Sensors

  We're working on some major product updates, with global cellular connectivity and weight scale (for liquified gases and other consumables) support coming in the early part of 2019, and additional gas distributor-focused features coming throughout the year. We'll also be growing our team, specifically in engineering and sales.

  Positive. In particular we've been hearing about many distributors making investments in their specialty gas capabilities.

  We expect GAWDA distributors to see increased growth from providing value-added services to their end customers. Distributors can differentiate themselves, provide value to customers and improve their internal operations by offering real-time inventory visibility, predictive inventory replenishment and leak detection services.
Lindley Hewatt, Marketing Manager, TOMCO2 Systems

  We expect 2019 to be an exciting year for TOMCO2, with continued organic and inorganic growth expected as we approach the company's 50th anniversary in 2020. The expanded product offering resulting from our partner company Taylor-Wharton's continued expansion, along with our joint venture partnership with Dohmeyer, will drive expansion into our unique customer base. This growth is further complemented by increased investments in new product development and innovation in water technology, food processing, dry ice and transportation.

  Despite some signs of a larger economic slowdown, we maintain an optimistic outlook for the industry in 2019. While tariffs and global trade tensions may put downward pressure on the market, reshoring and manufacturing growth initiatives domestically are positive drivers of growth for industrial gas. Versatility and adaptability are critical strengths of our regional gas companies nationally and we anticipate that flexibility to enable additional growth in new and disruptive liquid and gas applications. By diversifying the industries that we serve, we minimize impacts of economic fluctuations.

  Absolutely — more than any other time I can recall, in fact. We continue to innovate products focused on growing demand for liquid and gas by displacing traditional solutions in existing market segments. These new and disruptive systems can be found in greenhouse yield enhancement, cannabis oil extraction, craft brew, cryotherapy and food processing. Additional advancement in water treatment and dry ice applications will further elevate both demand and visibility for GAWDA members.
Dino D'Onofrio, Vice President, Generant Company, Inc.

  We will continue to grow, and Generant's growth is primarily a function of new product solutions

  Neutral at best. The tariffs, trade issues and overall economic uncertainty are presenting real challenges to this industry. Even though we had a record sales year in 2018, that sales growth occurred with significantly less profit.

  One of the best opportunities is in customer service and education. Don't focus on price and price alone. There is measurable value in being a technical resource for the customer.
Daniel Grantham, Vice President of Sales, CGW Abrasives, Inc.

  We have changed our name to CGW Abrasives. The name change makes it easy to tell everyone what we're all about — abrasives! The new name and identity/logo remind people what makes us great; CGW Abrasives is the place where quality, performance and value come together. Throughout the year, you will see our new name and logo making a splash in the marketplace.
One of the things we have always focused on at CGW is continuous innovation — we added 141 new SKUs in 2018 with more coming in 2019. We are constantly improving our flap disc program, and in 2019, we will also be introducing new packaging that will improve the lifespan of resin-bonded wheels. Our distribution centers in Niles, Illinois, and Buena Park, California, have the products that our customers need ready to go.

  I feel very positive. There's a lot of negative buzz out there and much of it is media-driven, but we are very optimistic that 2019 will be a good year. Our focus is to continue to build CGW brand awareness in the market and focus on growing our top line sales.

  We have over 5,000 active SKUs available in the marketplace. Along with wide belts, narrow belts and a variety of sanding discs for the woodworking and metalworking markets, CGW offers a complete precision vitrified grinding program. One thing distributors might want to consider is exploring other types of customers. Instead of just providing service to the welding customers, consider the needs of woodworking, glass manufacturers and metallurgical customers. There are some great opportunities available in parallel markets.
Eric Wise, CEO, Wise Telemetry, LLC

  We hired a new vice president of business development and operations whose job will be helping customers determine how telemetry can help them meet their operational goals. We plan to have additional hires on the operating and technical sides as well as updates to our software.

  Positive. Overall we see optimism in general throughout the industry. In our sector, we are seeing customers increasingly adopt telemetry as the price comes down. It's a great way to improve the bottom line as it avoids wasted stops, and it also helps to win accounts because it provides improved customer service. The bulk gas industry has come to expect telemetry, and now that is trickling down to smaller-size assets like microbulk, dewars, manifolds and cylinder packs.

  One of the markets where we are seeing increased growth is CO2 for beverage gases. We are also seeing growth in international markets.
Chip Prinz, Director of Corporate Services, Hobart Institute of Welding Technology

  We will be introducing a new entry-level aerospace manual welding course. It will be focused on stainless steel, both tubes and sheets.

  Positive. We are very busy on both the Corporate Services training and the Skill Welding Program training sides. The only issue we see is the lack of welders in the industry and the demand for more. Our students come out with minimal debt, a set of tools and the opportunity for a good living on day one. The goal is to get more young people to see what a great opportunity they have in this industry.

  I see a lot of growing markets in this industry, including semiconductors, cryo, aerospace, pipeline, construction and rail.
Chris Librock, Marketing Communications Manager, Dynabrade, Inc.

  This year Dynabrade plans on continuing the momentum from a banner year in 2018 into 2019 as we celebrate 50 years of providing industrial manufacturers with the highest-quality pneumatic tools. The introduction of Dynabrade Nitro Series presents an exciting opportunity for welding and grinding technicians to become familiar with Dynabrade quality at an entry-level price point. Dynabrade Nitro Series tools are a complementary family of tools to the over 800 tools Dynabrade proudly manufactures in the U.S. just outside of Buffalo, New York.
Cost savings realized by means of process optimization is a central focus for Dynabrade in 2019. By consulting with expertly trained Dynabrade field representatives, manufacturers have reduced production cycle times, increased technician productivity, optimized abrasive usage and instituted certified clean air solutions on production floors worldwide.

  Positive. 

  No.
Kevin Bonneau, President, Thermacut, Inc.

  We will be continuing new product development with fiber-related laser cutting consumables. We have a new fiber laser head that was first released in Europe that should be available in the U.S. before the end of the year. We also introduced a portable track system at Fabtech that should be available by the second quarter.

  Positive. We are anticipating steady growth, assuming that the tariff situation is resolved in a favorable way in March. If an agreement is reached, we'll be in good shape. If there's a 25 percent tariff, that will have a big impact.

  One new market our distributor customers may wish to consider is our portable track system. It provides a way to get into the automated cutting market without making an enormous investment.
Tanner Hansen, Product Manager, Sumner Manufacturing: A Southwire Equipment Products Co.

  Sumner will continue to expand its line of pipe handling equipment and will be filling in the gaps with pipe stands and pipefitting products. We recognize that there are fewer craftspeople in this industry today and in response to this, we will continue to innovate in order to allow these craftspeople to both accomplish more and to do it more rapidly.

  Our communications with those on the jobsites remains positive. There's

  We have opened our eyes more to the data center market.
Soumitra Mukherjee, President, Trendex, Inc.

  Trendex will be celebrating its 35th year in business in 2019. We also have a new product we expect to release this year, and to that end, we will be hiring a new programmer to assist in the final development. We are very excited about this product — this one will be a game changer in the industry.

  Positive. I know everyone is talking about an economic slowdown, but this is not something we have seen in our own business or with our customers. We are expecting moderate growth in 2019. It may not be as much as we saw in 2017 or 2018, but it will be a growth year.

  One area of growth and diversification for the distributors would be the international market and the internet market. The most important difference between the online sales from a reputable distributor and other online sales outlets is the experience at the other end of the line. GAWDA members can help their customers achieve the best use of the product — they don't just sell the product and disappear.
Another important market consideration is the full utilization of existing assets that a distributor already owns. Our corporate philosophy at Trendex has always been to continuously evaluate our processes for improvement and when we find methodologies that work, we pass them along to our customers. This is one of them. We recommend that customers examine all assets, not just cylinder assets but accounts receivable, inventory, dead stock, personnel efficiencies — everything the company owns or has the ability to control is continuously monitored. This process can unearth both real waste and real gains. For example, we had one customer who continued to order the same product continuously without taking note that it did not sell and they were only adding to the dead inventory. We have other customers who let account receivables go out to 120 days. This could lead to the company going under and never collecting the money. You must analyze the tasks being performed by your personnel. Are they working in the most efficient manner? It's important to monitor all assets in order to ensure that the work you put in is rewarded and your bottom line is profitable. The profits you could have realized can be quickly eroded if these practices and methods are not strictly followed.
Jack Walters, President, American Torch Tip Company

  We always have new products. Any good company is going to continuously innovate and improve their offerings. Watch for a new product release at Fabtech this year.

  Positive. We saw a slow recovery in the first half of 2018 with a more robust recovery in the second half, so I feel confident that this will continue into 2019.

  No.
James O'Connor, Director, National Distribution, Norton Abrasives

  2019 comes at a good time for the abrasives industry. Last year we introduced the new merchandising systems for walk-in trade — three different versions available through your sales person, but this year we want to focus on providing members the right bonded and abrasives mix to help them sell more. With Norton Quantum3 grinding, combination and RightCut cut-off wheels all now available, it is hard for an end-user to go wrong in their fabrication process. You will also see the New BlazeX fiber discs, which are 50 percent better than the existing Blaze on carbon steels. On the carborundum side, you can expect to see a complete change in our product mix, including a new line of CarboFire flap and fiber discs, and new product tiers making it easier to select the right abrasive for the job. We're dedicated to providing grinding, sanding and cutting solutions to you and your customers.

  Positive.

  No.
Dave Wedge, Inside Sales and Marketing Manager, ArcOne

  ArcOne has always been at the forefront of safety and innovation in the welding industry by consistently bringing new products into the scene. As a result, we have brought about positive change in both eye and respiratory protection. We have several new products that are being introduced this year. The BFF auto-darkening filter will be released by ArcOne. This product will greatly increase and enhance a welder's view of their work area and will be available in the next two to three months. We are also expanding our AirPlus powered air-purifying respirator (PAPR) line with two new headtops. Our Eagle flip-front welding helmet for the AirPlus system provides great respiratory and eye protection along with a large-view grinding shield. Additionally, our new AirShield for AirPlus is a full grinding shield with respiratory protection at an economical price. Both of these products are NIOSH approved. 

  As brand awareness spreads regarding ArcOne products and the consistent quality and technical innovation provided, we anticipate a higher demand for our products within the welding industry and in turn are optimistic that sales will reflect that.

  ArcOne has always designed products to increase the protection of welders. As awareness increases in the industry as to the extreme importance of respiratory protection, we anticipate that we will see more of a demand for respiratory systems like our AirPlus and SR 500 PAPR systems.
Jim Norris, Vice President of Sales and Marketing, Control Devices, LLC

  We bought Harrison Valve and this acquisition has helped us to expand into the gas distribution space. Since we are now able to approach the market from three different areas (specialty gas, medical and industrial), it is providing many new opportunities for us.

  Positive. Our domestic economy is the strongest in the world and I don't see why that wouldn't continue. We have more work than people to get it done and it would take a black swan event to change that.

  I'm cautious about making predictions in a market that is new to me, but if I had to hazard a guess I'd say that we are looking at huge growth in specialty gases and the applications in technology will be tremendous.