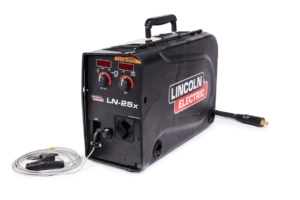 Lincoln Electric introduces the new LN-25X, a portable industrial wire feeder with CrossLinc and True Voltage Technology (TVT). Designed for construction, pipe, metal fabrication, shipbuilding and rental fleet applications, this product provides greater control with fewer cables to drastically reduce movement.
With safety and efficiency top of the mind, the LN-25X is designed with a variety of enhanced features to improve the welder's experience, whether they're in a shipyard or 100 feet off the ground. Features include:
• Adjustable wire run-in speed for softer starting
• Arc hours meter
• Bright digital meters for easy viewing, even in bright sunlight
• English or Metric unit configuration
• Maxtrac wire drive system for reliable feeding and durability
• Optional flowmeter for easy gas flow adjustment at the feeder
• Potted PC boards, providing moisture and corrosion protection
• Replaceable and flame-resistant case to protect internal components
• Split wire guide, which reduces birdnesting and allows for easy cleaning no-fuss wire guide alignment
• Trigger interlock switch for operator comfort for long welds
• Weld timers, including pre-flow, post-flow, and burn back
The LN-25X can be used in MIG and Flux-Cored processes, and is equipped with a variety of built-in technology. CrossLinc and True Voltage Technology improve all aspects of operation, providing safety, quality and improved productivity. The Maxtrac Wire Drive System, a heavy-duty cast aluminum wire drive system, is optimized for both soft and hard wires and offers easy wire-loading and cleaning.