In 2005, engineer Robert Niven attended a United Nations summit on climate change, where he witnessed a global demand for solutions to reduce carbon emissions.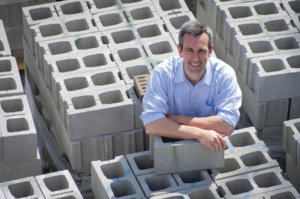 Inspired by the summit, Niven considered the applications of waste emissions in the construction industry and founded CarbonCure, a CO2 utilization company with a mission to reduce the carbon footprint of the concrete industry. His solution? To turn waste carbon dioxide into a valuable commodity — concrete.
How Does it Work?
The CarbonCure Technology injects a precise dose of liquid carbon dioxide into ready-mix concrete and concrete masonry products, chemically converting the CO2 into a mineral (calcium carbonate).
The CO2 is typically supplied in a 3,000L microbulk tank and introduced at the mix plant like any other concrete admixture. It integrates seamlessly into the manufacturing process and does not impact other properties of the product.
The calcium carbonate produced by the introduction of CO2 allows the concrete manufacturer to reduce the percentage of Portland cement in the mix, which saves both cost and the carbon footprint created in the production of the Portland cement. (The manufacture of Portland cement is responsible for 7 percent of the world's CO2 emissions, so this further reduces the carbon footprint of the finished product.)
The Equipment
Concrete plants are retrofitted in a single day and require no capital expenditures or changes to their materials and production processes. Batching is controlled by a simple interface integrated with the batch computer. In a ready-mix dry batch application, the CO2 is injected into the hopper, while in a central mix or masonry application, the CO2 is injected into the central mixer.
Once injected into the wet concrete mix, the CO2 reacts with the calcium ions in the cement to form a nano-sized calcium carbonate mineral that becomes permanently embedded in the concrete.
Effects on Concrete
The CarbonCure Technology has no effect on fresh concrete properties, including set-time, slump, workability, pumpability, air content, temperature or finishing. It also does not alter any hardened concrete properties, including pH, freeze-thaw, density, color, texture or durability. In fact, the CarbonCure Technology actually improves the compressive strength of ready-mix concrete by 10 percent at the standard 28-day cure time, which enables concrete producers to optimize their mix designs while reducing the carbon footprint of their concrete.
Green Advantages
When CO2 is used in most other applications, it eventually makes its way back into the atmosphere. With the CarbonCure Technology, the CO2 is chemically transformed into a mineral, which means it will never be released into the atmosphere as a greenhouse gas.
The beneficial reuse of CO2 is expected to become a $1 trillion industry by the year 2030, according to the Global CO2 Initiative. CO2 utilization products for the concrete sector alone create an estimated $400 billion market opportunity and have the potential to reduce up to 1.4 gigatons of annual CO2 emissions by 2030.
Among 200 companies evaluated, GCI ranked CarbonCure as the most scalable solution to address this opportunity. The CarbonCure portfolio of technologies has the potential to unlock 500 megatons of annual carbon dioxide reductions and create up to $26 billion in new production efficiencies.
"We've made it simple and profitable for the construction industry to build resilient structures with lower CO2 emissions," explained Niven. "Every ton of CO2 utilized in concrete production with the CarbonCure Technology results in a multiplier effect that saves an additional 28 tons of CO2 and over $3,100 in production efficiencies."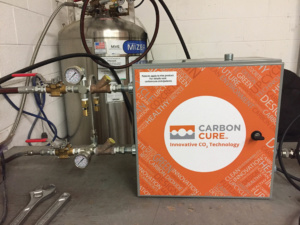 Capturing Emissions
The CarbonCure Technology uses CO2 sourced from industrial emitters. Gas suppliers then collect, purify and distribute the CO2 to concrete plants.
In January 2018, CarbonCure led a team of five companies to demonstrate the world's first integrated CO2 capture and utilization (CCU) from cement for concrete production, a major milestone for the company.
This project built upon previous cement plant CO2 capture demonstrations and was the first project to collect cement kiln CO2 for subsequent utilization downstream in concrete production and construction.
The project demonstrates a turnkey solution for the cement and concrete industries that could create an opportunity to profitably capture and convert cement production CO2 emissions into value-added concrete for construction projects. Specifically, CO2 emissions from the Argos Roberta cement plant near Calera, Alabama, were captured by Sustainable Energy Solutions' Cryogenic CO2 Capture technology, transported by Praxair and reused in Argos' Glenwood (Atlanta) concrete operations equipped with CarbonCure's CO2 utilization technology.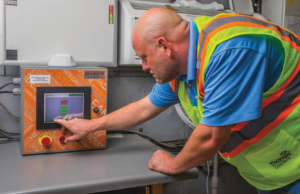 Cement production is expected to be both the earliest and largest market for CCU technologies.
What this Means for Gas Distributors
CarbonCure's vision is to make the introduction of CO2 into concrete standard for all concrete production across the globe. CarbonCure's scalable clean technology is now available in more than 130 concrete plants in North America and Asia. Niven says that their goal for 2019 is expansion — there are 6,500 concrete manufacturing plants in the U.S., and each one of them needs to be matched up to a CO2 distributor. The team is also focused on developing European partnerships.
Roberts Oxygen Company, Inc., has teamed up with CarbonCure Technologies to provide a complete solution for innovative carbon dioxide from industrial emitters for the concrete industry in Pennsylvania, Delaware and New Jersey.
"The CarbonCure Technology presents a fantastic new approach to CO2 utilization," said Scott Van Pelt, vice president of sales at Roberts Oxygen. "The introduction of CO2 into concrete production chemically converts and permanently captures the CO2, which is positive for the environment. By partnering with CarbonCure, we can now provide an enhanced service-oriented solution for concrete producers who choose to adopt this sustainable technology."
Roberts Oxygen currently supplies CO2 to multiple CarbonCure installations with a variety of configurations.
CarbonCure Technologies, Inc., has also entered into a strategic commercial relationship with Airgas to serve the Gulf Coast region.
Airgas offers concrete producers a complete value-added CO2 supply and service solution, supported by its large and reliable Gulf Coast distribution network.
"Airgas focuses on creating value for customers and acting responsibly to help preserve the environment by reducing atmospheric CO2 emissions," said Scott Koonce, vice president of bulk sales and operations at Airgas.
The Accolades Keep Pouring In
CarbonCure has received many national and international awards, and most recently was recognized as a 2019 New Energy Pioneer by Bloomberg New Energy Finance, making it one of 10 game-changing companies recognized for leadership in fueling the transition to a lower carbon economy. The company is also a finalist in a $20 million Xprize Competition to convert CO2 into valuable products. A counter on its website (www.carboncure.com) tracks the number of pounds of carbon that have been saved by the company to date, and as of April 1, 2019, they have saved 59 million pounds of emissions.
In September 2018, CarbonCure's Jennifer Wagner was recognized as one of 22 Climate Trailblazers from around the world at the Carbon Smart Building Day, a conference hosted in San Francisco for building professionals striving to achieve a net zero carbon-built environment.
CarbonCure's highest profile project to date has been the office building at 725 Ponce de Leon Avenue in Atlanta, Georgia. Opening in 2019, this project was supplied by Thomas Concrete. With 25 plants licensing CarbonCure's technology, Thomas Concrete is CarbonCure's leading concrete partner. The project used 48,000 cubic yards of concrete made with the CarbonCure Technology, diverting 1.5 million pounds of CO2 from the atmosphere. That's equivalent to 800 acres of forest absorbing CO2 for a year.