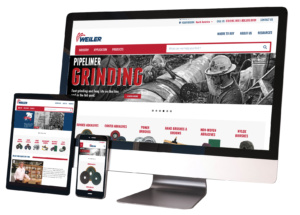 Weiler Abrasives has launched a new website designed to improve user experience and provide access to purchase product through select distribution partners.
Built on a modern ecommerce platform, the new website features dynamic search functions that allow users to find products, solutions and resources for their surfacing conditioning needs — quickly and easily. Weiler Abrasives has also enhanced content on WeilerAbrasives.com, providing improved product content, as well as solutions guides and other resources to help users select their abrasives and gain the best performance from them.
"We know our customers' and distributor partners' time is valuable and they need to have easy access to product and solutions information when they need it," says Nate Schmid, director of marketing – Americas at Weiler Abrasives. "We're excited to offer a streamlined, informative and simple-to-navigate website to meet those needs."
An improved "Where to Buy" functionality makes it easy for visitors to find their local branch or online seller of Weiler Abrasives products. In addition, each product page features links to related literature, safety data sheets, videos and articles to provide users with quick access to resources — reducing search time and confusion.
The mobile-friendly website features technology that allows for an exceptional user experience on any device. The site is currently available in English, Spanish and Portuguese for users in North, Central and South America and will be launched in Europe with additional languages later this year.
To view the new website, please visit weilerabrasives.com.