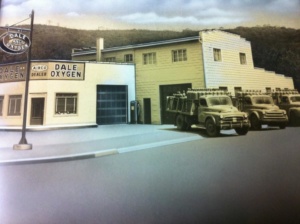 Dale Oxygen, Inc. has been a family owned and operated business since the company was founded in 1939. Harry W. Bennear founded the company after working as a welder in the Pittsburgh area during the 1930s. In 1937, Bennear moved to Johnstown, Pennsylvania, to work alongside a relative for the Air Reduction Company. Through connections made at the Air Reduction Company, Harry became an authorized Airco distributor and opened Dale Oxygen, Inc. in the Dale section of Johnstown. He began by selling and delivering Oxygen and Acetylene gas cylinders, oxy/fuel torches and welding electrodes for welding and cutting applications.
In the 1950s, Harry was joined by his wife, Ruth. From accounting, cylinder records and billing, she became the backbone to support Harry and his efforts. By 1953, the company had outgrown its small shop in Dale and moved to the West End of Johnstown, where it operated for eight years, increasing inventory and adding three trucks to the distribution fleet.
In 1963, the company moved again to the Hornerstown section of Johnstown. This location still serves as the headquarters for Dale Oxygen, the main cylinder fill plant facility, and is home to a 14,000 sq. ft. warehouse that holds and stocks inventory for the entire company.
Harry W.'s sons, Dale and Harry D. Bennear joined the business in the 1970s. Both sons started in the business from the ground up working in the fill plant, driving trucks, and fulfilling roles as account managers. Dale Bennear sadly passed in 1990 and Harry D. Bennear took on the role of President and still holds this position today.
Today, Harry D.'s sons, Chris and Evan Bennear, fulfill the roles of operations management and sales management respectively. Over the past several years Dale Oxygen has continued to grow through its bulk gases program, sales and service of welding automation opportunities, and has recently added an Argon tanker to its fleet that distributes product throughout central and western Pennsylvania.
The company has been able to reach the 80-year milestone thanks to its incredible staff, according to Harry D.
"Truly, our employees have made our longevity and growth a reality," he says. With strong leadership, loyal employees, and a growth plan that includes expansion in the bulk and microbulk business, the company is well-poised to take on the next 80 years.
For more great content like this, sign up to receive the GAWDA Connection, which goes out on the 1st and 15th of every month. Click here to see a recent issue of the GAWDA Connection.