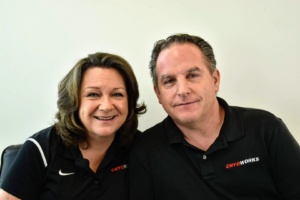 CryoWorks, Inc. began ten years ago after an idea from Donna Mast. Tim Mast, CEO and owner of CryoWorks, was working as a salesperson from his home office.  Since Donna was also home with their children, the entire family was gaining first-hand experience in the cryogenic piping industry.
Tim was helping a customer who was having issues with the products and services that his previous employer was providing. "I got off the phone that day and Donna said to me, 'Why don't we do this ourselves?'" says Mast. "So, we started planning it and about a month later we were doing it."
The company began as a reseller, selling piping to customers out of the Masts' house. A year later, one of the couple's rental homes became empty and CryoWorks moved its operations next door.
Two years later, CryoWorks transitioned from a reseller to manufacturing its own piping. Their company has grown and moved, time and again.
"That was the major change," Mast says. "When we could control our own quality and control our lead times. That's when our growth really took off."
Now, a decade later, CryoWorks has never had a negative year, something Mast attributes to the company's employees and culture. To celebrate its tenth anniversary, the company is hosting a "Tacos and Tours" event for employees, their families, vendors and customers, which will include food and a facility tour.
As CryoWorks looks ahead to its next ten years, it remains a family business, with Donna as the company's vice president and their children, Tim Mast, Jr. as vice president of operations, and Nick Theiss as vice president of engineering and sales. The company is also updating its website, which is scheduled for launch at the anniversary event.
"Our website for the first ten years was a very simple website. It basically said, 'We sell piping,'" Mast says. "To have customers come to us and have the confidence, even on big projects, to work with us is a real testament to the personality of our salespeople and the good word of mouth reviews from our customers."
When you visit their new website, you will see the CryoWorks Mission Statement, which sums it all up:  "Make it Happen, Make it Easy, and Make it Fun so that all customers, vendors, employees, and their families value their relationship with CryoWorks as much as we value them."
For more great content like this, sign up to receive the GAWDA Connection, which goes out on the 1st and 15th of every month. Click here to see a recent issue of the GAWDA Connection.