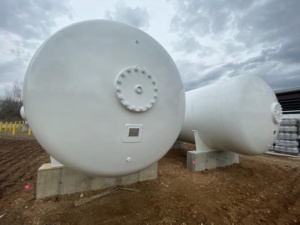 Kaplan Industries is increasing its capacity to service their growing distributor base and has just installed two new 11,000-gallon bulk tanks at their Ohio facility.
These new tanks will go alongside their existing instrument grade N-Butane tank at its state-of-the-art, filling and cylinder cleaning facility. The tanks will contain Instrument Grade Propane and Isobutane at a purity above 99.5%.
With the addition of the 2 tanks, Kaplan will be better able to continue providing distributors with premium packaged gas for the expanding Industrial Hemp and Cannabis markets.
"It's an exciting time here at Kaplan Industries," says Devon Goodman, Specialty Gas Sales Manager "With so much momentum in the cannabis industry, we're excited to be able to more effectively serve our distributors in this growing market."