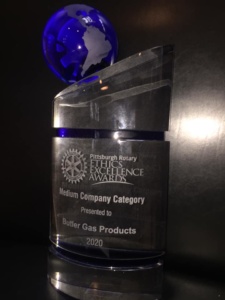 Pittsburgh Rotary named Butler Gas the winner of the 2020 Ethics Excellence Award! Butler Gas owners Jack and Elissa Butler and Abydee Butler Moore, attended the Pittsburgh Rotary Ethics Excellence Award ceremony at the Omni William Penn Hotel on February 12th, anxious with anticipation of the pending awards announcements. Butler Gas had been a finalist alongside two outstanding organizations, wealth management leader Hefren-Tillotson and entertainment giant Topgolf.
The event was a remarkable all-volunteer effort by the Pittsburgh Rotary and Pittsburgh Business Exchange. Funds generated at the awards ceremony benefited the 'City of Champions Emergency Fund'. This fund is used to eliminate barriers to success for people in need and is administered by the Pittsburgh Rotary Club Foundation (501(c)(3)).
Master of Ceremonies Dr. Quintin Bullock, President of the Community College of Allegheny County, shared the stage with Toni Murphy, Vice President of Comcast Cable, and several other community leaders.
When announced as the Medium Company Category winner, President and COO Abydee Butler Moore took the stage to accept the award. "I am honored to accept this award on behalf of our team at Butler Gas," she shared. "We believe ethics excellence is represented by the day-to-day good decisions of our team. And I'm proud to work with some of the best people in the industry."
"If they were alive today, (founders) Jack and Millie Butler would be the recipient of this award." Abydee went on to share Butler Gas's foundation of ethics based on Jack and Millie's guiding principles:  (1) safety, (2) people, (3) customers, and (4) sustainable profit to continuously invest back in the business.
Other March 1 Connection News and New Products: