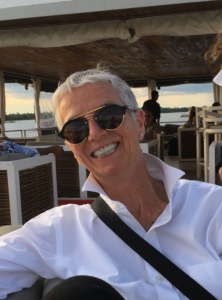 GAWDA extends its condolences to the friends and family of Carola Vogel, owner of Crown Alloys, who passed away after a battler with cancer.
In August of 2019, Carola was diagnosed with non-Hodgkin's lymphoma. She underwent four and a half months of chemotherapy and in December of 2019 the cancer was in remission. Unfortunately, her three- month check-up in early March revealed that the lymphoma had returned in an aggressive form. The treatment options were rigorous and not hopeful. On March 27th, while hospitalized and with a clear mind, Carola made the decision to enter hospice care. On April 1st, she passed peacefully.
Carola Katharina Vogel was born during war, escaped communist repression and ultimately built a highly successful welding alloy business in Metro Detroit. She was a proud feminist and one of the very few women business owners in the male-dominated welding field. Her company, Crown Alloys, began humbly in Royal Oak, Michigan as a local vendor of welding alloys, but within a few short years relocated to a main thoroughfare in Madison Heights, Michigan and became a regional powerhouse that sends its greatly expanded alloy line across the globe. Carola found an astonishing amount of joy and satisfaction in her work, her employees and her customers. Even until the end Crown Alloys provided a positive distraction from the cancer.
Carola was born on April 14, 1941 in Berlin, Germany, to Gustav and Klara Vogel during World War II. Her family home was in what became East Berlin after the war, part of the Soviet bloc. In the late 1950's Carola and her family gradually and clandestinely moved many of their possessions to West Berlin. By the time the Berlin Wall was erected Carola was safely living in West Berlin! A few years later, she emigrated to Canada and then to the United States, settling in Royal Oak, Michigan.
While raising her two sons, Christian and Stephan, Carola decided to quit her job at another welding alloy company and try to create something better. She opened Crown Alloys in 1975 along with a partner, Harry Hammond whom she eventually bought out in 1989. Crown Alloys outgrew its first two locations and finally moved to a 20,000 square foot facility in Madison Heights in 1985. Crown Alloys will continue under the leadership of Carola's son, Christian.
Carola was a private person who enjoyed reading, walking, camping and spending time with her various dogs over the years. But her greatest joy was doting over her three grandchildren. They will greatly miss their "Oma" (German for grandma).
Survivors include sons, Christian Hoffmann, of Rochester Hills, and Stephan (Stacie) Hoffmann, of Danville, California; and grandchildren, Anneliese, Benjamin and Melina.
Per Carola's wishes, her body was donated to Wayne State University's Body Bequest program for research so that she can continue to help others even after death. Because of the COVID-19 pandemic, a memorial service will be scheduled for a future date. The family encourages donations to the charity of their choosing.