Geldof is an operations manager with Keen Compressed Gas Co. Read the full press release below or on the company's website.
WILMINGTON, DELAWARE (July 21, 2020) – Dave Geldof, Operations Manager at Keen Compressed Gas Co., recently celebrated his 50th year working for the company.
In August 1970, Geldof began working for Harold Keen, brother of Keen Gas's CEO, Merrill Keen, at Keen Service Shop, a separate entity from Keen Compressed Gas Co. At the shop Geldof worked with Harold repairing torches and regulators, and testing cylinders.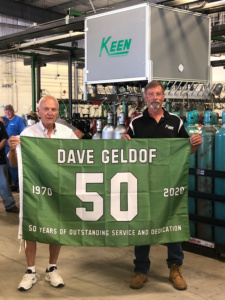 The shop folded into Keen Compressed Gas Co. in 1972 when the New Castle Avenue property was purchased. Geldof took hand in the setup of this new Keen location while continuing to do cylinder testing.
Geldof joined the inside sales team a couple years later, and then moved to outside sales before becoming a driver in 1976. There were only two branch locations then, Millville, New Jersey and Dover, Delaware, so all the deliveries came out of the Wilmington location. Geldof recalls driving all day and getting back to the plant to fill cylinders. "We did whatever we had to do to grow the company," Geldof recalled. "Before we knew it, it was bigger than the week before."
Geldof ran the repair shop at Keen for a few years following his driving career. While at the shop, he took on the task of installing the very first customer Microbulk installation for Keen, and went on to do a total of ten installations. "Geldof knew how to do piping, so he started the installations," Dave Moyer, Shop Manager at Keen recalled.
For the last 30 plus years Dave Geldof has served Keen as Operations Manager, playing an intricate roll in the day to day operations of the company.  Dave's responsibilities ranged from dispatching trucks to overseeing the cylinder fill plant to providing gas solutions for customers.
Although retired, Geldof still comes in a day or two a week. "He's a hard worker, just does what needs to be done, where do you find people like that?" reflected CEO Merrill Keen. "His knowledge of the company, and expertise, can never be replaced."
About Keen Compressed Gas Co.
Keen Compressed Gas Company is third generation, locally owned and operated company founded in 1919.  Keen is the Mid-Atlantic area's leading supplier of welding equipment, welding supplies, and industrial, medical, specialty and cryogenic gases. Keen offers knowledgeable and customer focused employees.  Keen represents a network of quality conscious vendors, backed up by extensive store inventories and a delivery fleet capable of providing next day service throughout our operating area.
For more information, visit KeenGas.com and follow the company on Facebook, Instagram, Twitter and LinkedIn.