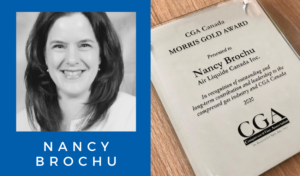 The Morris Gold Award was presented to Nancy Brochu of Air Liquide Canada Inc., during the CGA Canada Annual Meeting Kick-off held virtually on Tuesday, September 15, 2020.
The award was presented in recognition of Nancy's outstanding and long-term contribution and leadership to the compressed gas industry and CGA Canada.
Since 2004, Nancy has been participating and actively contributing to many CGA Committees including the Canadian Cylinder Specifications Committee (chair 2017-2019); Cylinder Valve Committee; Cylinder Specifications Committee; Canadian Pressure Vessels and Piping Systems Committee; Canadian Health, Safety, and Environment Committee; Canadian Transportation Committee; Canadian Medical, Food, and Beverage Gases and Equipment Committee; and Process Safety Committee.
Over the years, Nancy has made a positive impact through her participation and involvement on CGA and ISO Committees, in support of the ongoing development and maintenance of safety standards of the worldwide gas industry. Her active participation in these technical arenas has been greatly valued by her fellow members as well as by CGA staff.
Read more by clicking here.