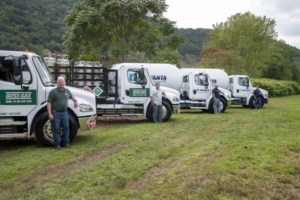 RN Goss Gas Products and Provanta, Inc. have been serving the community's propane needs for over 85 years. They recently staged an open house to showcase their growing fleet of clean air delivery vehicles powered by propane.
Dave Goss, President at Goss Gas and Provanta, explains that while most of their delivery fleet ran on propane in the 1970s, government regulations eventually made converting to propane powered vehicles impractical. Now, due to recent interest in alternative fuels, Goss has begun to transition his delivery fleet to new purpose-built propane powered vehicles.
For Goss, the second wave of these trucks began when Provanta put its first Freightliner S2G propane powered bobtail on the road in 2014.
Jeff Rivers, General Manager for Goss Gas and Provanta, explains that Provanta got in on the ground floor for this new truck technology. 2014 was the first year that the Freightliner S2G was introduced and our truck was one of only 25 made in that year.
Since that time, Goss Gas and Provanta have continued to grow their fleet of propane powered vehicles which currently includes two Provanta bulk propane bobtails, two Goss Gas delivery route trucks, and one pickup truck. Each new subsequent truck purchase for Goss Gas and Provanta has been propane powered, Rivers said.
Monika Goss, Assistant General Manager and fourth generation at the businesses, is particularly excited about the clean burning nature of propane.
I think clean burning fuels are something we all need to be thinking about, says Goss.
Propane is a clean burning fuel which results in fewer harmful emissions than gasoline or diesel fuel. In addition to reduced air pollution, propane is also sourced locally which is great for our economy, energy security, and further reducing emissions.
Something that people may not realize is that 100% of Goss Gas and Provanta's propane is produced right here in western Pennsylvania, she added.
For those who are interested in exploring alternative fuels, Rivers encourages the move.
Our propane powered vehicles experience less wear and tear than diesel or gasoline powered vehicles, Rivers states. This means fewer oil changes, truck repairs, and all-around reduced operating costs.
Goss Gas and Provanta expect to save around $70,000 per vehicle over the life of the vehicle. This means the vehicles will more or less pay for themselves.