After a difficult year in 2020, most distributors expect to see growth in the new year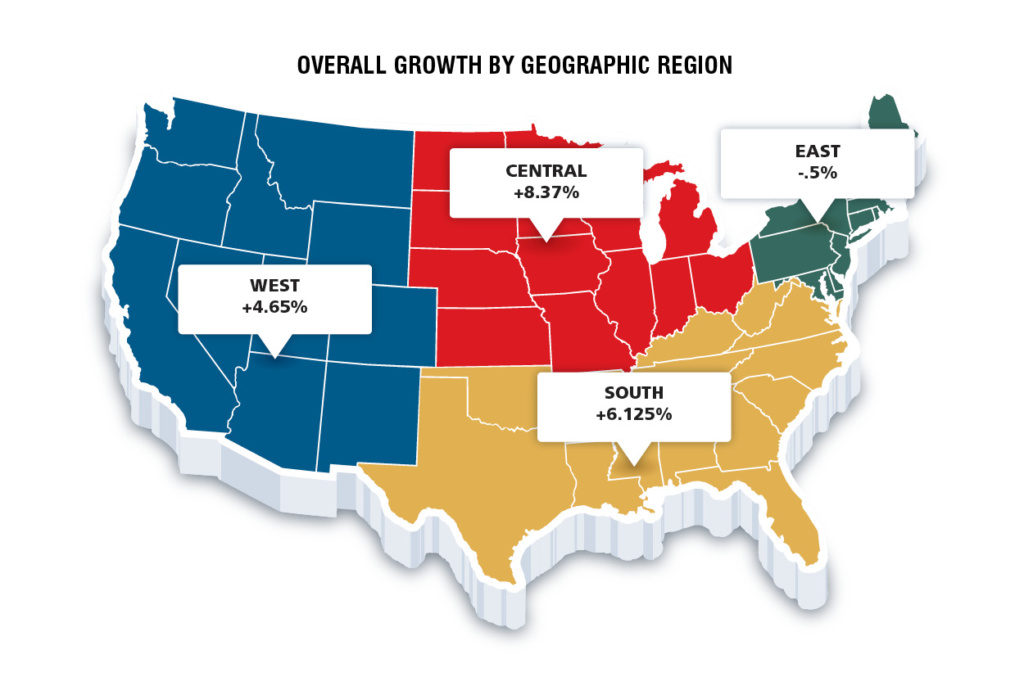 Every year in the 1st Quarter Issue of Welding & Gases Today, we reach out to all GAWDA members to try to get a sense of what the year ahead has in store. We talk to GAWDA distributors and suppliers (page 46), as well as the Chief GAWDA Economists at ITR Economics (page 68). This year, in an effort to paint an even more complete picture, we also spoke to the American Welding Society (page 56), CGA (page 58) and Consultants Buzz Campbell and Ken Thompson (page 62). Taken together, we should get an idea of how the industry will rebound in 2021 after a difficult year in 2020.
This year, we have opted to break down the distributor forecast by region, as the economic climate is not uniform across the country and the industry, exacerbated by government regulation on business and commerce during the COVID-19 pandemic.
With a highly contentious election occurring in the midst of one of the worst global pandemics the world has ever seen, 2020 was a highly uncertain year. More than anything, the overarching theme in the responses of GAWDA members is the need to return to some sort of normalcy, or at least certainty, in the business climate. With that caveat in place, most members project for 2021 to begin to rebound and for 2022 to be a return to growth for the industry.
The following are responses from GAWDA distributors across North America about what they expect to see in 2021. Thank you to those who participated.
EAST

In the 2020 Forecast, the Eastern region of the country projected as the most optimistic of the four, predicting a cumulative 6.25% growth among respondents. However, after the devastating impact of the pandemic, the Northeast is by far the least optimistic region heading into 2021. After not having single projection of decreased or even level growth going into 2020, the region as a whole projects a 0.5% contraction next year. This can be attributed to the political impact of the pandemic (state government restrictions) as well as a skewing toward hardgoods among respondents.
Keen Compressed Gas Co. President Bryan Keen forecasts a 5-10% increase in 2021. "Once we get the vaccine in circulation and we can get more comfortable going to work every day, I think our industry will take off," he says. He says that the company is "cautiously optimistic" for a V shaped recovery. "We are going through a more intense planning process than we ever have before," he says. "We want to make sure we are right sized and focusing on the right business opportunities when we come out of this pandemic." The company is investing in finding talented new people and training its existing people as well as buying trucks and cylinder assets. The company has also begun evaluating the dry ice market. "We are late to the party, but we'll learn quickly, and play catch up for a year or two," he says. "We are also focusing on anything gas related including microbreweries, lasers, cannabis, food, research labs, universities and bio sciences."
Economic uncertainty, due primarily to COVID restrictions, lead Ace Welding Supply, Inc. to project a 5% loss in 2021. Though they forecast a decrease for the year, the company does expect to see a V shaped recovery for the economy once the recovery period begins. Due to the uncertainty, the company is holding off on business expansion for the year.
Lloyd Robinson, president of AWISCO, forecasts a 6-10% growth for 2021, primarily due to the impending vaccine. He says the biggest factor in 2021 will be, "The efficacy of the vaccine. That would, in turn, get people back to work. Also, I am hopeful that some infrastructure package will pass." While Robinson is projecting growth in 2021, he notes that revenue will still be around 10% lower than it was in 2019. "I believe that it will be more of a U-shaped recovery." He concludes, "Until the COVID situation is under control, all bets are off. If the winter is as bad as some are predicting, things will not improve. I am afraid that more shutdowns may be coming."
The incoming political administration leads Commercial Miscellaneous Sales President Louie Centofanti to forecast only level growth in 2021. He notes that trends like the price of steel increasing the cost of cylinders, welding wire/rods, and most other things used by the company and its customers will continue to negatively impact growth potential. One thing Commercial Miscellaneous Sales does plan to do in 2021 is to upgrade its bulk tanks. That will lead to lower cost of products, according to Centofanti.
Strate Welding Supply Co., Inc. will also see level growth in 2021, according to President Russell Strate, Jr. Like others, Strate says the biggest factor in this projection is government actions taken in response to the pandemic. Like Centofanti, Strate also points to rising steel prices as having a negative impact, as well. "How the new administration responds to the challenges that we face will make a difference in what the future will hold," says Strate. For now, he predicts a U-shaped recovery.
Nick Mattiace, Vice President of McKinney Welding Supply, Co., projects sales to fall 10% in 2021, primarily driven by a slow down in non-residential construction and COVID restrictions that he anticipates will carry over into the first quarter of the year. The specter of COVID will continue to cast a shadow over the recover in 2021, with Mattiace predicting that it will have a negative impact on the economy throughout the year. Other things constraining growth include increased pricing due to the rising cost of labor and raw material increases.
Seaboard Welding Supply, Inc. has seen many of its customers go out of business this year, leading Partner Brian Nowell to forecast a decrease of 18% next year. He also points to surcharges on energy and logistics increases as having adverse effects in 2021. Of COVID, Nowell says, "I don't think this will impact our five-year plan too much, but definitely next year's forecast. We feel it will be a bit of a U-shaped recovery, with the government allowing business to open, then partially, then close and then do it all over again five months later. It is hard to adjust to." With things slowing down, Seaboard is looking at smaller markets like providing CO2 and liquid nitrogen to aqua farmers indoors. He concludes, "We are lucky that we're part of the welding and gas industry, because we sell to so many different industries. When one slows up, we concentrate on the others. Too bad the restaurant industry can't do that!"
"We're still looking to acquire other business, not letting COVID deter us from accomplishing our goals." That is the position of Jackson Welding & Gas Products, who anticipate 5-7% growth in 2021. The company does caution that it is dependent on the impact that COVID continues to have on the economy. "COVID has affected small businesses and certain industries that require gases. That is factored into our 2021 forecast."
Earlbeck Gases & Technologies will see a 7% growth in 2021, according to COO Allison Earlbeck. "There was initially some uncertainty and conflicting views on how the pandemic would impact our industry, but I believe we've all seen it play out enough to be confident that we will survive to tell the tale of COVID-19. Out of concern for public safety, we had to close our training center until we were confident to operate without putting anyone at risk. We are now seeing an increased demand for training as we've reopened, with many people looking for an 'essential' occupation such as welding to ensure stable income. We are also seeing increased demand for gas for COVID related applications which will offset some of the lost income from slower small business spending." Earlbeck notes that the company pulled back its expectations for 2020 and 2021 due to the pandemic, but still anticipates a V-shaped recovery.
South
Mirroring the way the East flipped from most optimistic in 2020 to least optimistic in 2021, the South did almost the complete opposite. Headed into last year, the region projected as the least optimistic in the industry. This year, however, the region is the second must bullish in the new year, forecasting a cumulative 6.125% growth.
Advanced Welding & Industrial Supply LLC President John Brewer, Jr. predicts a growth of 3% over 2020 sales, though he cautions that an increase in regulations could put a damper on that growth. With regard to business expansion, Brewer notes that the company will "continue to move cautiously." Aside from COVID, there are no new underlying macrotrends that Brewer anticipates will impact growth one way or another.
"Companies will have to replace, upgrade or fix equipment that they have been holding out on," says Andy Oxy Co., Inc. VP Britt Lovin. That will help drive Andy Oxy to an expected 8% growth in 2021. Lovin expects to see a V-shaped recovery as we come out of the pandemic. The company is actively looking at a few new lines to increase its product offerings. It has also moved into niche markets like aqua agriculture as it sees new greenhouses built using this technology.
B & R Industrial Supply, Inc. President Nathan Stringer anticipates an increase in manufacturing business in 2021. This will help the company reach its forecasted growth of 10-15% for the year. Like others have cautioned, steel increases could impact that projection. Stringer notes that the company hopes to expand its location this year. One niche market that Stringer is excited about is CNC tooling.
Ned Lane, President of Cee Kay Supply, says that the biggest factor impacting his 6-7% growth projection for 2021 is, "The vaccine to get the economy back on its feet." Cee Kay is heavily involved with dry ice, making it an active participant in the distribution of that vaccine. Assuming a smooth rollout, Lane anticipates that B2B online activity will continue to grow. If the vaccine is widely available in the first quarter of the year, Lane projects a V-shaped recovery. The company has "a 10-year plan that has aggressive growth goals," says Lane. That requires Cee Kay to "hire quality personnel to fill growth opportunities." In addition to dry ice for the vaccine, Lane believes that the cannabis market will drive sales in CO2, dry ice and butanes.
The impact of COVID-related shutdowns leads Industrial Welding Supply, Inc. to project level growth in 2021, according to Operations Manager Jim Brancato. This will lead to a U-shaped recovery for the economy. As such, Industrial Welding Supply does not have plans to expand its business in 2021 through new products or locations. Brancato notes that government funds for infrastructure repair or construction could be a boon for the industry. But overall, he believes that fear of continued shutdowns will make 2021 an uncertain year.
Despite the threat of potential COVID lockdowns, nexAir President Bill Proctor sees a growth of 7% for 2021. "I am optimistic the recovery will be more of a V into 2021 and 2022," he says. He sees the threat of further COVID lockdowns and capital spending by customers as the biggest factors impacting projections for 2021. "I expect to see increases in consolidation and a rise in commodities (steel, copper, etc.)," says Proctor. "We plan to expand geographically with locations." As others have noted, the dry ice market has been a growth driver for nexAir. "We expect that to continue through the food and vaccine cold supply chain," Proctor notes.
Pure Air Ltd. VP of Operations Michael Crambes projects 25% growth in 2021 based on three factors. First, the re-opening of travel and tourist trades, second, the belief that sales targets will be more receptive to sales calls, and third, pricing actions. "The slow in the economy has resulted in a very competitive sales environment," he says. "Suppliers have become very active with price increases in Q4 2020, which we will feel in 2021." While he is optimistic for 2021, he does note that, "We don't know what to expect from the new administration and tax policies. That leaves some uncertainty."
Island Gases Limited projects a sales increase of "5% to 10% at best" in 2021. "The success of vaccines and other factors in stemming the tide of COVID and being able to restore purchasing power for business restoration," will be the biggest factors impacting that projection, according to Clyde Sobers. "Here in Barbados, we are a tourism-driven economy. This has been hit hard by COVID-19 and Global Warming will create high risks annually," he says. To combat these challenges, Island Gases will seek opportunities to be more efficient using technology, given the drive by customers to be more tech-savvy.
Larry Simpson, President of Welders Supply Co. of Louisville forecasts a 5% growth for 2021 based on "economic recovery from the COVID-19 pandemic, capital investment in automation and technological improvements given lost of capital." Simpson expects more of a U-shaped recovery, noting that they simply shifted expected gains from 2020 into 2021. The company plans a facility expansion in 2021 as well as expanded lines of business, which Simpson expects to help fuel growth. He is excited about the beverage, CO2 and dry ice markets. He concludes, "Availability of good talent will be contributor to a positive outlook for 2021."
"Oil production and the incoming administration's stance on fossil fuels" are the primary reasons that Derrick Campbell Manager/Owner of Schad & Pulte Welding Supply, Inc. projects a decrease of 30% in 2021. Campbell also notes that the consolidation of wholesale suppliers and direct sales from manufacturers are trends that will impact growth as well moving forward. He also notes that online sales distribution has increased, with non-industry suppliers taking some market share. Campbell has seen an increase of walk-in traffic and a growth of the DIY consumer as niche markets that could help growth.
Willard C. Starcher, Inc. will see a sales growth of 20% this year, according to President John Hill. He notes that COVID-19 could impact that growth, but is optimistic that the industry will experience a V-shaped recovery. Even with that projection, the company does not have plans to expand in 2021 through new lines or locations.
"So far, we have experienced a V-shaped recovery," says Holston Gases President/CEO Robert Anders. "April and May were bad, but we were at pre-COVID levels by late summer. As long as there are no further lengthy lockdowns, we should be fine." Anders projects an 8-10% growth in 2021, depending on, "how the economy reacts to a new administration and the effect of any new tax or regulatory changes." Holston will continue to expand in 2021. Says Anders, "Every year, we want to enter into at least four new geographical areas, either through acquisition or scratch start. Holston entered the dry ice business last year, which has been paying immediate dividends. He concludes, "We are just focusing on the things that we can control."
CENTRAL

As it did last year, the Central Region of the country once again had the most respondents to this year's survey. The region is more optimistic heading into 2021, than it was at the start of 2020. Last year, respondents forecasted 5.29% growth, but this year, the region sees an 8.37% growth, the most optimistic region in the country.
Delille Oxygen Co. will see a 10% growth in 2021, according to President Josh Weinmann. "We didn't decline during the COVID issues, but with the vaccines coming out, the morale and certainty in our consumers should improve a little to make 2021 better than 2020," says Weinmann. "We have some big projects that will finish and begin to generate in 2021 that will ultimately create our growth and get us through a possible slow economic growth." He notes that COVID did impact his forecast, "because it caused so much uncertainty with consumers that it will cause a hangover into 2021." However, he notes that it did not impact the company's five-year projection appreciably. He says, "Our business practices changed during the pandemic and I believe we learned a lot from it that will help us the next five years and beyond." Delille will introduce new product lines and processes in 2021 that will "expand our business in more ways than just financially." Weinmann concludes, "I've always believed that facing and getting through adversity will only make you stronger. So, while dealing with the issues and challenges from COVID, I made sure we focused on things that we were forced to do to try to remain successful that we normally wouldn't have done in a perfect world. Moving forward, I think those lessons will have a positive impact on our company that we can build on."
Indiana Oxygen President Gary Halter expects a 4-6% growth in 2021, based on the recovery from COVID as well as the automotive industry. "Fuel prices are huge for CO2 supply and the industry in general," Halter says. "The vaccine will have an impact on the CO2 industry. Industry consolidation has always been a growth opportunity for us." Halter expects to see a U-shaped recovery and notes that the pandemic has made Indiana Oxygen more conservative in its projections. However, he notes that, "We see opportunities for expansion in a couple of markets due to independents being acquired by the majors. We also view propane as a growth engine for us in a couple of key markets."
Berger Welding Supply expects to see an uptick of 15% in 2021, as businesses continue to look for cost effective and time saving measures. The company believes that market share may be up for grabs for independents as big mergers may have put some of that share at risk. Berger anticipates a V-shaped recovery in 2021.
"In 2021, I expect to see continued industrial investment in Ohio and some of the surrounding states, due to macroeconomic policies and the uncoupling of our relationship with China," says Brad Davis, General Manager at Central Ohio Welding, Inc. "We have more welding and manufacturing jobs in Central Ohio than we have qualified applicants, so I would expect a continuing push towards automation in industries that have not already started this." The company projects 10% growth in 2021. "Regionally, the biggest factor will be how quickly a vaccine for COVID-19 can get into the hands of the vulnerable and health care workers. The sooner that happens, the more likely we are to have a V-Shaped recovery, which will benefit a lot of our manufacturing customers. The longer we wait for it, the more long-term damage will be done, which could put some of these same manufacturing concerns out of business," he says. For the company, Davis notes that, "We made the largest capital investment in our 100-year history in 2020 and expected higher levels of growth in 2020 and 2021 than we are likely to achieve, primarily due to the pandemic. Our five-year forecast is for significant growth and hasn't changed much because we expect the economy to bounce back. We expect a V-Shaped recovery for our company and industry, primarily due to macroeconomic policies. We are going to continue the expansion that we started in 2020 into 2021. In 2021 we are opening a second location regionally and are working with other resellers in several nearby states." The company plans to enter the food-grade gases and beverage CO2 markets within the next 12-18 months.
Helget Gas Products' handling of the pandemic with its customers is the biggest factor leading Vice President Linda Fette to project a 10-15% growth in the new year. Helget has gotten involved with concrete plants using CO2 and large microbreweries, which Fette sees as growth drivers going forward. The company anticipates a V-shaped recovery and says that the things that could impact projections the most are, "changes from the new administration and major gas suppliers." The company does have expansion plans in 2021 that it is excited about and will help contribute to that growth.
WISCO will see a level 2021 compared to 2020, according to President Craig DeVries. "During the Trump years, we saw strong sales growth, only tempered by the metals tariffs, virus and resulting lockdowns," he says. "We saw very little inflation. Low interest rates will continue. There will be a reverse of the rate of growth due to the Biden administration policies." 2020 saw a reduction from the 2019 peak by 10-13%. The company also reduced its five-year forecast due to the new administration. WISCO does plan to introduce a new location in 2021.
President Doug Lampton of Lampton Welding Supply expects an 8-10% increase in 2021, contingent on the speed in which the vaccine is distributed. Additionally, he expects the return of the oil industry and subsequent rise in oil prices to play a role. "I would expect M&A activity to pick up as companies see their cash reserves dry up and look to sell before bankruptcy," Lampton says. He notes that, "The pandemic reduced our projected growth forecast for sure, with all the business shutdowns. However, long term, we are structured to gain back the sales and profits we weren't able to realize in 2020. I'm cautiously optimistic that we will see more of a 'V' shaped recovery given the large equipment orders we have been receiving lately." Lampton has entered into the gas supply for cannabis market and will also grow its focus on beverage gases. Finally, he says, "I believe this pandemic has accelerated our IT investments into our offering an online buying platform that should be active in 2021."
ILMO Products Company expects a 5-10% increase in 2021. However, the lingering effects of the COVID pandemic continue to hang over the economy. Other things that could depress growth are the continued tariffs, increased gas costs and shortages of helium. All things considered, the company expects to see a U-shaped recovery for 2021.
While 2020 was a difficult year, due to COVID, Weld Plus, Inc. President Paul Rensing projects a growth of 15% in 2021. "Low financing rates helped customers afford capital goods and taking manufacturing back from China will help U.S. manufacturing," says Rensing. Weld Plus will introduce a couple of new products in 2021 that will also aid in growth. He notes that welding automation has also allowed for growth. "Hopefully the U.S. manufacturers get a lot of work back from what went to China in the last 15 years," he says.
More confidence and better commodity prices for farmers and ranchers will lead Winfield Iron & Metal to a 10% growth in 2021, according to President and Owner Taylor Duncan. He cautions that more regulation and/or a weaker dollar could change that projection, but that he does expect markets to begin growing in 2021 and anticipates a V-shaped recovery for the business.
While O.E. Meyer hadn't completed its official forecasting at the time of the interview, President/CEO Craig Wood anticipates a 2.5 – 3% growth in 2021. "With the election in the rearview mirror and a vaccine on the horizon, customers who were reluctant to spend in 2020 will likely invest in 2021," he says. The company has seen steady improvement since May and made an acquisition the 4th Quarter of 2020 that Wood expects to enhance O.E. Meyer's outlook for 2021. He notes that, "Washington gridlock could have a positive impact on the overall business climate," and that O.E. Meyer will, "continue to build upon our core capabilities which will, in turn, better position our customers in their space."
Delta Gases, Inc. will see an increase of 15% in 2021, says Vice President Todd Linnenbringer. "I feel like there will be a lot of pent-up spending once things are opened back up," he says. The company expects a V-shaped recovery of the economy. Linnenbringer notes that he has not noticed inflation, steel prices or consolidation having an adverse impact on the industry. Delta does not have any new expansions planned for 2021.
Rodney Huber, President of Huber Supply Co. anticipates level to 1% growth for the company in 2021. "We were hit later than most and we are usually the last to come out of it as well," Huber says of the impact of COVID. "We are hopeful that the 2nd Quarter of 2021 will give us a big bounce." The company does not have concrete expansion plans for 2021 but Huber notes that they are exploring helium options. "We do not fill our own right now and pricing is becoming an issue," he says. The company continues to expand its repair department and is looking to become more involved with robotics. "That's where the future is, so we don't want to get behind," says Huber.
Mississippi Welders Supply will see a 2-4% growth in 2021, according to President Scott Myran. He says that the ongoing COVID crisis as well as associated business shutdowns, both government imposed and economic, will have the biggest impact on meeting that projection. "We will continue to be challenged finding and retaining CDL endorsed personnel, along with other skilled labor," Myran says. He says that COVID set back the company's top-line projection but "created more discipline to impact the bottom line. I see a U-shaped recovery for our business." Finally, he says that "the mental health of employees is a consideration we all need to watch and be prepared to direct to EAP."
"Pent up demand for products and lots of capital" will aid Weldstar Company to a 10% growth in 2021, says Rod Lassiter, Technical Sales Rep. Lassiter anticipates a V-shaped recovery for the company and for the industry.
West
Heading into 2020, the Western Region of the country was the second most optimistic, forecasting a cumulative 5.71% growth. This year, the region is the second least optimistic, expecting just a 4.65% growth, trailing both the South and Central regions of the country.
Western Gasco Cylinders Ltd. President Stu Younger forecasts 10% growth in 2021, assuming no further government mandated slowdowns or lockdowns or an outbreak of COVID within the business. "COVID-19 has slowed business," says Younger. "We have been in a V-shaped recovery, but we don't expect the V to continue. It will slow and we should see a more gradual increase in 2021." The company will expand its product lines next year, which should result in positive growth. "Once a roll out for the vaccine is in place, we should see more business optimism and more investment in spending," says Younger.
Continued COVID uncertainty will lead to a level year for Bishop Welding Supply in 2021. The company forecasts a U-shaped recovery. There is optimism that demand for CO2 from breweries will continue to be a growing trend that will positively impact the business in 2021 and beyond.
Four Corners Welding & Gas Supply also anticipates a level year in 2021, according to President Amber Chisamore. Chisamore notes that there is uncertainty in the oil/gas refining and coal industries, as nobody is sure how they will be impacted by a Biden presidency. "There is also uncertainty with stimulus and CARES act funds being distributed in our rural area." Chisamore points to "pressure to increase minimum wage at an unsustainable level" as a detrimental trend for Four Corners. She expects "more of an L-shape" recovery and is not sure that the area will ever fully recover.
Continuing the trend, Brad Armstrong, President of General Air, also forecasts a level year, due in part to the impact of COVID shutdowns and the low price of oil. "COVID definitely impacted our forecast," says Armstrong. "We expect a V-shaped recovery, but not until Q3 2021. Our growth will need to come from market-share gains in our traditional verticals vs. new growth markets."
Regional improvements and competitor volatility are just two of the factors that will help drive Complete Welders Supply to an expected 12% growth in 2021, says CEO Benjamin Bisconer. Like many others, Complete Welders Supply has seen the expanding cannabis industry as a growth market for the company. Overall, Bisconer predicts a V-shaped recovery in the coming year.
Dave Burnett, President of DJB Gas Services Inc. projects a 5-8% growth in 2021, depending on how the government continues to address the pandemic. DJB has seen product supply problems, but Burnett expects that to be less of an issue in 2021 and beyond. He says, "We were up 2-3% in 2020, but that was way below our normal growth. We had a V-shaped recovery during the last half of 2020, but it looks like it may turn into a U-shaped one." While DJB is always on the lookout for acquisition opportunities, it does not have concrete expansion plans for 2021. Two growth markets for DJB are dry ice and biotech.
Industrial Source also expects a 5-8% growth this year, according to Co-President Bob Laing. "If we get vaccinations soon enough, business should rebound quickly," says Laing. A trend that has emerged that could impact that projection is the continued tightening of the CO2 supply in the Northwest. According to Laing, "We are constantly investing in our capabilities. We hope our investments will impact our business in a positive way. I'm sure we are like many that really can't give an accurate forecast until the virus's impact subsides. We hope and expect a V-shaped recovery."
Oxarc, Inc. projects for a modest 1-2% growth, says Executive Vice President Michael Sutley. This is due, in part, to increased material and compliance cost, as well as the political environment changing the compliance landscape and making it more difficult to do business. Oxarc will continue to invest in assets to help grow the business and support growth when things get better. One industry that Oxarc is involved in that will help drive that growth is the cannabis industry. "The cannabis industry continues to expand and consolidate," says Sutley. "This is going to be an area where we can grow."
While Rainier Welding Supplies Owner Jeffrey Michaelson forecasts a 2-3% growth in 2021, he notes that, "The supply chain must get better," before there can be a return to robust growth. For 2021, Michaelson projects a U-shaped recovery. He notes that the projected growth is contingent on construction financing.
Vern Lewis Welding Supply, Inc. will see a growth of 5-10% in 2021 due in large part to the "booming economy in Arizona." The company's projection is "unaffected" by the COVID-19 pandemic. Vern Lewis will complete its central distribution project this year, giving it a new location. As others have noted, cannabis will be a growth market for Vern Lewis, as it was recently legalized in the state.