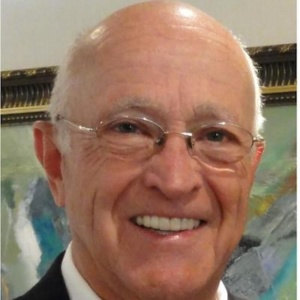 GAWDA extends its condolences to the friends and family of former NWSA President John C. Beringer, Sr., who passed away on February 5, 2021. His obituary was published in the Naples Daily News, and can be read in full below:
John Clifford Beringer, 89, of Akron, Ohio and Naples, Florida, passed away peacefully in his home in Naples on February 5, 2021 surrounded by his 10 children and the love of his life, Nancy. One of seven children, John was born to Charles and Kathryn (Loftus) Beringer in Akron. He attended St. Sebastian Parish School followed by Campion High School in Prairie du Chien, Wisconsin, and John Carroll University. At John Carroll, he honed his leadership skills as president of the student body and as an Army ROTC cadet, receiving the Distinguished Military Graduate Award. Immediately following college, John served for two years in the United States Army as a 1st Lieutenant.In 1955, he entered into a more than 65-year marriage to Nancy Miller of Cleveland Heights.
John was born with an entrepreneurial spirit and natural leadership ability; combined with his wisdom, work ethic, treatment of others, and the love and support of Nancy, he was able to translate that spirit into many successful business endeavors. John was the founder and owner of many businesses throughout his career, most notably Akron Oxygen & Supply Company, a distributor of industrial gases. John spent 35 years growing this company, becoming a leader in the industry and president of the national trade organization for many years.
John filled his days with adventures and projects from the earliest years and was a quintessential lifelong learner. As a young man, John was filled with curiosity and a zest for adventure traits he would carry with him until his last day. As a thirteen-year-old, John was the youngest ever Eagle Scout at the time and the Boy Scout motto of Be Prepared was a theme for everything he did throughout his life.
In 1949, John first laid eyes on the bobby-socked, saddle-shoed 15 year- old Nancy Miller, and there began an amazing love story that would only deepen over the next 70 years. Not a day would go by that John wouldn't make a comment to one of his children about the deep and unshakable love he felt for his dear Nancy, and until the day he left this world Nancy never stopped looking at him with the adoring eyes of that teenager who had fallen in love with him.
John's Jesuit education had a profound impact on his deep faith and the way he lived his life as a Man for Others. A lifelong parishioner of St. Sebastian Parish in Akron, John served as the co-founder and president of the St. Sebastian Parish Foundation. He willingly gave his time and wisdom as a board member to Walsh Jesuit High School and Borromeo College of Ohio, as well as president of the Our Lady of the Elms Parents Association.
John was just as invested in the success of others as he was in his own and provided countless opportunities for others to succeed in business through his counsel and generosity. John led by example, and he would never ask someone to do a job that he himself was not willing to do alongside them.
John possessed immense humility and he valued everyone, no matter their walk of life. He engaged with everyone he encountered, always seeking to learn about those around him, and his charm and wit endeared him to everyone he met. John lived with forgiveness for others in his heart and had the ability to move forward in relationships without ever dwelling on past transgressions.
John had a knack for taking people under his wing, and his concern for young people and the direction of their lives allowed him to change the course of so many people's lives through his wisdom, thoughtfulness, and care. John always looked for the good in everyone; he believed in people and encouraged so many young people to believe in themselves. John believed, and encouraged those he mentored to believe, that if you have the right tools, you can do anything.
John was an adventurer who loved to travel with first mate, Nancy, by his side. They honeymooned at The Homestead in Hot Springs, Virginia, which would continue to be a Shangri-la for them throughout the decades of their marriage. His commitment to creating family bonding through experiences led him and Nancy to take their children to the wilds of northern Ontario for fishing trips in the Canadian wilderness and ski trips to Vermont, where cousins and aunts and uncles were always included. John and Nancy travelled the world together, visiting every continent and making friends wherever they went. Whether in a sandstorm in Dubai or in the streets of Mumbai, John always made Nancy feel safe, protected and part of a magnificent adventure. Johns love and extensive knowledge of history enriched their journeys, and his story-telling abilities made his children and grandchildren feel like they were along for the ride. John loved the game of golf, but never more than when his golfing partner was his Nancy.
He was a natural-born storyteller, and his amazing recall for people and places allowed him to regale those around him with rich tales of history, his own life stories, and remembrances of the Akron of yesteryear. His children and grandchildren treasured their times around the dinner table, listening to John bring history to life, relay humor in everyday experiences, share plans for the next exciting adventure, and discuss all the latest current events. He had a unique and special relationship with each of his children and grandchildren, who continued to seek his advice and wisdom up until his last day.
John's life was filled with successes in business and in his personal life, and he was always quick to attribute those successes to God's grace and the love and support of Nancy. He lived a life of gratitude for his blessings, and never was tempted to think the grass was greener in another mans pasture. He believed in giving others a hand up whenever the opportunity arose, and never forgot those along the journey who had extended a hand to him. He truly lived a life with no regrets.
John is survived by his beloved wife of 65 years, Nancy, their ten children, Mary Savage (Jim), John (Annie), Kathy Reed (Orville), Chris Renner, Don (Karen), Ann Renner (Dave), Colleen Joyce (Paul), Brigid (Shannon Steele), Judy Ossian (Mark), and Susie Dix (Chuck); 34 grandchildren, and 12 great grandsons. Also surviving are sisters Kate Buehrle and Marjorie Dettling, sisters-in-law Mary Ann Barrett and Judy Collins, and many, many loving nieces and nephews. He was preceded in death by his parents, brothers Bill, Charlie, and Jim, and sister Jane Crawford.
Mass of Christian Burial will be held on Saturday, February 13, 2020 at NOON at St. Sebastian Church where the family will receive friends from 10:30 -12:00. All events at the church will require social distancing and face masks. The Funeral Mass will be live streamed on John's memorial page at www.HummelFuneralHomes.com/obituary/John-Beringer. Due to COVID a PRIVATE interment will take place at Holy Cross Cemetery for the immediate family ONLY.
In lieu of flowers, memorials may be made to St. Sebastian Parish Foundation.
(476 Mull Avenue, Akron 44320) or Avow Hospice (https://avowcares.org/donate-now/).