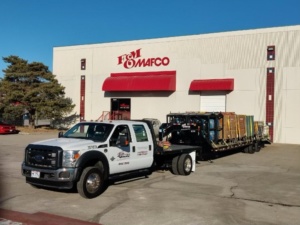 F&M MAFCO, a leading international supplier of tools and equipment rental, sales, and service programs, announced the opening of an expansive facility in Kansas City, Missouri. This recent opening comes three months after the opening of its Evansville, Indiana facility.
According to Tim Fries, COO of F&M MAFCO, "We are very excited about the opening of our Kansas City facility. It gives us an important foothold in the region as we grow our strategic tool management programs across both our current and prospective customer bases." He added, "Both our StrikeForce and NEXT S.T.E.P. complete tool management outsourcing programs continue to grow, which has allowed us to further invest behind the business in setting up full-service facilities throughout the country. Customers expect an exceptionally high level of service and need us right there. It's all about doing business with F&M MAFCO made easy. Having turnkey facilities in close proximity to our customers, wherever they are, allows us to better integrate with their teams."
Located in North Kansas City, the new 26,000-foot facility will provide customers with F&M MAFCO's full range of services – rental, sales, service, and complete tool program management. F&M MAFCO currently employs six people in the facility and plans to hire an additional 10 people over the next 12 months.
Fries commented, "We are committed to growing our business throughout the Kansas City market and region. It is a vibrant hub of industrial activity and has a highly skilled labor pool which will help us attract the best people. Our DNA is all about being hungry, humble, and smart. We look forward to finding additional people that fit our culture and growing the F&M MAFCO family in Kansas City."
ABOUT F&M MAFCO:

Based in Cincinnati, F&M MAFCO is a leading international tool and equipment rental, sales, and service company with operations in Alabama; Indiana; Missouri; Nevada; North Carolina; West Virginia; Sheffield, United Kingdom; St. Croix, U.S. Virgin Islands; and Vancouver, Canada. The company specializes in providing tools and equipment rental, sales, and service programs in the construction and heavy industrial markets across many segments, including power generation, manufacturing, petrochemical, chemical, bridges, marine and offshore, pulp and paper, and mining. F&M MAFCO is a family-owned and operated business established in 1945.
For more information, please contact James Ferguson at 513-444-6810 or [email protected].