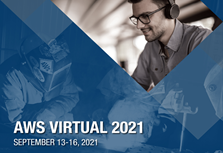 The American Welding Society is gearing up for FABTECH 2021 and is looking forward to reconnecting to the welding industry. And for those who can't make it to Chicago, AWS is offering a variety of its favorite programs online.
"While the world is returning to live events and AWS is busy preparing to have one of our best FABTECH shows ever, we understand that many individuals may not be able to make it to Chicago," said Dr. Pedro Cevallos, Head of Business Development for Educational Services. "As such, AWS is planning to bring some of the events that occur at FABTECH to you virtually."
During AWS Virtual 2021, which will occur the week after FABTECH, attendees can choose to attend a welding track or experience the AWS Professional Program, highlighting cutting-edge research in welding and other related technologies. This will allow many of our international stakeholders to participate in this critical event. Also, many of our world-class educational events will be included in the virtual program for those looking to expand their welding knowledge or earn continuing education credits.
"Whether you join us live in Chicago, online the week after, or both, AWS has you covered," added Dr. Cevallos.
Our educational sessions and Professional Program aren't the only events going virtual this year. Attendees can also register to attend the Poster Competition, which showcases relevant topics to the welding industry from a students' perspective.
To learn more about all the virtual events taking place after FABTECH, visit aws.org/virtual2021.
To see this and other AWS Press Releases, click here.
###
The American Welding Society is the worldwide authority in the development of standards, certifications and educational programming for the welding, allied joining and cutting community. We are a not-for-profit organization committed to connecting the welding industry to our extensive collection of resources, informing our members of technological advancements and developing the next generation of welding professionals with the help of the AWS Foundation. AWS serves nearly 70,000 members worldwide and is composed of 22 Districts with 250 Sections and Student Chapters. For more information, visit the American Welding Society's website at aws.org.