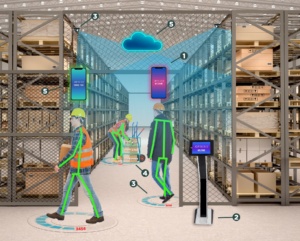 F&M MAFCO, a leading international supplier of tools and equipment rental, sales, and service programs, announced a strategic partnership with OptiCrib, LLC to provide high-tech inventory management solutions to its NextSTEP and StrikeForce tool management programs.
OptiCrib is a completely automated inventory management system for a company's storeroom, warehouse, outdoor trailer, or supply closet that uses machine learning algorithms, computer vision cameras, and other proprietary sensors to track every item taken from its shelves. This transformative technology allows employees to "grab and go." There is no scanning, no entering item numbers, no written forms, no RFID tags, and no direct interface with other personnel.
According to Tim Fries, CEO of F&M MAFCO, "This amazing technology will allow us to further improve the efficiencies we deliver to our customers through our turnkey tool management programs. In addition, it simplifies one's entire inventory management processes, whether in the shop or on a job site."
F&M MAFCO will begin testing this innovative technology with a few key customers over the coming months. Dave Decker, VP of Sales for F&M MAFCO commented,
"Customers are looking for new ways to improve their operational efficiencies. This tool is the ideal solution to control a company's tool inventory with several benefits, including reduced labor expense, improved accuracy, and reduction in tool loss. We can't wait to see OptiCrib at work in our NextSTEP and StrikeForce programs as we begin rolling it out with a few key customers."
Michael J. DeVoney, executive vice president at OptiCrib, commented, "Our team is equally as excited about our partnership with F&M MAFCO.  We look for like-minded entrepreneurial organizations to partner with and are confident that our technology will transform the inventory management processes of F&M's customers. It is a perfect solution to integrate into their existing tool management programs to further drive operational efficiencies."
ABOUT F&M MAFCO:
Based in Cincinnati, F&M MAFCO is a leading international tool and equipment rental, sales, and service company with operations in Alabama; Indiana; Missouri; Nevada; North Carolina; West Virginia; Sheffield, United Kingdom; St. Croix, U.S. Virgin Islands; and Vancouver, Canada. The company specializes in providing tools and equipment rental, sales, and service programs in the construction and heavy industrial markets across many segments, including power generation, manufacturing, petrochemical, chemical, bridges, marine and offshore, pulp and paper, and mining. F&M MAFCO is a family-owned and operated business established in 1945.
For more information, please contact James Ferguson at 513-444-6810 or [email protected]