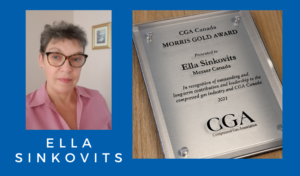 The 2021 Morris Gold Award was presented to Ella Sinkovits of Messer Canada, during the CGA Canada 2021 Annual Meeting Kick-off held virtually on Tuesday, September 14, 2021. The award was presented in recognition of Ella's outstanding and long-term contribution to, and leadership on behalf of, the compressed gas industry and CGA Canada.
Since 2012, Ella has been participating and actively contributing to many CGA Committees including the Canadian Cylinder Specifications Committee (Chair 2021-present; 2015-2017); the Cylinder Valve Committee; and the Cylinder Specifications Committee.
She is currently a member of 18 work items and has led and been a key member on numerous task forces, including those:
• Addressing potential leaks and working toward consistency for global requirements for stamping of SPUN cylinders
• Working on clarifying requirements for performing the hammer test in CGA C-6, Standard for Visual Inspection of Steel Compressed Gas Cylinders and CSA B339-14, Cylinders, spheres, and tubes for the transportation of dangerous goods
• Evaluating available information on reported failures of type CG-4 and CG-5 pressure relief devices installed on cylinders, to further industry knowledge and practices and update relevant CGA standards
Over the years, Ella has made a very positive impact through her committee work in support of the ongoing development and maintenance of safety standards of the worldwide gas industry. Her active participation in these technical arenas has been greatly valued by her fellow Association members as well as by CGA staff.
To read more, click here.