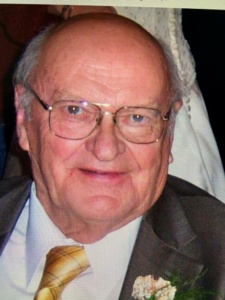 GAWDA extends its condolences to the friends and family of Victor Arthur Suhr who passed away on October 18, 2021.
Vic, as he was affectionately called, was a kind, loving, devoted husband, father, grandfather, and great-grandfather to a large family who will miss him dearly.
On June 14, 1932, Victor was born on the family farm in Cochrane, WI to Arthur and Julia Suhr. Vic spent his youth working on the farm where he learned the value of a strong work ethic that he carried throughout his entire life. There was never a more committed employee which he exemplified in his work in the welding and medical gas filling business among other various jobs. Vic retired from Mississippi Welders of Winona, MN in 2015 after nearly 30 combined years with the company at the age of 83.
One chance evening on January 5, 1956 after a basketball game, Vic asked a beautiful young lady how she was going to get home. Gloria promptly replied, "with you." So began a beautiful love story as they were married on May 3, 1957 and raised eight children in the Cochrane-Fountain City area, and Holmen WI, as well as Gillette, WY. Together with his family, Victor led a devoted life to Christ and shared this love by remaining active in the church and teaching Sunday school.
Victor loved many activities including painting ceramics, attending fairs to see old tractors and steam engines, watching and monitoring the weather and tinkering with just about anything he could fix. He especially enjoyed fishing on the lakes in Hayward, WI where he spent many summer vacations with his family. More than anything, Vic was a family man first and foremost. He taught his children the value of a hard day's work and how to share his riches with those he loved. Vic would never pass up the chance to help anyone in need in any way he possibly could. He had the strength of a lion with the heart of a lamb and his family will be forever grateful for his generosity.
Vic often attended family gatherings bringing with him the best-ever potato salad. It was not an official event without that amazing side dish and his heartfelt blessing of the meal. Music was another love which was often Christian or gospel; however, there would never be a polka song that wouldn't get his hand slapping down on his knee to the beat. The joy was always obvious in his amazing smile and in his favorite expression, "holy cats!"
Victor is survived by his sons Carl (Kim), Tom, Dave (Heather), Scott (Roxanne), Rick (Anessa), Mike (Tracy), and Dan (Betty). He is also survived by 23 grandchildren and numerous great-grandchildren as well as other extended family.
Victor was preceded in death by the love of his life, Gloria Jean (Malles) Suhr, his beloved daughter, Kathi, a dear granddaughter, Ali, his parents, his sister Lois, and a half-brother Myron.
The family would like to thank the kind residents and staff of OnaTerrace Independent Living. Vic had many great friends there whom he loved to share stories with and commiserate about the good ole days. They were a great comfort to Vic after losing his dear wife in January 2020.
Services will be held at The Gathering Place at 133 Mason St., Onalaska, WI on Friday, October 29, 2021. A visitation will begin at 10am followed by a service at 11am. Then a special celebration of his life will be presented by his son, Mike with a luncheon to follow. A private family burial will conclude the day. Coulee Region Cremation Group is assisting the family.
The family will graciously accept memorials in lieu of flowers to help with funeral and medical expenses.
Rest in peace, dear Victor, as you reunite with your soulmate, daughter, and granddaughter. We know they were there to welcome you home. You will be forever loved, forever missed, and forever in our hearts.