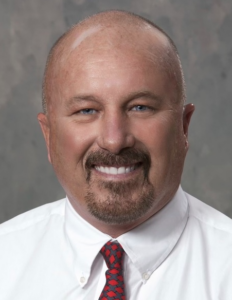 GAWDA extends its condolences to the friends and family of Rick Blair, who passed away on Christmas Day, 2021. Rick worked for Weldstar for 34 years. He was a fun, loyal, hardworking, passionate, co-worker and friend. He was loved by all who knew him and he will be missed dearly. The following is an obituary that ran in the Pharos Tribune:
Ricky Scott Sebastian Blair, 61, of Logansport, Indiana, passed away peacefully on Saturday, Dec. 25, 2021, at home, surrounded by his daughter, Hayley, girlfriend, Jamie, and best friend, Klink.
Born Oct. 14,1960 in Cincinnati, Ohio, he was the son of Charlie and Anita Burnside-Blair.
Ricky was a 1978 graduate of Elder High School in Cincinnati, Ohio. Following graduation, Ricky attended The Ohio State University, where he received a Bachelor of Science degree in welding engineering and was a brother of the Delta Tau Delta Fraternity. Ricky attended Ohio State University from 1978-1987, where he worked to put himself through college and became a first-generation college graduate. Ricky was often referred to by his friends as "Boxhead" or "Box," as he went on to be the 1978 Fight Night Champion for Delta Tau Delta.
Following college, Ricky worked for Weldstar in Aurora, Illinois, for a short time before ultimately planting roots with the company in Logansport, Indiana. Specializing in welding sales with Weldstar for 34 years, his coworkers and numerous customers were more like a second family to Ricky. He also taught welding at Ivy Tech of Lafayette for seven years.
Ricky spent many Saturdays tailgating with his daughter and friends at college football games, especially when it was his alma mater — The Ohio State University. "OH! IO!" He enjoyed golfing with his buddies and also taught and shared his love for the game with his daughter and girlfriend. He enjoyed listening to live Classic Rock music accompanied with a Coors Light or a CC and Diet. Ricky enjoyed talking about politics and loved his country unapologetically. "Let's go Brandon!"
He was known for his sense of humor, his grand love for life, his one-of-a-kind laugh and his striking smile and eyes. Ricky was an immensely proud father to his daughter, Hayley, and always made sure anyone and everyone knew it. Ricky was about love and fun; as he'd say, "Life is too short to not have fun." Ricky left a lasting impact on countless lives that he encountered in his 61 years. He wouldn't want those after him to be sad, because he'd tell you he had a great life and that "attitude is everything!"
Surviving with his mother, Anita Blair, are his daughter, Hayley Blair, of Galveston; girlfriend and soul mate, Jamie Carter, of Logansport; brothers, Chuck (Linda) Blair, Mike (Laura) Blair and Pat Blair; sister, Cindy (Rocky) Morris; bonus children through his girlfriend, Jamie, Keicha (Jarrett) Rider, Bailey Carter, Maeci Carter; and bonus grandchildren Paizlee Foulks-Rider and Penelope Rider.
He was preceded in death by his father, Charlie Blair.
A celebration of life will be held at a later date.
You may share memories and offer condolences on his tribute wall at fisherfuneralchapel.com.