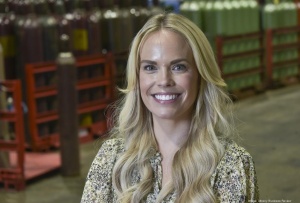 Noble Gas Solutions, a family-owned distributor of high-quality compressed industrial, medical, and specialty gases and welding supplies, announced today that President Colleen Kohler was named a recipient of Albany Business Review's 40 Under 40 award. The award highlights business professionals who have portrayed exceptional leadership and impressive accomplishments.
"I would say that I have been fortunate to have many influential people in my life. After I gave birth to my daughter I had a very encouraging conversation with Air Products past President, Marie Ffolkes. She was very encouraging when she asked about my career aspirations. She told me to never stop working and never give up on my dreams. She is also a working mother to a young boy. Marie showed me that there are women at the top in a male-dominated industry and that women do not have to compromise their dreams," said President Colleen Kohler. "Being honored with this award is a big milestone in my career to remind me that I am still on my path to achieving my dreams. It's a big honor to be receiving this award alongside such great achievers in our region. My goal for many years was to become President of Noble Gas. I achieved that last year. Now as I look forward in my career, I would like to continue to learn more about the gas and welding industry and to advance my board position on our industry trade association (The Gases & Welding Distributor's Association GAWDA). There's so much to learn and ways to grow within our industry. I am excited to see what is in store for me."
The 40 Under 40 award from the Albany Business Review, a media company reporting on the latest breaking business news in the Capital Region, has been awarded to 40 young professionals each year since 2000. Awardees have seen that the award has impacted their networking and career growth, and now many colleagues openly nominate successful business professionals from various industries. According to the business review, this year's honorees were selected from a pool of nearly 300 nominations.
Noble Gas Solutions has seen tremendous growth in distributing compressed gases, dry ice, and welding supplies. The company has also made significant changes and growth internally. Most notably Mrs. Kohler was named President in October of 2021. Colleen Kohler is the first to be awarded 40 Under 40 from Noble Gas Solutions.
"I am extremely proud to see Colleen get this award. She is a rising star in our industry and is following in my footsteps. I am a Past President of GAWDA and Colleen now serves on their Board. I believe she can go as far as she wants in this industry," said CEO J. David Mahoney. "Colleen is hard working, determined to succeed and very good at what she does. I know that with Colleen's leadership, the sky is the limit for Noble!"
Those interested in learning more about the 2022 Albany Business Review 40 Under 40 honorees, click here.
About Noble Gas Solutions:
Noble Gas Solutions, which celebrated its 80th anniversary in 2020, has grown over the years to become one of the premier Industrial, Medical, and Specialty Gas Distributors in the United States. Noble's state-of-the-art fill plant located in Albany, New York, provides customers with the products and analytical services necessary in today's gas market. Noble Gas Solutions offers a complete line of industrial, medical, and specialty gases and a comprehensive line of welding equipment and industrial supplies. These products are supported by a team of knowledgeable and experienced sales, customer service, and distribution professionals who understand the need for solid technical experience and prompt, professional service.