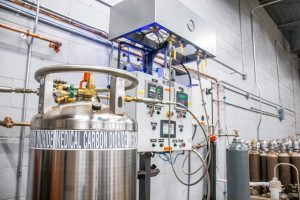 Middlesex Gases, a leading supplier of specialty, medical, and industrial gases in New England, now has the capability to manufacture medical-grade, FDA-approved CO2 in-house at its Everett, Massachusetts, headquarters and filling plant.
Medical CO2 is a gas widely used throughout the medical, health care, life sciences, and biotech industries for everything from minimally invasive surgeries and cryotherapy to helping maintain the sensitive environment of lab incubators. However, over the past two years, supply chain issues have made it increasingly difficult for Middlesex to secure this essential gas on a reliable basis for its customers. In April 2021, the company decided it was time to take matters into its own hands by building a medical CO2 lab.
Bo Martin, CEO of Middlesex Gases, said, "Quick and easy access to a steady, high-quality supply of medical CO2 is critically important to our customers and to the lives they serve. The only way we felt we could ensure consistency and availability of product was to expand our services beyond filling and distributing to manufacturing this essential gas."
Getting the medical CO2 lab up and running was a yearlong process that required a significant investment in technology, equipment, and systems, all of which had to meet stringent FDA requirements. The result has been well worth it. Middlesex now has a state-of-the-art, automated, and highly efficient FDA-approved medical CO2 lab, making it one of only two gas manufacturers on the East Coast—and one of three through the entire United States.
One of the central and distinct features of the Middlesex lab is the medical CO2 analysis system that was custom-built by Middlesex's Manager of Bulk Fleet & Filling Operations, Shane Poole, and his team of gas experts. Poole said, "We specifically designed this system to test our manufactured medical CO2 product for 11 FDA-recognized contaminants. It is the absence of these contaminants that makes the CO2 we manufacture medical grade versus industrial or food grade and ensures it complies with full USP testing, which is a series of chemical tests that prove the product has less than the allowable contaminants as dictated by the FDA."
Middlesex also installed a 30-ton tank for storing raw product and a 14-ton tank for holding medical CO2, both of which are kept full 24/7. As demand goes up, the company will have ample capacity and flexibility to escalate production, increase supply, and expand service.
The medical CO2 lab is just one example of how Middlesex is constantly improving the way it serves the gas requirements of its customers. The company also made significant investments in a high-tech, multimillion-dollar specialty gas lab that went online in 2021, and a fleet of trucks and trailers, including a 10-ton medical CO2 bulk truck, that enables Middlesex to offer gas solutions to a wide range of businesses throughout Massachusetts, Rhode Island, Southern New Hampshire, and Eastern Connecticut.
Martin stated, "We have learned that it's almost always better for us and our customers when we take control of our own destiny. We are dedicated to continuing to invest and expand as necessary to meet the evolving gas requirements of the organizations we serve."
###
About Middlesex Gases
Middlesex Gases is a family-owned, third-generation supplier of specialty, medical, and industrial gases and a variety of gas systems, including Bulk, MicroBulk, and Cryopreservation. The company was founded in 1949 by welder Joseph Martin Sr. as Middlesex Welding Supply, in Everett, Massachusetts. Today, Middlesex still offers expertise in industrial and welding gases and products but has evolved to focus more resources on serving the ever-increasing gas requirements of businesses in life sciences, biotech, and health care. Middlesex is now the preferred vendor for the Massachusetts Biotechnology Council (MassBio), the Massachusetts Medical Device Industry Council (MassMEDIC), and BioCT, Connecticut's biotechnology community. With three fill plants, four supply stores, a state-of-the-art specialty gas lab and new FDA-approved medical CO2 lab, and a large fleet of trucks and trailers, Middlesex Gases delivers superior gas products and solutions wherever and whenever its customers need them.