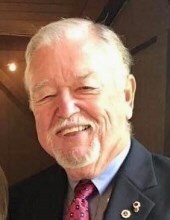 GAWDA extends its condolences to the friends and family of Lawrence "Larry" Vogel, who passed away peacefully at the age of 79. Larry worked for Norris Cylinder for 35 years until his retirement in 2014. Read his full obituary below:
Lawrence "Larry" Vogel, age 79, died peacefully at home in North Plainfield, NJ with his family by his side. He had lived in North Plainfield for 48 years.
Born and raised in Charleston, West Virginia, he graduated from St. Albans High School and continued his education at Western Kentucky University, where he received his BA in Business Administration and Marketing.

After college, Larry went to work for Union Carbide for 15 years before accepting a position as Regional Sales Manager with Norris Cylinder Company. He retired from Norris Cylinder in 2014 after 35 years with the company.

Larry was a longtime member of the First United Methodist Church in Scotch Plains, NJ where he served as a trustee and other volunteer positions. He was also a member and past president of the

Fanwood Lions Club and volunteered at RWJ Somerset Hospital.

Larry never met a stranger; friends, clients, colleagues, acquaintances all have a funny anecdote, story to tell or memory to share.

Surviving are his wife, Barbara Fagan Vogel; his daughters, Tammi Fennelly (Patrick), Leah Cote (James) and Andrea Bliss (Mark); nine grandchildren Joshua Patrick (Alexandria Love), Erich Joseph, Kaelynn Marie, Tony Margaret, Nikole Rose, Colin Lawrence, James McKenna Jr. (Jaime), Vivian Kathleen and Carolina Elizabeth (Carrie); and many nieces and nephews. He was predeceased by his parents Lawrence and Tommie and his brother, Mike.

Visitation will be at Memorial Funeral Home, 155 South Ave., Fanwood, NJ on Friday, October 14th from 4 PM to 7 PM. Services will be held at the First United Methodist Church, 1171 Terrill Rd., Scotch Plains, NJ on Saturday, October 15th at 10:30 AM. Cremation will be private.

In lieu of flowers, donations may be made to the First United Methodist Church of Scotch Plains or to Hospice via: Atlantic Visiting Nurse, 200 Mt Airy Rd., Basking Ridge, NJ 07920 Attn: Donations in Memory of L.D. Vogel.