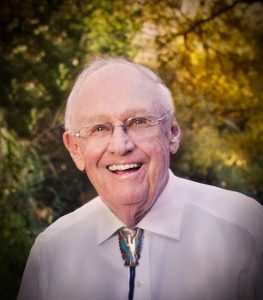 GAWDA extends its condolences to the friends and family of Sam A. Wilson, who passed away on November 19, 2022, at the age of 91. Sam was the former owner of Wilson Oxygen in Austin, Texas. His full obituary can be read below or found here with options to add a memory or send flowers to the family. He will be missed by all who knew him.
Sam A. Wilson passed away peacefully on Saturday, November 19, 2022, a week before his 92nd birthday. He was born on November 26, 1930, in Oklahoma City, OK to Burla McBee Wilson and Sam A. Wilson.
Sam graduated from Norman High School where he was in the National Honor Society and received eight letters in three different sports: football, basketball and baseball.
He graduated from the University of Oklahoma in 1953 with a degree in Chemical Engineering. At OU he received the following honors: Outstanding Engineering Student; President of the Engineers Club; LKOT; Tau Beta Pi and Sigma Tau, Honorary Engineering Fraternities; Chemical Engineering Hall of Fame; Phi Lambda Upsilon, Honorary Chemistry Fraternity; Top Ten Senior Men; member of Phi Gamma Delta Fraternity and NROTC.
After graduation, he served two years as a Lieutenant JG in the Navy on the USS Curtis as a navigator. He served in the United States Navy working with the Atomic Energy Commission as part of the team testing the hydrogen bomb in the South Pacific. He was designated as an "Atomic Sailor" by the Navy.
Following his service in the Navy, he was accepted into the MBA program at Harvard Business School in 1955. In the summer between the Navy and Harvard he met his future wife, Sonia of Temple, TX and they married on June 16, 1956. After marriage, the newlyweds headed to Boston where Sam began Harvard on the GI Bill.
In October of 1963, Sam fulfilled his dream of owning his own company and his family of five moved to Austin. Wilson Oxygen and Supply Co, began with one truck, one driver and a bookkeeper. It grew from a small company to one of the largest independent industrial gas companies in the country.
Sam enjoyed hunting in all areas of the United States, Mexico, Canada and Mongolia. His favorite animals to hunt were the four North American game sheep. He successfully hunted all of them and was very proud to be #138 in the Grand Slam Club. The largest of the sheep species, The Argali, found in the upper Altai Mountains of Mongolia was one of his most memorable hunts.
Sam devoted thirty-two years to growing his successful business, Wilson Oxygen, while still attending every activity of his children and grandchildren. One of his weekly highlights were Sunday family dinners at Matt's El Rancho which he enjoyed for over twenty years.
Sam sold Wilson Oxygen in 1995 and retired to enjoy a life of traveling the world, community volunteerism and playing golf. Sam was well know at the Austin Country Club for collecting and cleaning golf balls retrieved from the canyons and ponds which he would package up and return to the owners or donate to the Settlement Home.
Sam served on many Boards of Directors including: Rotary Club; Austin Chamber of Commerce; Austin Country Club; Junior Achievement; Crime Stoppers; Lord Chancellor-Knights of the Symphony; Austin Woods and Waters Club; Austin National Bank; American Bank of Commerce; Austin Children's Museum; Austin Symphony Endowment; Austin Community Foundation, OU School of Chemical Engineering; OU Alumni Association; Harvard Business School Alumni Board, Junior League of Austin, Helping Hand Home for Children and the National Welding Supply Association.
He served as President of: Austin Country Club; The Sam and Sonia Wilson Family Foundation; National Welding Supply Association; co-founder of Harvard Business School Club of Austin and Co-Chairman with Sonia, of the Texas Exes Flying Longhorns.
Sam was honored as a Distinguished Alumni in the OU College of Engineering; Regent Alumni Award at OU; King Brio of the Knights of the Symphony and Austin Woods and Waters, Sportsman of the Year.
Sam's generous spirit lives on in the many organizations that benefitted from his philanthropic endeavors. His main focus was on education, healthcare and the arts. He established: the Sam A. Wilson Professorship of Chemical Engineering, OU; Sam and Sonia Wilson Endowed Chairs at the Austin Symphony Orchestra, OU and UT; Sam A. Wilson Engineering Scholarships at OU; Sam and Sonia Wilson Conference Room at the Helping Hand Home for Children; Chair of Medicine in memory of his in-laws, Dr. A. Ford and Brooksie Nell Boyd Wolf at Scott and White Hospital in Temple, TX; and the Sam and Sonia Wilson Cancer Center at Scott and White Hospital in Round Rock, Texas.
Sam is survived by his wife, Sonia, of 66 years. Children Steve, wife Nancy and grandchildren Brooke and Lydia Wilson of Austin, TX. His grandson Grant Wilson, wife Kimberly, of Atlanta, GA; grandson Trent Wilson, wife Kristy, step-son Oscar Cole and great-granddaughter Mary-Sterling Wilson of Tuscaloosa, AL. Daughter Sharon and her children Catherine Chlebowski, husband Greg Henson and great-grandsons Leland and Francis Henson of Houston, TX; Caroline Chlebowski of Austin, TX; Claire Chlebowski, husband David Pruitt, of Houston, TX. His niece Mary McCall, husband Strick Heilman, of Leesburg, VA. He was preceded in death by his son Sterling Wilson and sister Dixann McCall.
In lieu of flowers, please consider a memorial contribution to the Austin Symphony Orchestra, 1806 Rio Grande Street, Austin, Texas 78701 or The Neill Cochran House Museum, 2310 San Gabriel Street, Austin, Texas 78705.