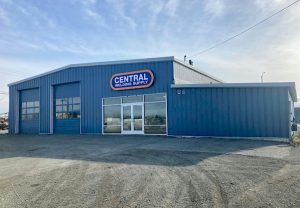 Dale Wilton, CEO of Central Welding Supply, announced the opening of a new location at 2345 E 4th Avenue, Anchorage AK. Anchorage represents the third retail and distribution location in Alaska, after the Fairbanks, AK store opened in April 2022, and the Wasilla, AK branch, the first Alaska store for Central Welding Supply opened in February 2017.
The new Anchorage branch improves local service and deliveries to customers in the Municipality of Anchorage and immediate surrounding areas, previously served from the Wasilla, AK store. All three Central Welding Supply Alaska locations offer fast local delivery, as well as convenient retail stores for walk-in customers, welding equipment rental and equipment repair services. Each of Central's locations offer a broad range of gases, occupational and environmental safety products, as well as welding equipment, welding consumables and related industrial supplies.
Anchorage, AK represents Central Welding Supply's 27th location in a 3-state territory that includes Washington, Oregon, and Alaska. Dale Wilton notes, "We've served customers in Alaska for decades, through regular shipments to Central Alaska, Interior Alaska, SE Alaska, Kodiak, and the Aleutian Island chain from Seattle. Services and products from Anchorage offers a convenient option for customers to help support manufacturing and welding fabrication operations, maintenance & repair businesses, transportation, government facilities and the petrochemical industry, as well as healthcare, restaurants, food packaging and many other business types."
Central Welding Supply offers a full line of products and services, from industry-leading welding technology, to in-house equipment repairs, rental welding gear, abrasives, safety supplies, medical, specialty and beverage gases, and more.
"We're excited to expand our services and products to Alaska," shares Wilton.  "Providing excellent customer service is our core business philosophy. We enjoy being a part of the fabric of support, production and problem solving in Alaska, and the new location in Anchorage will give us an additional base of operation to expand distribution and state-wide service in all of Alaska's major markets."
ABOUT CENTRAL WELDING SUPPLY
Central Welding Supply celebrates a rich history in the Seattle area that began in 1975 as a small start-up begun by Founder, Mickey Wilton. Today, the Central Welding Supply family of companies has grown to 27 retail locations, multiple divisions, over 350 dedicated employees, and over $110M in annual revenues regionally.
Central Welding Supply retail locations include Aberdeen, WA, Albany, OR, Anchorage, AK, Anacortes, WA, Auburn, WA, Ballard, WA, Bellingham, WA, Bremerton, WA, Burlington, WA, Chehalis, WA, Everett, WA, Fairbanks, AK, Kelso, WA, Lynnwood, WA, Medford, OR, Olympia, WA, Port Townsend, WA, Portland, OR, Redmond, WA, Renton, WA, Seattle, WA, Smokey Point, WA, Tacoma, WA, Tukwila, WA, Vancouver, WA, Wasilla, AK, and Woodinville, WA.
Wholly-owned subsidiary, Pacific Welding Supplies, operates the 5 locations in Auburn, WA, Bremerton, WA, Chehalis, WA, Olympia, and Tacoma, WA, as well as the Rental Center in Auburn, WA and a Cylinder Distribution Center in Tacoma, WA.