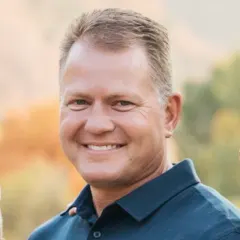 GAWDA extends its condolences to the friends and family of Bruce Cook, President and Owner of Humphries Welding Supply, who passed away tragically on December 6, 2022, at the age of 52 following a snowmobiling accident.
To read Bruce's full obituary, see below or click here to send flowers or sign the guest book.
Bruce Larsen Cook (52) – A beloved husband, father, grandfather, brother, uncle, businessman and friend to all – passed away tragically in a snowmobile accident on Tuesday, December 6, 2022.
Bruce was born to Lynn and Jule Anne Cook in American Fork, Utah on December 22, 1969. He was a cherished eldest brother to Brent Cook, Brian (Tori) Cook, Jenica (Jon) Hafen, Jeana (Clint) Fackrell, and Gary (Anne) Nez. He is preceded in death by his two older sisters, Jody (Scott) Shumway and Jana Cook.
Bruce graduated from Lehi High School in 1988 before going on to serve a full-time mission in Portland, Oregon. Bruce was an active member of the Church of Jesus Christ of Latter-day Saints, serving in many callings through the years including Assistant to the President on his mission, Elders Quorum President, member of the High Council and Bishop of the Highland Utah, 30th Ward.
Bruce met the love of his life and wife of over 30 years, Taunya Kaye Clark while the two attended Lehi High School. Bruce and Taunya were married and sealed for time and eternity in the Salt Lake City LDS Temple on March 22, 1992. The couple has since been blessed with 5 beautiful children – Sydney (Kolby) Nielson, Brittney (Conner) Adams, Tyler (Elizabeth) Cook, Kassidy Cook, Dalton Cook, and 4 amazing grandchildren – Kohen, Rhett, Brooks and Jett.
Bruce was a family man first who's greatest pride and joy was found in spending time with his wife, children, and grandchildren. Being a husband, father, and then grandfather, came naturally to Bruce. His children loved spending time with their dad through their many shared hobbies including dirt bike riding, snowmobiling, flying as a pilot, working in his shop (Bruce could fix anything), Lake Powell boating trips, hunting, basketball and vacationing with his family. His grandkids loved and adored their 'Papa Bruce' as he was, and still is, the light of their young lives.
Bruce was a staple in the community and known by many as the President and Business Owner of Humphries Welding Supply originated in American Fork, Utah. He was a respected and admired businessman, employer, partner and friend to all he came across. In addition to his occupation as President of Humphries, Bruce also served as member of the American Fork City Fire Department for over 20 years.