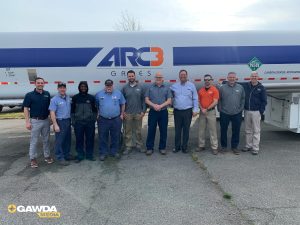 GAWDA Media Vice President of Sales Tim Hudson recently visited two GAWDA Distributors as he drove back to New York from South Carolina. He recounts his story and visits below:
Driving up I-95 from South Carolina headed back from a family vacation, I made a half-way stop in Virginia. On a whim, I stopped at Arc3 Gases to check out their Richmond, VA, location, 1 of 55 locations for Arc3. After a friendly greeting from the counter staff, I asked if Paul Dillard was there and, by chance, he was. I had a chance to sit down for a few minutes with Paul and we talked about typical issues/possible solutions for gas distributors, GAWDA, the Keuka Lake region and many other things.
Afterwards, Paul and his staff were nice enough to let me check out their operation. To view some of the great images from the visit, see the photo gallery here. Huge thank you to Paul Dillard and all the guys pictured below for giving me a great experience at their facility!
After visiting Arc3, I called Will Roberts to see if he minded if I popped in to check out Roberts Oxygen up in Maryland, about two hours North. I lucked out in that Will was willing and able to show me around. The first of three Roberts locations I saw was the HQ offices, which were high-level staff and administrative operations.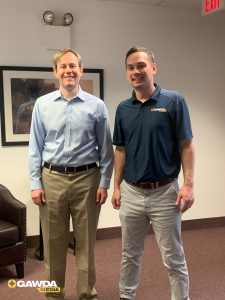 We hopped in Will's car and headed to a Retail location in Rockville, MD. This location was a little unique in that their retail and plant operations were not at the same location but located in the same town. The retail location was, at one time, the lone Roberts Oxygen branch. The merchandising was immaculate. All the major brands displayed and in stock.
The last location that we visited was the Roberts Oxygen filling and distribution hub. This was impressive, to say the least. The property was more like a campus with overflow tractor trailer parking lot, flammable cylinder island (covered), new cylinder inventory holding area, spec gas lab, fill stations galore, cylinder testing/repainting, 30+ year old Veite fill plant still doing the job. They must have had every variety of fleet you could have: mini-bulk trucks, tube trailers, trailers, pickups, all super clean and branded with "Roberts." Dropping off, picking up. Around 70 employees report to this location.
Over the past 20 years, especially, Roberts has expanded to an impressive 54 locations total. About half are retail only, while the other half combine retail and distribution. The distribution facility I visited is the only location that does not have a retail component. Huge thank you to Will Roberts for taking me around showing me a top tier independent gas distributor operation. See photos from Roberts Oxygen here.