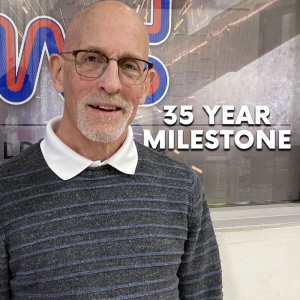 According to a post from the company's LinkedIn page, MWSCO President Scott Myran celebrated his 35th anniversary with the company on April 1. Myran, who announced plans to retire in 2024, began his career at MWSCO as a Route Driver in Rochester. Although he enjoyed what he was doing, Scott was always looking for opportunities and knew within a week that he wanted to run a store. In fact, during Scott's first performance review, he told Don Peterson that he wanted his job one day. By setting goals and targets for himself, he knew he could make his vision a reality.
In 1992, an opportunity opened in Red Wing, which would be Scott's next step up the ladder and for the next eight years, he was the Branch Manager of the Red Wing location.
Fast forward to 2000, MWSCO grew to the point in which Brad Peterson was not able to get around to all the branches as regularly as he would like, so Brad appointed Scott as Operations Manager overseeing the six branches at the time. Over the years, Scott enjoyed working closely with Bruce Nuttall to open five more branches. MWSCO was growing fast.
About 14 years later, Brad Peterson walked into Scott's office and told him that he was the right person to fill the role of President. Scott could not help but feel grateful for the opportunity that was being given to him. He had no choice but to say yes to the job. After all, he did tell Don all those years ago that he wanted his job!
The hardest part about Scott's role as President of MWSCO is having to remain objective and keep his opinions to himself. He must let people think for themselves and figure out how to accomplish their goals. He enjoys being a guide, resource, or sympathetic ear. MWSCO hires good people, so Scott feels the best way to operate is to get out of the way. Scott's advice if you want to advance: "If you want it, go get it. Don't be afraid to get the uniform dirty. Don't be afraid to do what nobody else will do, wants to do, or is afraid of doing."
To learn more, read the full post below.