CK Supply Acquires Welds Supply, Inc. 
In a press release on its company website, CK Supply Inc. announced that it had acquired Welds Supply Inc.

"We couldn't be more excited and appreciative about the opportunity to combine forces with Welds Supply Inc. as our teams mutually share a dedication to the customer and product knowledge expertise that is unmatched in our region" stated Brad Dunn, Executive Vice President of CK Supply Inc.
The Welds Supply Inc., property located at 5654 NW Riverpark Dr., Riverside MO will continue to act as the primary destination for the region's experts in metal fabrication, manufacturing, welding, and mechanical contracting to source their gases and welding equipment as CK Supply Inc., takes over operations and looks to expand the service offerings.
Advanced Welding Supply Company Celebrates 20th Anniversary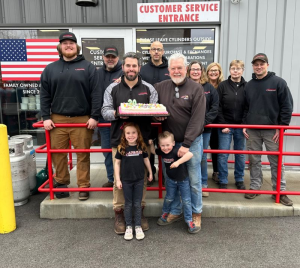 In a post on the company's LinkedIn page, Advanced Welding Supply Company, Inc. announced that it is celebrating its 20th Anniversary in 2023. To celebrate, the company had employees and family gather together for cake.
In a statement, the company said, "We have been so blessed! Thank You to our dedicated employees and our wonderful customers! If you don't get your gases & supplies from AWS call us today 414-258-7100 to make the switch! We pride ourselves with actually stocking what you need and the best service in the industry!"
Jones Welding & Industrial Supply Opens New Branch Location
According to a press release on the IWDC website, Jones Welding & Industrial Supply, Inc. opened a new location in Orlando, Florida. The new branch is operational effective immediately.
The new address for the location is:
Jones Welding and Industrial Supplies
4520 36th Street
Orlando, FL 32811
P: (407) 601-0157
Oxarc, Inc. Recognized by Lincoln Electric with Chairman's Award
According to a post on the company's LinkedIn page, Oxarc, Inc. received the Chairman's Award from Lincoln Electric for outstanding sales performance in 2022!
American Welding & Gas, Inc. Acquires Tricounty Gas, Inc.
American Welding & Gas, Inc. (AWG) is pleased to announce that Tricounty Gas Inc. has joined the AWG team. Headquartered in Buffalo, WY since 2004, Tricounty Gas has built a strong reputation for prompt, professional service for its gas customers. Tricounty Gas is locally owned and operated by Tom Weber.

"Tom Weber and his team have built a strong propane company known for their safety and customer service excellence.  This will be our first standalone propane location in the great state of Wyoming, and we are so thankful that Tom trusted AWG with the business and team he built.  Tom's team of Bill, Breann, and Adam will stay with AWG and continue to grow the business on the foundation Tom built. Our partnership with Tricounty further expands our position as the largest independent propane provider in the region."  – Jason Krieger, President & CEO AWG
"There comes a time when it's a smart decision to ask for help. That time has come for me, and that is why I am pleased to be handing the baton over to American Welding & Gas to take Tricounty to the next level of excellence. – Tom Weber, Owner/President Tricounty Gas, Inc.