OE Meyer Company Breaks Ground on New Mixed-Use Retail and Distribution Facility for Industrial Gases, Propane, and Welding Supply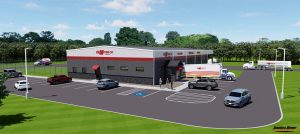 OE Meyer Company, a leading industrial and specialty gas solutions provider, announced construction has commenced for its new mixed-use retail and distribution facility in Avon, Ohio. The facility marks a milestone for the company, signaling its commitment to expanding operations and enhancing service capabilities in Northeast Ohio.
Designed to meet the growing demands of the commercial gas and propane industry, the Avon facility will serve as a hub for OE Meyer's distribution operations in Lorain and Cuyahoga counties while providing a full-service retail experience for customers. The innovative building design incorporates cutting-edge technologies for greater efficiencies with improved safety and environmental stewardship.
Key features of OE Meyer's new 12,000 sq. ft. facility include:
An advanced distribution center equipped with sophisticated technology for efficient and reliable propane filling and bulk tank distribution throughout the region.
Expanded retail showroom providing convenient walk-in service showcasing OE Meyer's comprehensive line of industrial gas and welding supply equipment, propane cylinders, and bulk tanks.
An Automation Solutions Center showcases OE Meyer's turnkey process automation solutions and offers comprehensive maintenance and repair services for welding equipment.
Environmental considerations: As sustainability is a core value for OE Meyer, the facility will incorporate environmentally friendly practices, including energy-efficient systems and adherence to the highest safety standards regarding secure gas handling and waste disposal.
"We are thrilled to break ground on our new facility in Avon," said Eric Wood, COO of OE Meyer Company. "This project represents a significant investment in our company's future. The new technologies will allow us to increase our delivery efficiencies and expand our service offerings to best serve our growing customer base."
Beyond providing more robust corporate functions and increased service capacity, OE Meyer is embracing its new role in Avon. "Not only are we bringing new jobs to the area, but we're looking forward to building new relationships and contributing to this thriving community," Wood said.
"OE Meyer is one of very few independently owned businesses in this industry. We're comparable to the big corporations in terms of product. But our approachable, family-owned sensibility makes it easy and comfortable to work with us."
A long-time OE Meyer partner manages the design and construction of the new facility—also an employee-owned company—Janotta & Herner. The buildout is expected to be completed by the end of 2023.
For more information about OE Meyer Company, please visit oemeyer.com.
CK Supply Named Top Workplace in St. Louis by the St. Louis Post-Dispatch
CK Supply, Inc. has been awarded a Top Workplaces 2023 honor by St. Louis Post-Dispatch Top Workplaces for the second consecutive year. The award recipients are chosen based solely upon the highest scoring independent results gathered through a third-party survey data.
The confidential survey uniquely measures 15 culture drivers that are critical to the success of any organization: including alignment, execution, and connection, just to name a few.
"Earning a Top Workplaces award is a badge of honor for our company, especially because it comes on the back of an extensive effort to enhance our benefits and culture most specifically through our recent Employee Stock Ownership Program," said Brad Dunn EVP of CK Supply Inc.   In response to employee feedback, over the past twelve months we have Implemented across the board cost of living salary adjustments, an additional vacation day, combined our vacation and sick days into PTO, 100% free short term and long-term disability & life insurance as well as what we are calling quarterly Owner Profit Sharing bonuses."
CK Supply, Inc. intends to celebrate with all our employee owners building up to our family picnic celebration on August 12th.  There will be games, prizes, food, and giveaways.
Select Gases Establishes NexGen Bionbanking LLC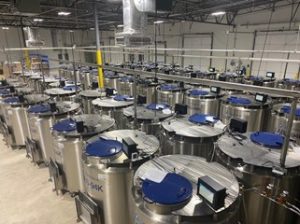 Select Gases, a GAWDA member based in Atlanta and owned by industry executives John Norton and Andy Pazahanick, announces the establishment of NexGen Biobanking LLC in Norcross, Georgia. NexGen is a 17,000 square foot state of the art facility that stores and manages biospecimens. Today NexGen has over 3,500,000 cancer research samples stored in temperatures ranging from ambient to -80 (Ultra Low Temperature freezers) to -196 (LN2 – cryogenic freezers). The biorepository has already received accreditation from the College of American Pathologists (CAP). NexGen services the southeast U.S.
AWISCO Launches New Website
AWISCO launched its new website, which includes its brand new online store. According to a press release:
"We are so excited to bring you this new tool! AWISCO built this new online store with only one purpose: to make it easier for you, our valued customer, to do business with AWISCO.
In addition to being able to view and shop all the items available at AWISCO, there are also various account management tools available such as viewing orders, invoices, and proof of delivery as well as a bill pay option. We have created a few videos to ensure that you get your account set up properly as well as share all the available features on the new site."
To learn more, visit the new AWISCO.com today.