GAWDA Visits County Welding Equipment
On Tuesday, October 24, 2023, GAWDA Director of Member Services & Programs Andrea Levy visited GAWDA Distributor Member County Welding Equipment in Pompano Beach, FL. County Welding Equipment Owner Steven Segal gave Andrea a tour of the facility, including their large bulk tanks. We thank Steven and the team at County Welding Equipment for being such gracious hosts. To learn more about the company, click here.
Norco Medical Named 2023 Provider of the Year
Boise, ID-based Norco Medical was named the 2023 HME Provider of the Year at the HME News Business Summit in Charlotte. As part of the HME Excellence Awards hosted by HME News and sponsored by ACU-Serve, Norco Medical completed an initial application and a finalist application, providing information on its financials, quality controls, staffing and community involvement.
"We at Norco are filled with gratitude and are incredibly honored to be recognized for this great award," said Troy Johnson, executive vice president-medical, for Norco. "For over 75 years we have always been focused on our mission statement of 'Serving you Better' with our employees, our customers and our communities. This has been instilled in the culture of Norco from three generations of family ownership (Larry, Jim, and Nicole Kissler) and is now engrained in the fabric of our many service-minded, employee-owners of today. To be singled out as a top provider in our challenging industry is humbling, but also reaffirming to us that a united, dedicated team of individuals with the purpose of taking care of the customer is the compass we will continue to follow."
To learn more, click here.
Welders Supply & Gases Holds Grand Opening for its New Fill Plant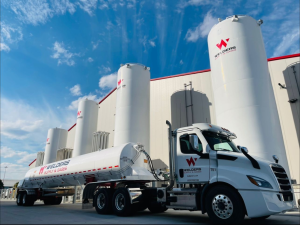 Welders Supply & Gases held the Grand Opening for its new fill plant. To commemorate the occasion, Welders opened the doors to its new 5-acre facility for customers and vendors alike. The Grand Opening was attended by companies including: Miller, Lincoln, Hypertherm, the IWDC, Norton, Cutting Systems, Weldcoa, Midalloy, Fronius, Bug-O, 3M, Abicor Binzel, ESAB, ORS Nasco, Select-Arc, Tilman, Wikus, Sait, Concoa, LiftAll and Ratermann. To see more pictures from the event, check out the LinkedIn post by clicking here.
Noble Gas Solutions to Hold Grand Opening for its Utica, NY Location on November 15
Noble Gas Solutions announced the soft opening for its new store located at 1109 Oriskany St. W in Utica, NY. As the company continues to put the finishing touches on the store, it prepares for its Grand Opening celebration to take place on November 15th.
Earlbeck Gases & Technologies Releases Video Detailing "The Earlbeck Difference."
Earlbeck Gases & Technologies introduced its latest video that showcases the innovative solutions at Earlbeck Gases and the Earlbeck Difference. Watch the video below to see how Earlbeck is raising the bar in the gas and welding supply industry.
AWG Announces Promotions
American Welding & Gas Announced the Promotions of Billy McQuerry to the position of Facility Manager of its Broad Oak facility in Beaumont, TX, and Tommy Dronet to the position of Assistant Branch Manger of the company's Sulphur, LA, branch.
With 24 years of experience in the CNC and fabrication industry, Billy played a pivotal role in the construction of the new Beaumont, Texas Corporate Fill Plant in 2014. In 2022, he was honored with the Al Mazoch Award for outstanding performance.
Tommy began his career with Coastal Welding Supply in 2019 as an inside sales representative.
Congratulations to both Billy and Tommy on these well-earned promotions.
To learn more, click here.
American Welding Society Launches Reimagined Website
After years of unwavering commitment and hard work, the American Welding Society announces the launch of its newly redesigned website: aws.org.
With nearly 2.5 million visitors in 2022, the new website is designed to continually expand this number by offering a seamless, uniform browsing experience and focusing on every user's unique needs in their quest for information.
Cassie Burrell, Senior VP of Strategy & Membership Development, shared, "The new website's aesthetics and structure provide our visitors with the ultimate user-friendly experience. A revised navigation system is tailored to cater to each individual's distinct journey, placing the user firmly in control."
Research was critical to the redesign, requiring a core team of AWS staff to evaluate the organization's infrastructure, define success, and understand the user journey experience. The redesign, part of AWS' digital transformation roadmap, began in 2021 with a website discovery. Phase 2, which started in Spring 2022, consolidated several web properties into one ecosystem. Ms. Burrell emphasized, "This redesign reimagines not just the website's structure, but also its format, content, and navigation, all geared towards enhancing and elevating the user experience with AWS."
Key highlights of the customer-focused updates to the new website include:
Enhanced Search: Utilizing AI technology, the website adapts to users' search history to deliver precise results.
Responsive Design: Optimized for tablets and mobile devices, ensuring a simplified exploration and participation process.
Live Chat: Offering real-time access to a dedicated Customer Service representative.
Online Magazines: Delivering immersive, searchable, and real-time access to all AWS publications.
Additional updates encompass a streamlined shopping process, personalized member greetings, and a searchable calendar of events and course catalog.
Ms. Burrell concluded: "This redesign is not merely a touch-up; it's a complete overhaul. We are making the AWS website functional and meeting our members and customers where they are to enhance their overall experience."
Discover the reimagined website by visiting aws.org.