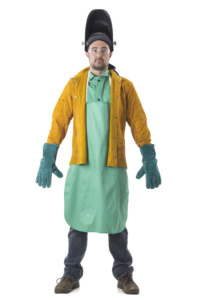 By Charles McChesney
Safety equipment is ubiquitous in the gases and welding industry. It is integrated into the operations of every fill plant, every warehouse and in every cylinder and cryogenic vessel. From pressure release valves to high-visibility gauges to tamper-proof fittings, the industry has developed a plethora of equipment to keep workers and customers safer.
Personal protection equipment, worn and used by welders and other workers, is a part of that, and it's a huge market on its own. Research published last year by Global Market Insights, Inc. found that Americans across all markets spent $12.5 billion on personal protective equipment in 2015. 
This is a very large and growing market. It's a lucrative one for sure, too, given  that Global Market Insights expects worldwide personal protective equipment sales to exceed $67 billion in the next six years. 
GAWDA members serving the safety market shared some of what distinguishes distributors who are most successful serving this part of the welding and gases industry as a means to help distributors boost their own share of sales. Here, quoted and paraphrased, are what they had to offer about the topic. 
How To Make Sales In Safety Goods: SOME USEFUL TIPS
Keep Stock
Ron Rimes, sales manager
Lake Welding Supplies Belle Glade, Fla.
What matters most in selling personal protective equipment is having it, really. When OSHA comes out and the contractor needs something, we need to have it. We try to do that.
Build Rapport, Show Patience
Chris Larson, regional account manager
Weldas Company
Franklin, Tenn.
Distributors who have built a rapport with their customers are willing to recommend products that are best for their customers, even if they might not be best for the distributor's immediate bottom line. This creates real loyalty and gives the distributor insight into what the customer really needs. When it comes time to expand the relationship, particularly with large customers, patience matters because it can take half a year for the safety manager and others to sign off on replacing one product with another.
Stay In Style
Tarek Shahla, COO and general counsel
Rasco FR
Baton Rouge, La.
Welders are sort of the last artisans in America. They look for distinctive apparel and equipment and will stay with that look – so the company creates collections rather than a single shirt or jacket. It's not just about style, though. Welders want to be able to go one place to buy everything they need, rather than buy an FR shirt here, welding cap there and jacket someplace else.
Go Ergonomic
Jim Horvath, vice president
ESAB Welding and Cutting/Victor
Annapolis Junction, Md. 
In the late 1980s and early 1990s, carpel tunnel was very much an issue. We saw a propensity of carpel tunnel among welders, so the company developed ergonomic grips for torches. Today, ergonomics are integrated into many of the company's products, including the newest helmets. Ergonomic design makes it easier for welders to wear their helmets longer, increasing the time they are protected on the job.
Update Knowledge
John Scales, director
inside sales/customer service
West Chester Protective Gear
Cincinnati, Ohio
If distributors are willing to learn, they can guide customers about safety. For instance, new cut-resistance standards for gloves from the American National Standards Institute (ANSI) provide more precise distinctions among welding gloves. They possibly allow a worker to wear a lighter, more comfortable glove while still providing appropriate protection.
Create Events
Paul Bernier, marketing director
General Air Service and Supply
Denver, Co.
We held safety open houses at each of our locations over the last year or so. The purpose was to introduce our safety capabilities, products, and vendor partners to our customers and some competitive accounts. For these open houses, we handed out invites and asked for RSVPs. People tend to come when you ask for an RSVP and promise them a great barbecue lunch, gift bags and other incentives. 
The events lasted for three hours, during which we served food, had a band performing and had all our safety vendors displaying, demonstrating and talking about their products. Depending on the location, we usually had 150-250 customers join us. The results were excellent! Customers were able to see that we are serious about safety, and our safety sales have grown monumentally since starting this.
Offer Discounts
Chad Shadden, vice president
B & J Welding Supply
Lubbock, Texas
A lot of the time contractors know what they want, but if someone comes into the area, we may do a survey of the safety equipment they need. If we aren't used to seeing something we bring in a manufacturer's representative. We sometimes offer a volume discount and check with the manufacturer because they may already have special pricing in place for that contractor.
Be Sure to Listen
Steve Hwang, president
Black Stallion/REVCO Industries Inc.
Santa Fe Springs, Calif.
The most important quality that separates the great distributors from others is the ability to listen to the customers. By listening carefully to their customers and understanding the safety issues their customer is experiencing, the distributor is able to provide unique product and service solutions to meet their needs. They are a safety partner with their customer, not just a product provider.
Help Customers Understand
Jason Jones, U.S. marketing
operations manager
3M Personal Safety Division
St. Paul, Minn.
Helping customers understand the hazards inherent in their work environment can help distributors serve the safety market. 3M gave distributors vials showing the level of particulates allowed under old and new regulations. Distributors shared the vials with customers, letting them see how much more filtering was necessary under the new rules.