Responsive Respiratory Expands Cylinder Cart Line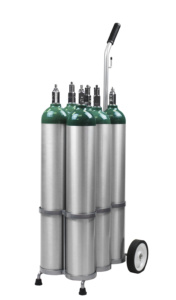 Responsive Respiratory, of St. Louis, Mo., has added a D/E cylinder cart to its offerings.
The new Patient Six-Cylinder D/E cart features a durable powder coat paint finish, six-inch wheels for maneuverability and an adjustable height handle for ease of use. The two‐piece design allows for compact shipment and storage, significantly reducing freight costs for providers, according to the company.
"The six-cylinder D/E cart is a natural expansion of our patient and office transport offering," notes Tom Bannon, Responsive Respiratory president. "While RRI offers a warehouse version of this cart, our customer feedback initiative identified the lighter‐duty patient model as a requested item within the customer group. The smaller footprint and more economical price are a good fit for office and patient usage."
Responsive Respiratory's full line of oxygen delivery, storage, and transport solutions are stocked and ready for immediate shipment from the central U.S. warehouse.

Black Stallion Introduces Lightweight Welding Jacket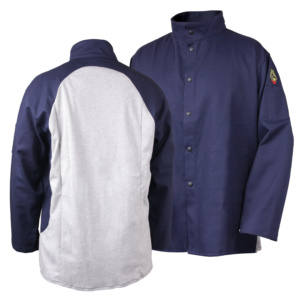 Staying cool, comfortable, and protected while welding is now easier with the new Stretch-Back FR Cotton Welding Jacket (JF1625-NG) from Black Stallion.
The lightweight stretch-back welding jacket offers all the protection of a Black Stallion standard welding jacket with the added comfort of a flame-resistant cotton stretch-knit back panel, the company reports. The fabric's stretch provides just the right amount of "give" as a welder moves shoulders and arms, while its looped knit yarns allow more air to flow through the fabric, resulting in breathable comfort and a cooling effect, the company notes.
The jacket's back panel includes ASTM F1506 compliant flame resistance, providing the added benefit of comfort and breathability without sacrificing protection. In addition, the front, shoulders, arms and neck of the JF1625-NG are constructed of 9-oz. flame-resistant cotton offering protection for most light welding applications. The new offering is available through independent welding and safety distributors nationwide.

Redesigned Helmet Introduced
ArcOne announces the redesign of its Eagle helmet with features to meet the highest demands in welding.
The company notes that the new and improved Industrial Grade Eagle is the first helmet designed for respiratory protection (coming soon) and standard welding. The company says the flip-up helmet has a large view, quick-change grinding shield, is perfectly balanced, and comes with the company's newest headgear innovations.