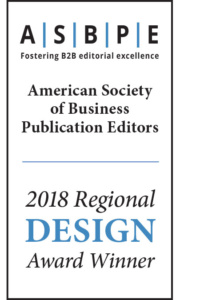 GAWDA's quarterly membership magazine, Welding & Gases Today, has been recognized with a regional award for magazine redesign in the annual competition of the American Society of Business Publication Editors organization.
W&GT earned a bronze "Azbee" award for excellence in the society's Northeast-New England regional competition. The redesign of the magazine was developed by GAWDA Media's Creative Director Robin (Turk) Barnes. She retooled the magazine's overall graphic presentation with a new magazine logo, a new look for the cover, new cohesive interior page elements and colorations, and an overall presentation that modernized and solidified the GAWDA brand and image as a modern, professional business association. Publisher of the magazine is Bill Brod, of GAWDA Media, the publications and media arm of GAWDA.
ASBPE's Azbee Awards of Excellence program is one of the most competitive there is for business-to-business, trade, association, and professional publications, the society reports. The awards recognize outstanding work by magazines, newsletters, and digital media platforms in more than 50 writing and design categories.
Comments
comments