New Hires, Promotions, Announcements

Weiler Abrasives Group Partners with Workshops for Warriors
Weiler Abrasives Group, a leading provider of abrasives, power brushes and maintenance products for surface conditioning, has launched a national fundraising campaign, Leading a Warriors' Charge, in partnership with Workshops for Warriors.
Based in Cresco, Pa., the Weiler firm donated $25,000 to kick off a year-long campaign that supports machining and welding training programs at the Workshops for Warriors school that trains, certifies and helps place veterans, wounded warriors and transitioning service members into advanced manufacturing careers.
"Weiler believes in the value of the Workshops for Warriors cause and is pleased to support it," says Nate Schmid, director of marketing — Americas, Weiler Abrasives Group. "Bringing veterans back into the workforce after they have served and training them with skills to have careers in welding and CNC machining is so important, both for their livelihoods and for our industry, as we face a major gap in the technical trades across the U.S." Weiler has been providing Workshops for Warriors with in-kind support since 2014, supplying abrasive products and safety products to meet the needs of every incoming class each semester. The company plans to continue offering this support while championing the organization's "Leading a Warriors' Charge" nationwide fundraising campaign. The effort includes promotion at trade shows, partnership-branded product packaging and more by the Workshop for Warriors organization.
"Weiler has been a great supporter of ours since the outset," says Lyle Palm, dean of welding at Workshops for Warriors. "They've gone the extra mile with this campaign. It's an honor to partner with a company that genuinely believes in what we're doing."
Since its inception in 2008, Workshops for Warriors has trained and certified 496 veterans, wounded warriors and transitioning service members, awarding more than 3,000 nationally recognized third-party credentials. In 2017, 94 percent of the school's graduates obtained jobs in advanced manufacturing after completing the program..

Hiab USA Inc. Names VP/Sales and Services, North America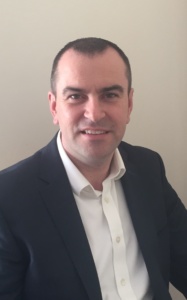 Barry McGrane has been named Vice President Sales and Service, North America with Hiab USA, Inc. In that role, McGrane leads the sales and service organizations to execute Hiab's business development and sales strategy across all end markets, including industrial gas and LPG, the company reports.
"Barry's mission, backed by a dedicated global organization, is to further build our market leading position with HIAB loader cranes and MOFFETT truck mounted forklifts," says Scott Hall, senior vice president, sales and service. "Working closely with Hiab's tail lifts organization under the renowned WALTCO brand, we hold all the elements for further successful growth as the preferred partner in the U.S. for our industrial and LP gas customers," says Hall.
An engineer by education, McGrane has been with Hiab for more than 17 years. He has held positions in the company's research and development department since 2015. He also has served as director of sales and product management for Hiab's truck-mounted forklifts business line.

In Memoriam
Rodney S. Belden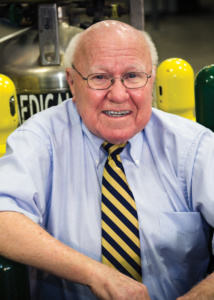 Rodney Stuart Belden passed away on June 4 at age 86, surrounded by his family at his home on Catawba Island, Ohio.
Belden was born Aug. 19, 1931, to Ashley and Jean Belden in Burlington, Vt. and was one of four children: Duane, Louise, and his twin brother, Roger, who pre-deceased him. He received his undergraduate degree from the University of Vermont and his master's degree from Northeastern University. He married Anne Gregory on May 15, 1954, and they celebrated 64 years together. The Beldens' five married children, Debbie (Phil), David (Diane), Pam (Jack), John (Libby) and Missy (Scott), have grown families that now include 16 grandchildren and 20 great-grandchildren.
Belden built a highly successful career at AIRCO and later, at Sandusky, Ohio-based O.E. Meyer Co. There, he was instrumental in transforming the company from a smaller family-owned business to a thriving employee-owned enterprise. He retired in 2015 after a 60-year career. He also served as a founding member of AIRCO's distributor association (ADA). Named scholarships have been established in his honor at Michigan State University and at the American Welding Society Foundation.
After living in numerous places domestically and abroad, Belden and his wife settled to Catawba Island.
He was a 15-year director of Port Clinton Huntington Bank, a longtime member of the Catawba Island Club and president of Plum Brook Country Club. He was recognized in 1998 by Ernst & Young as Northwest Ohio's Entrepreneur of the Year. He had served in the Air Force at Ramstein Air Base in southwestern Germany.
Memorial donations may be made to the Catawba Island Volunteer Fire Department and Stein Hospice. Condolences may be shared with Rodney's family at www.walkerfuneralhomes.com.