ZWC Holdings, Inc. Joins the Ownership Group of Weldcote Metals, Inc.
Weldcote Metals, Inc. announces the addition of ZWC Holdings, Inc., controlled by Zika Group Ltd., to its ownership group.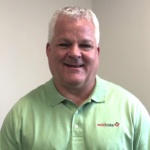 Zika Group also announces the appointment of Joe O'Mera, former president of CGW, Camel Grinding Wheels, as CEO of Weldcote Metals and as part of the ownership group. O'Mera brings more than 25 years in the industrial welding tool marketplace to the position. Along with his exceptional capabilities and leadership, O'Mera has proven success in creating value for his customers and shareholders.
Weldcote Metals was founded by Bill Roland, founding CEO and current president, and John Pandorf, co-founder and CFO, in 2006. Roland and Pandorf, who together bring 65 years of industry experience, will continue in their capacity as company owners and members of the management team.
"The fusion of Zika's experience, product line and manufacturing capabilities, together with Joe O'Mera's leadership, will position Weldcote at the forefront of the industrial tool industry, providing a high-end, 'one-stop shop' solution," said John Pandorf, Weldcote co-founder and CFO.
"I am confident that my experience and industry knowledge, combined with the technical expertise and backing of the Zika Group, will escalate Weldcote's presence in the industry," said O'Mera. "Creating value for Weldcote customers and shareholders, while also serving the needs of welders in this industrial tool market, is a goal that I am committed to."
IMC Marks Announces Dynaflux as Integrated Manufacturer
IMC Marks announced Dynaflux as its integrated manufacturer to streamline exchanges and maximize purchasing power.
"Dynaflux is known for their strength in the chemical industry, and this integration offers strong support for both our businesses," said IMC Marks Co. President Michelle Cloonan.
"IMC Marks' hands-on approach to marking solutions provides a clear connection to the demand of Dynaflux's ever-changing chemical applications. Born of GAWDA ideals, our assimilation extends to the business of keeping safety regulations current in the field and in the supplier community," said Dynaflux Vice President Joey Pogue.

DeLille Announces New President
DeLille Oxygen Company has announced the promotion of Josh Weinmann to president. Weinmann started at DeLille as a loader/unloader after graduation and according to DeLille Chairman of the Board Tom Smith, "Josh has risen to the top by performing just about every position we have."
Weinmann has spent much of his career in specialty gas plant management, gas inside sales, account management and development. His previous positions included Vice President and Operations Manager.
Weiler Abrasives Group Announces Expansion of U.S. Operations
Weiler Abrasives Group will consolidate its power brush manufacturing operations at its Cresco facility. Due to this consolidation, Weiler will close its manufacturing facility in Suzhou, China, and transition production to the Cresco location over the coming months.
"We are excited about the benefits the move will bring to our local community and our North American customers, including improved service levels that our customers have come to expect from Weiler," said Bill Dwyre, managing director, Americas, Weiler Abrasives Group. "These investments are designed to further position Weiler for growth and reinforce our continued commitment to U.S. manufacturing."
Norris Cylinder Company Receives Favorable Trade Finding
The United States Department of Commerce has issued a preliminary finding to increase countervailing duties on high-pressure steel cylinders imported from China, initiated at the request of TriMas' Norris Cylinder business, which is part of the Specialty Products group.
The preliminary finding increases duties on high-pressure steel cylinders imported from China from the current 15.81% rate to a new level of 37.77%, if confirmed in a final determination scheduled for later this year. These duties are necessary to help mitigate subsidies of input steel manufactured in China and provided to local China cylinder manufacturers.
These increased countervailing duties are expected to create a more level competitive environment in the United States and therefore enable Norris Cylinder to continue to invest in its U.S. manufacturing capabilities, and provide its customers with high-quality, high-pressure steel cylinders. Norris Cylinder is the last remaining producer of high-pressure steel cylinders in the United States.
Armando Ramirez Joins Catalina Composites as Sales and Marketing Manager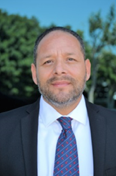 Catalina Composites, a Division of Catalina Cylinders, Inc. announces the appointment of alternative fuel industry veteran Armando Ramirez to its sales and marketing team. Armando will assume the role of Sales and Marketing Manager and will be responsible for promoting Catalina's composite products as well as growing and developing its customer base in the alternative fuel for transportation space.
"I am pleased that Armando has agreed to join the Catalina Composites management team to continue providing the unmatched service and support our customers and industry partners have come to know," said David Silva, vice president of sales and marketing. His experience and long history in the alternative fuels industry will be a great asset to the organization as we roll out our lighter weight Type 3 composite cylinder products."
In the past, Ramirez worked for Clean Energy Fuels, IMPCO Automotive and Luxfer Gas Cylinders. In addition, he has OEM technical experience from working with Ford Motor Company and General Motors. Armando holds an associate of arts degree from Cosumnes River College and is a graduate of the Ford Automotive Student Service Education and Training Program.

Weldcote Metals, Inc. Announces New Sales Team
Weldcote Metals, Inc., a division of Zika Group, has added two new members to its sales team, Fritz Klug as northern sales manager and Jay Hickman as southern sales manager.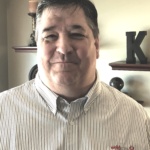 Klug has nearly 35 years of industrial sales experience. Before joining Weldcote, he was director of sales at CGW-Camel Grinding Wheels, western U.S. sales manager at L.S. Starrett Company and territory manager at Triangle Tool Group. Klug has extensive experience with distributor channel development.
Hickman has more than 30 years of industrial sales experience and was a former membership director for Coated Abrasives Fabricators Association. Prior to joining the team at Weldcote, he held the positions of southern sales manager at CGW-Camel Grinding Wheels, sales manager of Garryson, Inc. and district sales manager of Anderson Brush.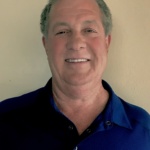 "Creating a strong, experienced and knowledgeable sales team will position Weldcote at the forefront of the industrial tool industry," commented Joe O'Mera, who was named CEO of Weldcote Metals earlier this year.
Norton Abrasives Helps USA Luge Team Win Olympic Medals
Norton Abrasives has announced that Olympic luge medalist Erin Hamlin will be making an appearance at the International Manufacturing Technology Show (IMTS) in Chicago, IL on September 11, 2018.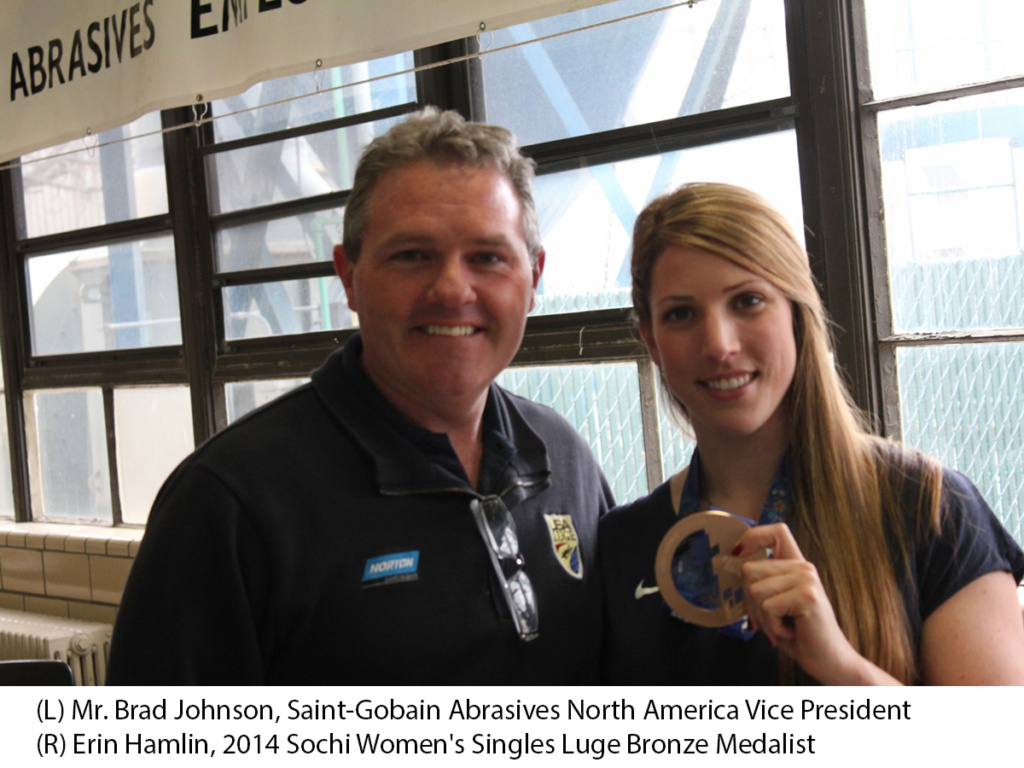 Four-time Olympic Games veteran and 2017 World Champion, Hamlin won a bronze medal in Sochi competing in women's singles, becoming the first woman in U.S. history to stand on the podium for USA Luge. Hamlin and the USA Luge team credit the involvement of Norton Abrasives in getting to the winner's podium.
Norton worked to improve sled performance by reducing friction on the ice and increasing speed. Norton engineers analyzed the metallurgy of history's swiftest sled runners and developed new steel recipes to provide critical speed, control and consistency for the luge athletes.
"Norton engineers understand that we need to be on the cutting edge of technology to reach striking distance of a medal win. They work with our team to make the best, fastest sleds," said Hamlin.
Norton Abrasives has extended its contract as primary sponsor of the USA Luge Team through the next Games to be held in Beijing in February of 2022.
"This partnership galvanizes our commitment to work with the USA Luge National Team as they prepare and compete on a global stage," said Bradley H. Johnson, vice president, Saint-Gobain Abrasives North America.
The relationship between Norton and USA Luge, dates back almost 35 years when the company began donating Norton sandpaper products for USA Luge athletes to shape and polish runners on the sleds. Today's USA Luge athletes use Norton abrasive products every day to prepare their sleds for racing.
Gas Innovations Expands Storage Capacity and Dual-Scale Filling Capability
Gas Innovations has expanded capacity by adding additional cryogenic tanks and truck scales. Gas Innovations now fills liquified petroleum gas and cryogenic ISO's simultaneously. Gas Innovations supplies turnkey logistics of hydrocarbon supply to projects worldwide. These projects include packaging, analytical quality control, complex routing and project management. This expansion allows the company to meet the large delivery demands of LNG startups, petrochemical feed stocks, diluents and other campaigns or petrochemical demands.


IN MEMORIAM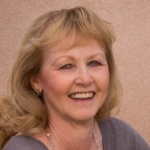 Virginia "Ginny" Wilson
After a three-year battle with cancer, Ginny passed away on July 17th. She was the CFO and Co-Owner of Four Corners Welding & Gas Supply in Gallup, NM.
Ginny had spent over 40 years in the industry and was highly regarded by many for her depth of knowledge in cylinder control, expense control and accounting practices. Her last industry commitment was serving on the IWDC Expense Control Committee.
Ginny is survived by her husband, Kent Wilson, daughter Amber Chisamore, stepson James Wilson, three brothers, four sisters, seven grandchildren and five great-grandchildren. She was preceded in death by both parents and one sister.
In lieu of flowers, the family is asking for donations for Unfailing Love Ministries in Milan, NM at www.uflministry.org. This was one of Ginny's favorite ministries that reaches out to women transitioning directly out of prison and assists in life skill development and personal growth through education opportunities.
She was a loving wife, mother, "Gigi," friend and mentor to many and is missed.