Wise Telemetry Introduces Next Generation Telemetry System
Wise Telemetry introduced the next generation of its end-to-end telemetry platform, the Elite Series.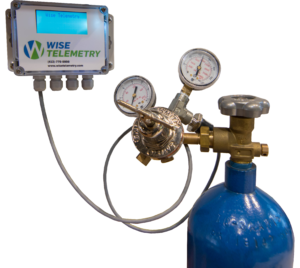 As part of the Elite Series, Wise Telemetry's communication boxes now include an LCD display screen for easy device readings and 4-20mA compatibility for long-wire applications. In addition, the new communication boxes will have LTE-M connectivity, a new low-power, low-cost method of data communication that dramatically extends the communication box's battery life. This will allow the communication boxes to transmit readings up to 24 times per day. Other products have been upgraded or added, including a +/-0.5% accurate differential pressure sensor and mounting stand options.
The Elite Series delivers a suite of new features in the online dashboard, including a geographic map that shows the location and alert status of all sites, an alerts page indicating all sites that need deliveries, and an end-user login portal. Additionally, all data shown on the dashboard can be downloaded as Excel reports for easy distribution and data analysis.
New Weiler Industrial Grinding Products
Weiler Abrasives Group is offering new industrial grinding solutions, available for the first time to North and South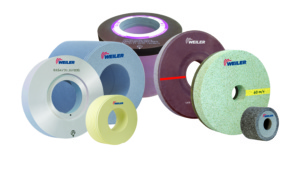 American customers. These products have been a trusted choice in the European market for years under the SWATYCOMET brand. Weiler's industrial grinding products include organic rough grinding wheels, vitrified precision grinding wheels, and Diamond and CBN Super Abrasive products.
Weiler's industrial grinding product lineup offers unique technologies for applications such as surface grinding, gear grinding, creep-feed grinding, roll grinding, centerless grinding, crankshaft grinding, as well as foundry grinding applications.
Norton Adds New Die Grinder for High-Efficiency Grinding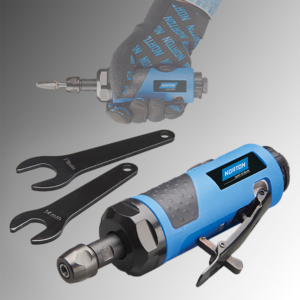 Norton Abrasives has added the Norton Pneumatic Die Grinder to its new professional tool line. This tool quickly and comfortably accomplishes a wide range of portable grinding applications without the need to change machines.
"Our new, versatile die grinder will enhance the performance of numerous abrasive products, including mounted points, flap wheels, traditional specialties such as cartridge rolls, and our new Norton Carbide Burrs," said Patrick Carroll, senior product manager. "We are pleased to offer a one-vendor solution for a perfect pairing of the machine and the abrasive."
The grinder has a free speed of 25,000 rpm, designed to make quick work of deburring, surface cleaning and stock removal applications, welding preparation, and finishing.