Atlas Welding Reports Two New Hires
Atlas Welding Supply Company recently added two new employees to its sales team.
Ryas Esdale has joined the sales team as an inside sales representative and marketing associate. Ryas will increase communication and sales with clients as well posting relevant information via social media and Atlas' website. Ryas is originally from Birmingham, AL, and graduated from the University of Alabama with a BS in marketing.
Patrick Visintainer has also joined the Atlas sales team. Patrick will strategically manage and grow all medical and scientific gas accounts. Patrick is originally from Birmingham, AL and graduated from Auburn University with a BS in logistics, materials and supply chain management.
Chart Industries Announces Acquisition and Signs Agreement to Divest Oxygen-Related Products
Chart Industries, Inc. has announced that it has signed a definitive agreement to divest its oxygen-related products business within the biomedical segment to NGK Spark Plug Co., Ltd. The sale is expected to close within the fourth quarter of 2018, following the satisfaction of customary closing conditions, including regulatory requirements.
The strategic decision to divest the oxygen-related products business reflects Chart's strategy and capital allocation approach to focus on its core capabilities and offerings. The sale of the oxygen-related products is a reallocation of capital from that business to a strategic addition to Chart, VRV s.p.a., for which a definitive acquisition agreement was announced at the end of September. VRV is a diversified multinational corporation with highly automated, purpose-built facilities for the design and manufacture of pressure equipment serving the cryogenic, energy and petrochemical end markets.
Chart's President and Chief Executive Officer, Jill Evanko, commented, "This is a logical next step for our business and a strategic decision that will further enable us to concentrate on our core businesses that share common customers, technologies and end markets. We are excited to have a strategic buyer in NGK Spark Plug, in particular given their commitment to support and expand their oxygen-related products business."
Abicor Binzel Now Offering Scansonic Laser Optic Repair Services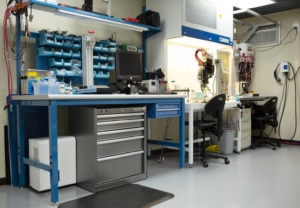 Abicor Binzel has completed a state-of-the-art laser repair lab at their Frederick, Maryland Facility. The lab, audited and certified by Scansonic, offers a clean room environment with a certified lab result. Equipment includes a Trumpf 2KW TruDisk Laser for power testing, a Primes power meter/focal monitor, as well as equipment for performing beam alignment measurements, optics cleaning and multi-protocol fieldbus testing.
Component replacement, complete laser head rebuilds and basic maintenance are a few of the services offered by the repair lab. The lab will provide service for the ALO1, ALO3, Master Feed System and TH6x Optical Seam Tracker and their components.
AWG Named to 2018 Grant Thornton North Carolina 100
Each year, Grant Thornton ranks North Carolina's 100 largest privately owned companies. Companies that find a spot on the Grant Thornton North Carolina 100 list have a tremendous impact on the local economy and employ over 100,000 people in a diverse group of industries. American Welding & Gas, Inc. (AWG) is ranked at 56.
Headquartered in Raleigh, NC, AWG attributes its continued growth and success to its dedicated team members. Acquisitions and green starts have expanded the company's infrastructure, allowing a constant influx of new markets for their products and services. According to the company, what sets AWG apart is its ability to be a solutions provider for their customers. With nearly seven decades of experience, AWG has the knowledge and resources necessary to guide, support and adapt as a customer's business grows.
Sutton-Garten Holds 100th Anniversary Celebration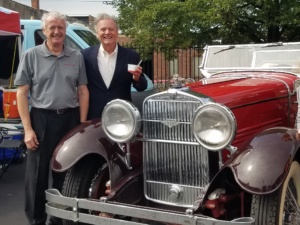 Sutten-Garten Company marked its 100th anniversary this October with a celebration at a location they once occupied during the Roaring 20s. Pat Garten welcomed Turner Woodard, current owner of the Stutz Motor Car factory building, who brought out his luxurious 1932 Stutz motorcar for the occasion.
Sutton-Garten Company was located for a year in the Stutz factory building at 217 W 10th Street in Indianapolis in 1928 while they constructed a new facility after a fire damaged their original headquarters building.
AWISCO Opens New Location in Brooklyn
AWISCO has announced the grand opening of their eighth store. AWISCO currently serves customers in New York, New Jersey and Connecticut. Their newest location is at 9601 Ditmas Avenue in Brooklyn, NY. A grand opening celebration is slated for October 30th, and will offer food, drinks, equipment demonstrations and specials.