American Torch Tip Co. Receives Patent for CleanCut Nozzle Technology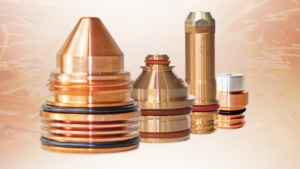 American Torch Tip Company, an American manufacturer of welding and cutting torches, consumables, parts and accessories, has announced that the United States Patent and Trademark Office has issued a patent for their CleanCut Nozzle Technology.
ATTC's CleanCut Nozzles feature a smooth-bore configuration that reduces turbulence, pressurizes and accelerates cutting gases to produce ultra-smooth cuts.
American Torch Tip originally announced the launch of its CleanCut Nozzle and Electrode combination in mid-2017. Combined with the CleanCut Electrode, American Torch Tip has found a minimum of a 30% increase in consumable life in one-to-one testing versus competitive products.
"This patent marks a new innovation and evolution in plasma cutting consumable technology," said Matt Merrill, ATTC engineering director. "We're excited to apply this patented design to more plasma cutting nozzles in order to provide the benefits to even more of our customers worldwide."