Computers Unlimited Releases New Bulk Gas Module
Computers Unlimited has released a new TIMS Bulk Gas Manager for managing bulk gas tank installations, forecasting, ordering, scheduling, billing and payment processing for all bulk gas operations within the TIMS system.
The system allows the user to track any/all gases (propane, CO2, hydrogen, argon, helium, nitrogen and oxygen), as well as to run multiple gas managers at the same time for various gases. To run the manager, the user simply chooses a bulk gas type, selects the configurations and UOM conversions specific to each gas, then reads the dashboard to forecast future delivery requirements based on the customer tank readings. Interfacing with various telemetry providers provides accurate, up-to-date tank readings. This telemetry data improves tank refill forecasting, scheduling efficiencies and provides more effective routing. TIMS interfaces with a variety of telemetry providers, including Chart Industries, DataOnline, Wise Telemetry and KnowGas.
Once an installation is set up in TIMS, customer information (e.g., contact information and accounts receivable) is integrated and accessible in the Bulk Gas Manager dashboard. Computers Unlimited will be releasing a webinar on how to use this system on March 13, 2019. To register for the webinar, click here.
Hypertherm Introduces New Consumable Kits for XPR Cutting Systems
Hypertherm is now offering consumable starter kits for its XPR X-Definition Plasma systems. These kits are available with or without a torch for mild steel and non-ferrous cutting applications. The kits include a variety of consumables to allow for cutting at different amperages, using all of the gas process types supported by the XPR170 and XPR300 systems.
The consumables contain several patent-pending technologies to improve consumable life and cut quality. Examples include Cool nozzle and Arc response technology, the latter of which protects consumables from the negative impact of ramp-down errors, a regular occurrence in real-life cutting. By reducing the impact of ramp down errors, XPR consumables can last up to three times longer than those on older generation systems.
In addition, XPR consumables are designed with ease of use in mind. An EasyConnect feature allows operators to quickly plug the torch lead into the torch connect console without the use of tools, while a patent pending QuickLock electrode delivers easy quarter turn tightening to further reduce setup time. Another new design feature is a quick-change torch that enables an operator to rapidly change torches with just one hand.
"Whether you are cutting mild steel, stainless steel, or aluminum, these new starter kits will make it easy for XPR customers to get all of the consumables they need in one convenient kit," said Martin Geheran, product manager for plasma torches and consumables. "We think customers will also enjoy the convenience of the kits that come with a torch as it will give them the option of having a second torch, or even multiple torches, pre-loaded with consumables for even faster change-outs."
ALM Positioners Granted New Patent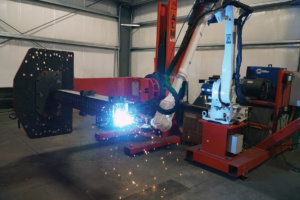 ALM Positioners has been awarded a patent related to the development of Robot-Ready Hydraulic Positioners. The patented technology virtually eliminates programmed position variability, which is especially important for robotic welding. This improvement provides a multi-axis positioning solution for large weldments at a much lower cost than conventional servo positioning technology. The patented feature development is a result of ALM's drive to create a family of high-capacity multi-axis positioners suitable for pendant-controlled, programmable positioning, intelligent welding and robotic welding applications.
All four application types are enabled by ALM's patented technology and flexible Plug & Play Motion Control Technology. Plug & Play ALM Positioners can be deployed or redeployed to any of the application types.