Lincoln Electric Launches New Activ8X with CrossLinc Technology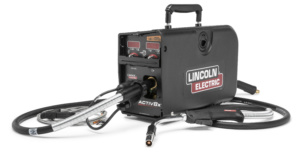 Lincoln Electric has introduced a new wire feeder, the new Activ8X with CrossLinc Technology.
The Activ8X has an impact-resistant, flame-retardant case for durability and potted PC boards to protect against moisture and corrosion. The heavy-duty cast aluminum Maxtrac Wire Drive System provides reliable feeding and durability, with a tachometer to ensure accurate wire feed speed. The system accepts up to 8 in. (203 mm) diameter wire spools.
Small enough to fit through manways and light enough to carry throughout the worksite, the Activ8X wire feeder also allows remote control of the power source without the need for control cables through the use of CrossLinc Technology. This includes True Voltage Technology (TVT) that automatically compensates for voltage drops across long welding cables and ensures users get the desired voltage set at the arc, even at hundreds of feet away from the power source.
Norton Introduces BlazeX F970 Fiber Discs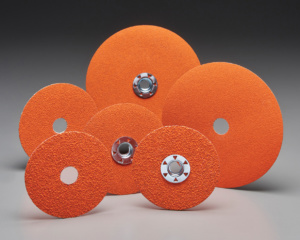 Saint-Gobain Abrasives has introduced new Norton BlazeX F970 Fiber Discs, the next generation of Blaze. The Norton BlazeX F970 Fiber Discs enable faster rust removal, enhanced cleaning and improved detailing processes for better finishes. Users performing right-angle grinding will see immediate results using Norton BlazeX F970 Fiber Discs due to the improved micro-fracturing grain. By consistently exposing sharper grain edges, this improvement delivers a better cut rate and longer disc life as compared to blended ceramic alumina discs. A heavy fiber backing provides a better disc face for surface grinding and resists tearing in heavy applications, extending disc life and requiring fewer changeovers.
"Intended for carbon steel and other soft-to-grind materials, the new Norton BlazeX fiber discs were developed to provide cool cuts and to offer longer life due to a non-supersized design. We are seeing a 50% or greater cut rate using BlazeX on these materials when compared to Blaze F980," said Patrick Carroll, Norton | Saint-Gobain Abrasives senior product manager.
Norton BlazeX F970 Fiber Discs are available in 4-1/2, 5 and 7 in. fiber discs, and in 7/8 in. hole or speed-change attachments. Coarse grinding applications are supported through the four key grits of 36, 50, 60 and 80. Norton also offers test kits that include a box of BlazeX F970 and Blaze F980 36-grit fiber discs in each size for testing.
Xiris Free Weld Video Library Grows to Over 300 Videos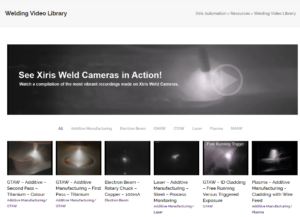 Xiris Automation, Inc. has announced the expansion of its weld video library to over 300 videos showing examples of all types of welding applications in action, including TIG, MIG, plasma, laser, stick and electron beam welding. Ideal for training purposes, the videos are taken directly from Xiris weld cameras, with no enhancements or touch-ups.
The weld video library features colored and monochrome videos, and is categorized by welding processes. All videos are available for viewing on the website at www.xiris.com/resources/welding-video-library/.
ArcOne Releases Next Generation of AirPlus Powered Air System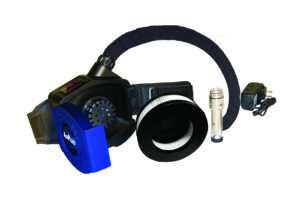 ArcOne has released the third generation of its AirPlus Powered Air System.
ArcOne's AirPlus Powered Air-Purifying Respirator (PAPR) System is a motorized, battery-operated system that blows a constant supply of fresh, filtered air over the user's face. It creates a positive pressure inside the respirator head top, keeping out harmful welding fumes and particulates. It pairs with several ArcOne head tops, including the Eagle, Vision and AirShield series.