DeLille Oxygen Co. Leases Two eCOs Units for Onsite CO Production
DeLille Oxygen Company has moved beyond tube trailer or cylinder supply of carbon monoxide (CO) and chosen Haldor Topsoe's eCOs solution for cost-competitive onsite production of ultra-high-purity CO for a customer in the isotopes labeling industry.
An eCOs is a fully automated and flexible onsite solution, delivering CO to the customer's specifications and demand, based on pay-per-use. DeLille Oxygen Co. has opted for two eCOs units. One is located at their customer's site for reliable and flexible over-the-fence delivery of CO. The other will deliver on-demand CO for the rest of DeLille's customers from the company's headquarters in Columbus, Ohio.
"We are convinced that the eCOs solution will support us in delivering an even better customer experience," said Josh Weinmann, DeLille's president. "With this onsite unit, our customer will never have to worry about monitoring stock, ordering new supplies or dealing with logistics. The eCOs produces the volume and quality of gas needed, when it is needed. It can't get simpler and more reliable than that."
The eCOs solution reduces carbon dioxide (CO2) to CO by electrolysis. The process emits only oxygen and can be powered by green electricity from wind turbines or solar panels. In this case, the production is completely carbon neutral. The eCOs technology opens up a whole new segment of green and sustainable chemicals from renewable carbon sources. It can be applied at industrial complexes in order to utilize CO2 as a feedstock to produce valuable chemicals and significantly reduce CO2 emissions to the atmosphere.
Onsite CO generation is a significant development for the pharmaceutical, metallurgy, electronics and specialty chemicals industries that use carbon monoxide in their production processes, as well as gas distributors. The eCOs technology ensures security of supply, eliminates the need for transporting the hazardous gas and drastically reduces costs related to storage, rentals and connections.
CGA Welcomes Cichocki and Ffolkes as Incoming Chair and Vice Chair of the Association's Board of Directors
During the recent Annual Meeting of the Association in Palm Beach Gardens, Florida, Andy Cichocki of Airgas, an Air Liquide company, and Marie Ffolkes of Air Products were unanimously elected 2019 chair and vice chair, respectively, of the Compressed Gas Association (CGA) board of directors.
"I'm honored to assume the role of CGA's chairman of the board," said Andy Cichocki. "As a self-regulating industry, we are privileged to be allowed to set our own safety standards and rules from which government regulations are derived. With this privilege, however, comes great responsibility. Today, CGA sets the safety tone for our industry by leading the effort to develop and maintain safety standards. It's absolutely essential that the Association continue to remain vibrant as the industry evolves."
"I'm looking forward to building on the legacy of all the CGA board leaders who have come before us," said Marie Ffolkes. "It's really a great success story: the industry-wide specifications developed by the Compressed Gas Association play a crucial role in helping to keep the industry safe and reliable. And that foundation of safety standards and practices that CGA provides will help our industry thrive for many generations to come."
Andy Cichocki serves as chief operating officer and as a member of the senior leadership team for Airgas. He assumed the role of COO following Air Liquide's acquisition of Airgas. Previously, Cichocki served as president of Airgas USA, LLC, leading all sales, operational, organizational and financial aspects of the company, including Airgas' distribution business units. During his career at Airgas, which began in 1988, his responsibilities have also included Airgas' welding hardgoods and safety products distribution infrastructure, product sourcing and management, cylinder gas engineering and supply chain, and fleet management. Cichocki holds a bachelor's degree from the University of Delaware and an MBA from Villanova University.
Marie Ffolkes serves as president, Americas for Air Products, and is responsible for the strategy and profitability of the company's largest business. She leads a team of approximately 6,000 at approximately 275 plants and terminals, and focuses on driving profitable growth through improving customer relationships, safety, integrity, plant operations, distribution, supply chain, procurement, innovation, sales and marketing, as well as regional operations. Prior to joining Air Products in 2015, she held leadership positions at Tenneco, Inc., Johnson Controls, Inc. and General Electric Company. She earned a bachelor's degree from Brooklyn College and an MBA from Columbia Business School.
Anova Adds to Executive and Sales Teams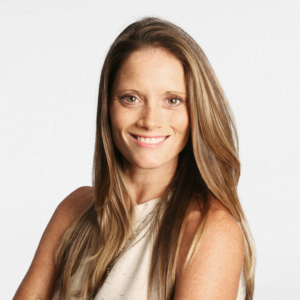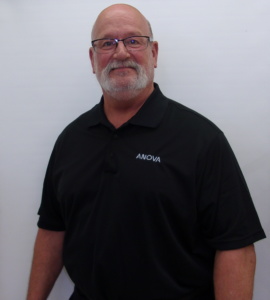 Anova has expanded its executive leadership team with its newest marketing hire, Christine Monahan. Christine has over 12 years of experience in marketing, communications and business development. With a background in B2B and product marketing, she has managed several companies through branding and positioning initiatives to increase awareness and elevate brand image — essential to Anova's latest rebrand.
As global director of marketing, Monahan will lead Anova through the development and execution of strategies for demand generation, product and solutions marketing, communications and sales enablement. A New York City native, Monahan completed an MBA at Fordham University and received her B.S. from St. John's University.
Anova also recently hired Mike Waters as its new U.S. distributor sales manager for their DataOnline product. Waters comes to Anova with over thirty years of sales and management experience primarily in the industrial, bulk and beverage gas industries, and is eager to provide all current and future customers with his vast knowledge and experience in conjunction with the world-class technology of DataOnline.
ORNL and Lincoln Electric to Advance Large-Scale Metal Additive Manufacturing Technology
Lincoln Electric has announced its continued collaboration with Oak Ridge National Laboratory on large-scale, robotic additive manufacturing technology at the Department of Energy's Advanced Manufacturing Innovation XLab Summit.
The new agreement builds upon ORNL and Lincoln Electric's previous developments by extending additive technology to new materials, leveraging data analytics and enabling rapid manufacture of metal components in excess of 100 pounds per hour.
These developments will focus on increasing throughput while lowering costs and improving the quality of large-scale additively manufactured metallic structures essential for multiple industrial applications.
"We have successfully partnered with the Manufacturing Demonstration Team at ORNL over the last three years to develop industry-leading metal additive technologies," said Tom Matthews, Lincoln Electric senior vice president for technology and R&D. "Together, we will continue to advance the technical boundaries of additive manufacturing as Lincoln Electric commercializes this innovative manufacturing capability, which will benefit a broad array of manufacturing sectors."
The Manufacturing Demonstration Facility at ORNL is supported by the DOE Office of Energy Efficiency and Renewable Energy's Advanced Manufacturing Office (AMO). AMO supports early-stage research to advance innovation in U.S. manufacturing and promote American economic growth and energy security.
Contrivance Adds to Sales Team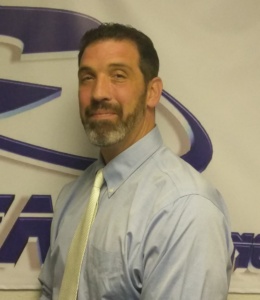 Contrivance Inc. has announced the addition of Cory Hancock to their expanding sales team.
In the company's continuing efforts to support the "Veterans Hiring Initiative," Hancock served for 22 years in the United States Air Force. He is a retired master sergeant who served overseas in support of Operation Iraqi Freedom and Operation Enduring Freedom. Hancock's background includes electrical distribution and vertical construction, as well as many military management positions. In his new position, he will strategically manage new and existing accounts, along with helping to create new opportunities and goals for Contrivance's continued growth.
Airweld and Lincoln Electric Are Off to the Races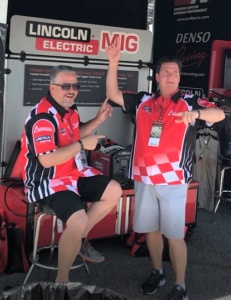 Airweld is proud to continue the tradition of partnering with Lincoln Electric at NHRA events this year. Team Airweld, consisting of VP Eric Terwilliger, director of sales Jim Bendernagel and director of e-commerce John McNulty, joined the Lincoln Electric team at the NHRA Virginia Nationals on May 17th through 19th in Richmond, Virginia.
The partnership began in 2010 when Lincoln asked Airweld to attend an NHRA race in Englishtown, New Jersey, when their local distributor couldn't make it. "Lincoln was amazed at Airweld's proactive approach to the event," commented Terwilliger. "We showed up prepared to engage attendees, including outstanding equipment sales and raffles to promote both of our brands," he added.
Team Airweld's NHRA calendar includes the Chevrolet Performance U.S. Nationals at Lucas Oil Raceway in Indianapolis from August 28th through September 2nd and the MOPAR Nationals at Maple Grove Raceway in Reading, Pennsylvania on September 12th through 15th.
AWISCO Announces Winning Student Burn-E Sculpture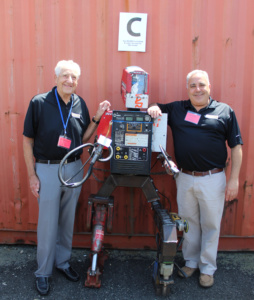 The 2019 AWISCO Trade Show was held at AWISCO's Maspeth, NY location on May 22, 2019. This year, AWISCO added a welding competition to the show. Rockland BOCES, Eastern Suffolk BOCES, Western Suffolk BOCES, Nassau BOCES/Barry Tech, Sussex County Technical School and Morris County Vocational School all participated in this competition sponsored by Lincoln Electric. Each school was tasked with creating their version of the AWISCO mascot, Burn-E. Attendees voted for their favorite version, with a 1st place prize of $1,000 in welding equipment, a 2nd place prize of $750 in welding equipment and a 3rd place prize of $500 in welding equipment. All other participants received $200 in welding equipment. The winning school was Rockland BOCES, with the sculpture shown here.