Weiler Abrasives Introduces CrossFlex Honing Brushes

Weiler Abrasives has introduced its new line of CrossFlex honing brushes designed to provide machinists with performance and value for their professional honing applications. Available in small, medium and large diameters and with heavy-duty options, these brushes provide a surface finish free of metal burrs and are ideal for manual or automated use in automotive; marine, oil and gas production; aerospace; and tube, pump and valve production applications.
CrossFlex brushes are designed to provide a long operational life, lowering the total cost of use compared to other brush options. They are available in a variety of grits — 120, 180, 240 and 320 grit — to achieve the desired finish, along with offering increased brush-to-part contact to remove even the heaviest burrs compared to nylon tube brushes. Flexible nylon stems distribute pressure evenly, self-centering within the part to create an accurate hone. Available collet-ready brushes deliver a true center rotation and exceptional brush balance for both handheld and automated applications. CrossFlex brushes also feature a consistent cross hatch pattern to ensure proper seating of piston rings and to retain oil for lubrication in combustion cylinders.
Understanding that not all finishing and deburring applications require a standard solution, Weiler Abrasives offers the option to work with one of its Weiler Process Solutions specialists to create custom CrossFlex brushes. Solutions include custom-sized brushes for specific bore diameters, brushes with longer or shorter stems, and brushes that are collet-ready or require another connection method. CrossFlex brushes can also be customized with the desired abrasive: silicon carbide, aluminum oxide, zirconia alumina or ceramic grains.
For honing applications, Weiler Abrasives recommends using honing oil with its CrossFlex brushes for engine cylinders and hydraulic oil for hydraulic applications. In deburring applications, the brushes are compatible with water-soluble and synthetic coolants.
Pulsa Releases Weight-Based Telemetry Solution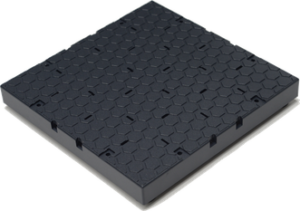 Pulsa has released Pulsa Weight, a weight-based telemetry solution. Pulsa Weight can be used to measure liquified gases (e.g., carbon dioxide, nitrous), and other weight-based inventory (including supplies for welding, medical, beverage and lab environments).
Each Pulsa Weight platform is one foot square and can support up to 265 pounds. Pulsa Weight platforms can also be connected together with up to 16 platforms to support more weight and a larger base. The Pulsa Weight platform is powered by a replaceable 3.6V battery that lasts for at least 5 years and works wirelessly with Pulsa's cross-network cellular and WiFi gateways.
"Pulsa Weight provides our customers with the ability to use weight to measure their inventory levels," said Sam Fatoohi, head of business development at Pulsa. "Along with our Pulsa Gas high-pressure sensors and cellular gateways, our customers can now rely on Pulsa to remotely provide them with real-time inventory and predicted depletion information on all of their mobile assets in any location."
Norton Introduces New Merit Pink Abrasives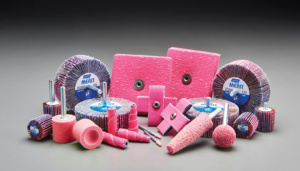 Saint-Gobain Abrasives has introduced new Norton Merit Pink R928 Flap Wheels and Specialty Abrasives, including cartridge/spiral rolls and square/cross pads that feature a superior ceramic grain for greater efficiency when beveling, blending, cleaning/detailing, deburring and finishing stainless steel and other hard-to-grind materials. A variety of Norton Merit Pink mounted points feature Norton 86A aluminum oxide abrasives, providing an excellent combination of friability and form holding.
For hard-to-reach applications, a poly cotton backing on the Norton Merit Pink R928 Flap Wheels and Specialty Abrasives adds more durability compared to traditional cotton back products. Due to a coating on the grain/ bond that reduces friction for a greater grain holding ability, the R928 line cuts cooler and faster on hard-to-grind materials.
"A clear trend in industry today is the growing use of smaller abrasives. Our new Norton Merit Pink Flap Wheels and Specialties answer this need, as well as provide excellent finishes and increased productivity," said Patrick Carroll, Norton | Saint-Gobain Abrasives senior product manager. "When used with our new Handheld Pneumatic Die Grinder, customers have a lightweight, ergonomic grinding solution with more control." The new line is ideally suited for manufacturers across a broad range of industries such as metal fabrication, welding, energy, oil and gas, foundry and castings, MRO and aerospace.
Norton and Merit brands are joining forces to deliver a simpler, comprehensive one-stop shop product portfolio for all specialty abrasives for offhand and portable power tools, within a single "Norton Merit" brand. The Norton Merit Pink line is the first introduction under the new unique branding.
EQUIGAS Now Stocking CIMC ENRIC Bulk Tanks
EQUIGAS has announced that they are now a North American stocking distributor for CIMC ENRIC's Cryogenic Bulk Tanks.
EQUIGAS will be storing CIMC ENRIC's Super Insulated Cryogenic Bulk Tanks in Greensboro North Carolina, beginning with tank sizes from 1,500 to 9,000 gallons. For tanks ranging from 9,000 up to 100,000 gallons, EQUIGAS and CIMC ENRIC will offer a made-to-order solution. "We offer nothing but the best quality products and CIMC ENRIC will perfectly complement our portfolio of cryogenic products with their impeccable quality and their amazing capacity to turn around projects with the best of lead times," said Rafael Arvelo, EQUIGAS's general manager.