Expanded Oxygen Cleaning Room at Ratermann
Ratermann Manufacturing has expanded their oxygen cleaning facility. The upgraded space houses state-of-the-art cleaning machines, drying stations and black lighting tools. The quality-controlled room ensures all oxygen-compatible products are shipped out oxygen cleaned for oxygen service per CGA 4.1.
"All of our oxygen cleaning technicians are put through Ratermann's Reliability Training, holding the company's work to the highest standard for customer products and experience," said George Ratermann, president.
Xiris Hires Service Technician for India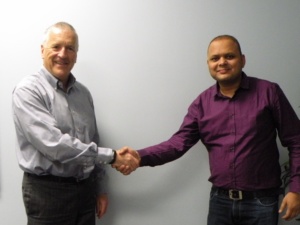 Xiris Automation has welcomed Shivom Rathod to the team as their new service technician for India. Shivom has over 10 years of experience in the welding industry providing technical service and support for welding equipment and automation all over India. Based out of Pune, India, Shivom will be responsible for installation and training for all new Xiris customers, as well as servicing and repair work of Xiris equipment across India.
"We are very pleased to have Shivom join our team," said Cameron Serles, president of Xiris Automation. "His experience in providing a high level of service and support to a diverse customer base will be of great benefit as we grow our business across India."