Promoting the safe operation and economic vitality of distributors of industrial gases and related welding equipment and supplies is GAWDA's mission. Providing educational and training opportunities within that industry tops the organization's list of ways to accomplish this.
One of the current challenges our nation faces is a shortage of skilled workers — in particular, welders and fabricators. With welding an integral part of so many manufacturing processes, from building tunnels to launching spacecraft, trained and certified welders are critical to our economy.
GAWDA is well aware of the talent shortage, and a unique training facility in California called Workshops for Warriors (WFW) has caught the attention of many members. As we reported last June, GAWDA member Weiler Abrasives Group, a leading provider of abrasives, power brushes and maintenance products for surface conditioning, donated $25,000 to WFW. Founded in 2008 by Hernán Luis y Prado, a U.S. Navy officer who served in combat tours in Afghanistan and Iraq, WFW is a nonprofit school that provides veterans and transitioning service members with advanced manufacturing training and industry-recognized certification for careers in welding, machining and fabrication. Tuition scholarships are available to students, or they can use their GI Bill.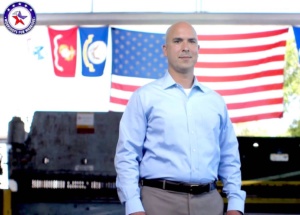 WFW relies on the support of individuals and private industry for both monetary and product donations. Weiler is heading up Leading a Warriors' Charge, a national brand awareness and fundraising campaign created to support Workshops for Warriors. It aims to raise scholarship dollars and to get the WFW message out through a year-long advertising campaign. Weiler's Nate Schmid, director of marketing – Americas, said, "Along with our partners Independent Welding Distributors Cooperative (IWDC) and ORS Nasco, we've raised over $77,000 thus far and plan to expand our campaign in 2019 to include additional products and promotions."
In this article, we take a closer look at the WFW program and how GAWDA members are building a better industrial gas and welding supplies community by supporting this unique effort.
Defining the Need
Two trends are fueling the current skilled worker crisis: the retirement of the current generation of trained workers and the lack of high school graduates pursuing careers in industrial trades.
The "Deloitte Skills Gap in U.S. Manufacturing 2015–2025 Outlook" report estimates that over the next decade, there will be nearly 3.5 million manufacturing jobs open in America. The skills gap is expected to result in 2 million of those jobs going unfilled, or about 6 in 10 manufacturing posts being vacant.
The lack of welders is a big part of the skilled worker shortage. According to the American Welding Society (AWS), in the past 12 months, there have been over 140,000 job postings for welding professionals and over 30,000 of these were for pipe welders. By 2022, it is projected the U.S. will need over 450,000 welding professionals.
In addition to a dearth of welders, skilled 21st century machinists are also scarce. According to Workshops for Warriors, advanced manufacturers report a sizable gap between the talent they need to keep growing their businesses and the pool of skilled employees. It is estimated that over the next decade, this gap will equate to a $32 billion loss to the U.S. economy as manufacturing seeks offshore contracting to continue to grow their businesses.
Building a Pipeline
With headquarters in San Diego, California, a city with the third-highest concentration of veterans in the U.S., Workshops for Warriors is tapping into a talent pool well suited to help solve the skilled worker shortage and to reduce unemployment for veterans at the same time. According to WFW, more than 15,000 active-duty service members transition out from service annually in San Diego, and the city has more than 240,000 veteran residents. The U.S. Census Bureau reports that more than 10,000 of these veterans are currently unemployed and 16,000 live in poverty. By providing accelerated training, certification and help with job placement in advanced manufacturing and fabrication careers, WFW aims to change those statistics and, in fact, already has.
Since October 2011, Workshops for Warriors has trained and certified 572 veterans, wounded warriors and transitioning service members, and students have earned over 3,800 nationally recognized credentials in welding, computer‐aided drafting, computer‐aided manufacturing, CNC lathe and CNC milling. Workshops for Warriors boasts an overall 94 percent placement rate, with most students having landed a job prior to graduation.
The WFW team has found that while leadership skills and a strong work ethic are the hallmarks of a veteran, service members may not know how to effectively market their skills when transitioning to the civilian sector. Matt Miller, CEO of AWS and a decorated U.S. veteran, agrees. He explained how important a program like this is to returning troops: "When I look at WFW as a former enlisted serviceman, I am amazed at how right it is for veterans. It provides more than just training for a viable, upwardly mobile civilian career, like welding — it allows veterans a chance to think about their next steps in a productive way. An organization like WFW did not exist when I was transitioning to civilian life — I wish it had." 
With a current seat capacity of between 40 and 60 students per semester, WFW runs two main 16-week accelerated programs — welding and machining — both taught by veterans. In just four months, graduates can easily obtain full-time employment at a minimum of $18 an hour, anywhere in the United States.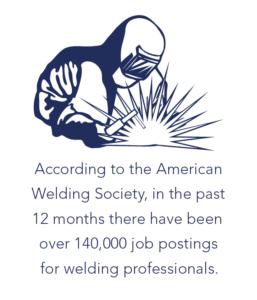 The WFW machining program is accredited by the National Institute for Metalworking Skills (NIMS) and the welding program is accredited by the American Welding Society. In 2015, Workshops for Warriors won the AWS Excellence in Welding Award in the Educational Facility category, with an individual AWS Excellence in Welding Award presented to WFW's Dean of Welding Lyle Palm.
The welding program is designed to prepare students to become well-rounded, entry-level welders with upward mobility potential. According to WFW, the curriculum is a combination of safety and hands-on training, which includes three basic courses that must be taken in sequential order: shielded metal arc welding (SMAW), gas metal arc welding (GMAW) and flux-cored arc welding (FCAW). Upon completion of the program, the student will successfully operate and qualify for all required welding standards in those three welding processes.
Palm has been with WFW since 2010. A retired U.S. Navy senior chief petty officer with over 20 years of experience specializing in welding nuclear and non-nuclear piping systems and structural components, Palm brings to the program both a mastery of the art of welding and a passion to pass his knowledge on to veterans like himself.
Palm discussed his amazement at how the four-person welding shop he joined in 2010 has turned into a program with 18 welding booths and 36 machining stations. "You really have to be here to experience what a truly remarkable operation this has become," Palm said.
This extraordinary training opportunity attracts veterans from all over the county. Scholarships are often available for those for whom the GI Bill is unavailable.
The Joint Effort
From industry leaders donating high-tech equipment to private donors providing significant financial support, Workshops for Warriors continues to grow and deliver world-class training to its students.
Companies provide support in many ways. For example, Praxair, Airgas and WestAir have helped out with gases. Victory Welding Alloys and Washington Alloys have provided welding wire. Hypertherm has provided plasma cutting machines for students to train on, and Haas has donated equipment and software programs to the machining center.
Jim Horvath, vice president of distributor relations for ESAB, has been a Workshops for Warriors supporter since he first visited the school over three years ago. "While on business in San Diego, I had the opportunity to meet John Jones, WFW director of development, and Lyle Palm," Horvath recalled. "I was so impressed with the school's level of excellence and with the opportunities it was creating for veterans and for our industry that I immediately suggested to ESAB that we become involved. ESAB's president, Shyam Kambeyanda, and executive vice president, Billal Hammoud, agreed and have generously supported ESAB's ongoing initiative to supply state-of-the-art welding machines, plasma cutters and assorted welding hardgoods to the Workshops. Most recently, at WFW's request, ESAB sent a shipment of Sentinel auto-darkening welding helmets, TWECO welding stingers and Victor journeyman cutting kits."
Horvath also works tirelessly at spreading the word about WFW and has been instrumental in increasing awareness about the program to GAWDA members. At the 2018 GAWDA Annual Convention in Seattle, Washington, Jones and Palm were guests of ESAB. "This enabled them to make further contacts with people in our industry who are in a position to become involved in the program," Horvath explained.
Organizations like GAWDA and AWS have been especially helpful in getting the word out, Palm reported. "We are grateful to GAWDA for providing us with networking opportunities and booth space at their annual conventions and meetings. This has enabled us to build valuable relationships with companies like Weiler Abrasives Group. The resources of AWS have been great for our education programs and, of course, our students leave here with AWS certifications, which are crucial to employment as a welder."
Sparking Growth
Operating welding and machining training programs is expensive. Workshops for Warriors' current $3.5 million budget supports everything from scholarships and program expenses, to equipment, facility and material costs.
Jones, a Marine (Ret) and the director of development since 2016, leads the organization in raising funds to advance its objectives and expand its platform, and he has been instrumental in shepherding the organization into its next phase. With demand for trained welders and machinists outstripping what WFW can currently supply, WFW is launching two major fundraising efforts: a capital campaign for a new education and train-the-trainer facility, and a partnership initiative aimed at increasing scholarship donations known as Pride in Partnership. While in-kind product support is always appreciated, Jones emphasized that, for the two current fundraising campaigns, cash donations are most needed.
Founder and CEO Hernán Luis y Prado says that, "Workshops for Warriors will continue to innovate, educate and enable veterans to change the future of our country."