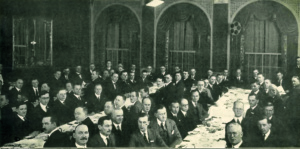 The American Welding Society was founded in 1919 in Philadelphia, Pennsylvania, with a mission to meet a national need to support welding during World War I. President Woodrow Wilson had asked Harvard Professor Comfort Avery Adams to chair the Welding Committee of the Emergency Fleet Corp., which was merged with the National Welding Council to form AWS. Adams served as the first president of the Society.
The objectives of the newly formed society were, "To advance the science and art of welding in all the branches. To afford the members the opportunity for the interchange of ideas with respect to improvements in the welding art, and for the discussion of all matters bearing upon the practice of the art of welding, and for the publication of information thereon."
Now, 100 years later, the mission of the AWS has stayed remarkably similar. Today's global mission is to "advance the science, technology and application of welding and allied joining and cutting processes, including brazing soldering and thermal spraying. AWS strives to move the industry forward in both thought and action, as well as inspire new generations to see the exciting career opportunities available today."
"Since its inception in 1919, both the technology of welding and AWS as its major proponent have come a long way," says AWS Interim Executive Director Ray Shook. "The next century promises to deliver even greater advancements in the science of materials joining."
Some of the milestones for the Society in its century of existence include: the publication of the Welding Journal in 1919, a publication which still exists today, the first AWS meeting in 1922, the moving of its global headquarters to Miami, Florida, membership eclipsing 70,000 members, the introduction of the AWS Welding Handbook, the launching of the AWS Annual Show, since merged with FABTECH, which hosted more than 48,000 members in 2017.
"AWS is proud of its role in advancing the science, technology and application of welding over the past century," says Shook. "And, yet, we know our most important contributions are ahead of us. As the premier member-based welding society worldwide, AWS is keenly aware of the role it must play in the science and application of materials joining. We take that job seriously and see great things ahead of us in the next century."
For more great content like this, sign up to receive the GAWDA Connection, which goes out on the 1st and 15th of every month. Click here to see a recent issue of the GAWDA Connection.