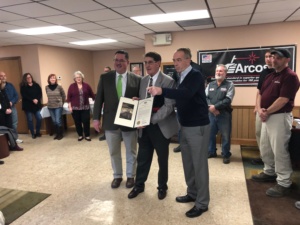 Arcos started in 1919 as the R.D. Thomas and Company. Until 1931, electrodes were imported from Arcos S.A. in Brussels, Belgium. In 1931, the first heavy coated hand-dipped electrodes for welding stainless and other specialty steels were manufactured in the U.S. In 1936, R.D. Thomas and Company merged with the world's most advanced producer of coated electrodes, Arcos Belgium. Six years later, the company developed the first 307 stainless steel electrode to weld armor plates instead of the then scarce and expensive stainless 310. In the pinch of war time shortages, this was a real advantage, as the war created demand for repair and building new ships was so great for these electrodes, a new plant had to be acquired and tooled.
The company's progressive vision and devotion to innovation have been hallmarks of Arcos' history, from the 1920s through today.
In 2006, Arcos was purchased by Dale Stager, owner/president of Select-Arc, Inc. Select-Arc is a manufacturer of FCAW and MCAW welding consumables for various industries with manufacturing in Fort Loramie and Troy, Ohio. Having partnered for years earlier, the official teaming of these innovative companies paved the way to combine their expertise in manufacturing, sales, R&D and customer support.
"Today's market is global," says General Manager Harry Wehr. "Arcos has developed markets throughout North America and reaches beyond the Middle East, Far East, Southeast Asia and Europe."
But the same principles that have guided Arcos for the last 100 years will continue to provide direction for Arcos as it embarks into its second century.
"The employees of Arcos continue to be the driving force for the success of the company," says Wehr. "Their fathers and grandfathers worked at Arcos through the last few decades. At Arcos, we currently employ 90 excellent salaried and union personnel, all working together to manufacture a superior end product to the global welding industry."
Welding is an essential factor of progress. For 100 years, Arcos has devoted itself to welding. When new metals or structures are designed, Arcos will be ready with the welding materials and processes.
For more great content like this, sign up to receive the GAWDA Connection, which goes out on the 1st and 15th of every month. Click here to see a recent issue of the GAWDA Connection.