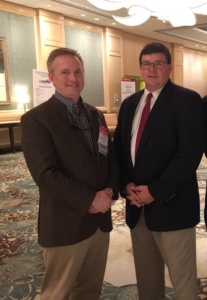 Atlas Welding Supply Company was originally founded as Temerson & Son in 1944. The Temerson family had a scrap business and found that many of their suppliers needed gases and cutting materials to cut the scrap. Temerson became an Airco distributor and planted the seeds for what would eventually become Atlas Welding Supply Company.
The company officially changed its name in 1978 when the Temersons sold the business to an employee, Jack Englebert. Jack, who approached his largest customer, Cain Steel, run by J.M. Cain, to partner in the transaction, changed the company name to Atlas Welding Supply Company and ran the day-to-day operations of the company until 2008, when he retired.
When J.M. Cain passed away, his equity of the business went into a trust managed by his sons. When Englebert decided to retire and sell the business, J.M.'s son, James Cain, who was working in finance, began negotiating a deal with Bill Visintainer to purchase Atlas.
"I was going to buy the business as the sole owner," says Bill. "At the last minute, James threw me a curveball. He said, 'I love your vision and your plan for growth, and I'd like to be your partner on this.' He came from a financial background and could handle the finances and HR component which would allow me to focus on sales and operations."
James went from looking to sell the business to becoming an active partner with Visintainer. It was then that the two men began to implement an aggressive growth strategy for Atlas, which, up until that point, had been driven mostly by a core group of fiercely loyal customers.
"I would say since 1978, sales probably doubled over those 30 years," says James Cain. "The previous ownership was content being a niche player and maintaining the customer base that they had. When Bill and I took over we charted a different course. We were interested in growing and tackling new horizons."
Cain and Visintainer took over the company during a paradigm shift for the industry. At the time that they bought Atlas, the sales breakdown was about 15% gases and 85% hardgoods. Part of Atlas' growth strategy was to offer more solutions, including a concentrated effort on increasing the gas side of the business.
"This industry is all about becoming more efficient," says Cain. "Improved efficiency, improved safety, reducing overall cost. We've been fortunate to work with vendor partners who have been very supportive of us. We're loyal to our customers and also to our vendor partners."
Visintainer adds, "We're not going to be the largest customer to our vendor. Some of our competitors are doing hundreds of millions or even billions in sales per year. But we can be the most loyal and we can add the most value. If we can continue to add value and solve our customers' biggest challenges, we will continue to grow and thrive."
As Atlas celebrates 75 years, the company looks to continue to expand on the strides they've made in the last decade. The company will celebrate its milestone with an open house during the week of the Alabama vs LSU football game. More than 600 people are expected to attend.
For more great content like this, sign up to receive the GAWDA Connection, which goes out on the 1st and 15th of every month. Click here to see a recent issue of the GAWDA Connection.