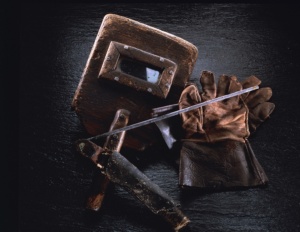 Oscar Kjellberg founded ESAB — Elektriska Svetsnings AtkieBolaget (Swedish for Electrical Welding Limited Company) — on September 12, 1904 in Gothenburg, Sweden, a port city. Trained as a ship engineer, Kjellberg developed the world's first coated electrode to solve contamination and embrittlement issues in ship building, laying the foundations for a totally new epoch of welding, as his invention made it possible to exclude the oxygen in the air surrounding the workpiece.
ESAB's biggest accomplishment is to have established a track record of innovative solutions, whether through internal R&D efforts, acquisitions or collaborations which created entire process and product categories that revolutionized the industry. They include the Atom Arc and ESAB 7018-1 Prime series of low-hydrogen (H4R) Stick electrodes and developing the first gas-shielded FCAW electrode, Dual Shield, which is synonymous with the process.
Other ESAB brands are also synonymous with welding and cutting processes and constitute some of the best-selling distributor items: Victor gas equipment, Tweco MIG guns, Thermal Dynamics Cutmaster manual plasma cutters, Arcair carbon-arc gouging equipment, the Sentinel A50 auto-darkening helmet and Rebel compact, portable welding systems.
The Future of Fabrication
With the ability to deliver exponential improvements, data-driven innovations represent the future of fabrication and manufacturing. ESAB Digital Solutions, including ESAB WeldCloud and ESAB CutCloud, connect digital ecosystems for manual, robotic and automated welding and cutting.
For more than a century, ESAB pursued innovation, expanded industry knowledge and demonstrated an unwavering commitment to quality products and excellence in customer service. To emphasize that customers are at the center of company culture, ESAB announced its Iron Clad Pledge, which features a 100% satisfaction guarantee on its gas, welding and manual plasma equipment, as well as MIG guns and filler metals.
Fabricators demand that welding and cutting products offer high reliability and greater ease-of-use. ESAB solutions enable fabricators to increase uptime today, while listening to their needs drives ESAB to discover the new technologies that will help them maximize productivity tomorrow.
For more great content like this, sign up to receive the GAWDA Connection, which goes out on the 1st and 15th of every month. Click here to see a recent issue of the GAWDA Connection.